Whether it's beach walks, attending Crufts, or bringing your dog to work for a photo shoot or to play a starring role in a video – canine companions really are the focus of our world here at Dogrobes.
Our incredible team has worked throughout lockdown fulfilling orders and answering enquiries from all over the UK and overseas. In seeking to deliver the best service to you, our loyal Dogrobes customers, we've fostered a great sense of team spirit which has kept us focused during these difficult times.
We turn the spotlight on our owner Margaret Reynolds, sales and marketing coordinator Rebecca Main and administration assistant Nicola Stewart to share with you the passion, fun and variety that comes with being part of the award-winning Dogrobes world.
Let's Hear From The Dogrobes' Team
How do you get ready to start the working day?
Rebecca: I plan my lunch and any healthy snacks. Sometimes Little Bee Bakes or Nicola's baking appears though and leads me astray from my good intentions.
Nicola: As a mum of an almost four year old girl, a one year old girl, a cat and a dog, I organise childcare and dogcare.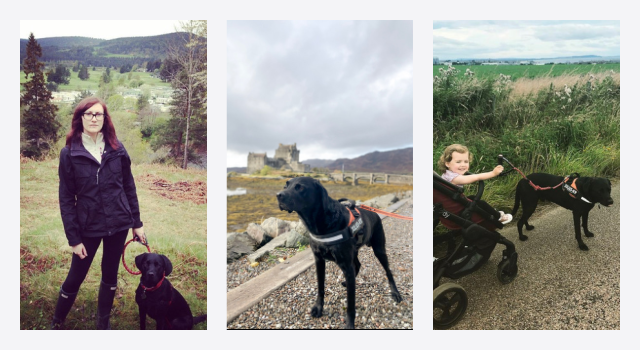 Margaret: I'd love to say that I work out then have a healthy breakfast and ease myself into the working day but that's not true! Work has gone into overdrive since lockdown, but I must get back to exercising in the morning though, it's a great way to start the day.
Tell us about a typical day at work
Rebecca: Each day totally varies. I could be on set at a photoshoot one day, organising elements of our stands at shows the next or assisting with new product development.
Nicola: I've packed orders, ordered consumables, dealt with invoicing, all aspects of customer service and brought my dog to work for photos. In lockdown I mainly engage with social media in the evenings and carry out research for upcoming projects.
Margaret: The only thing you know about the upcoming day is that it's going to be non-stop. That's why I love it! I'm not a routine type of person, that's a bit boring. So non-stop and varied suits me.
Lark or night owl - when you are most productive?
Rebecca: Any time after a good brainstorming session that creates 1001 actions to do!
Nicola: Working from home with children I'd have to choose night owl as it's only time I get peace.
Margaret: Can I say both? Because that's the truth. It all depends on the deadlines. I'm guilty of burning the candle at both ends.
Tell us about your dog
Rebecca: Kaydee, a Pomsky aged 6. I love her so much, it's like she knows exactly what I'm saying when I speak to her. Kaydee goes everywhere with me but if on the odd occasion she doesn't, then there's nothing better than her greeting me when I pick her up. She loves nothing more than the whole family being together, she does a head count to make sure we're all there.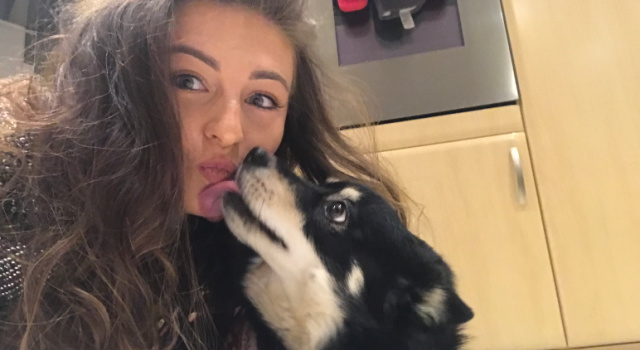 Nicola: Roguey, a black Labrador aged 7. He's my best friend, I don't know what I would do without him. He is the most chilled out, spoilt, gentlest giant you could ever meet. I love that he is always there for me, through everything…he knows sometimes I just need a cuddle. My world.
Margaret: Missie, Toy Poodle, 13. If anyone had ever told me before I had a dog that I would love her this much, I wouldn't have believed them. Mind you, she is driving me mad at the moment, as she's my constant shadow. I can't go anywhere without her following me. Lockdown has a lot to answer for.
Where's your favourite place to walk your dog?
Rebecca: Kaydee and I both share a love for the beach. It's her favourite place to walk for sure!
Nicola: Roguey loves the beach and the woods equally. But, I would have to say Cullen Beach on Scotland's Moray coast is his favourite – he cries in the boot of the car when we drive there, and as soon as I open the boot he bolts and heads straight for the water, leaving me miles behind.
Margaret: We recently moved house from the country to the coast and Missie hasn't been used to being on a lead and I can't say she's loving it. So, her favourite part of being on the coast is getting to run free on the beach. There's nothing better than an empty beach, playing with Missie and hearing the sea.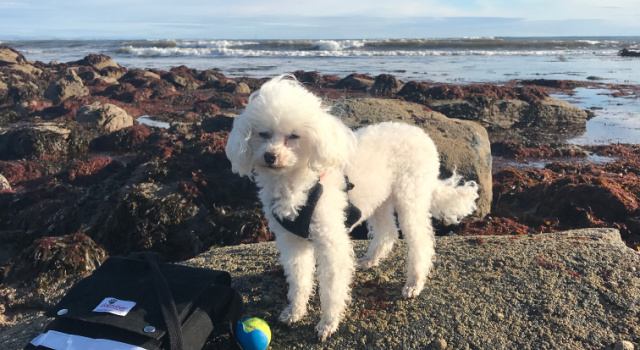 What's your favourite thing about working for Dogrobes?
Rebecca: I love working at Dogrobes because of the variety of things we do, we have a great team and I've made friends for life.
Nicola: Being able to bring Roguey to work with me and working in a team where we all share a similar vision and goal.
Margaret: Seeing the dogs chilling in their Dogrobes when customers send in photos. That's another thing I love about working at Dogrobes – meeting our customers - but sadly we've not done that since Crufts last year and this year's has been postponed. It'll be great to see everyone again. Fingers crossed it's soon. I really miss that part of my work.
What's been the proudest moment of your Dogrobes career?
Rebecca: Seeing our Crufts stand come together is always a huge sense of achievement and satisfaction. Months of planning and hundreds of hours goes into Crufts and it pays off. It's always a great weekend, meeting famous faces and dogs from the celeb and Instagram world makes it even better.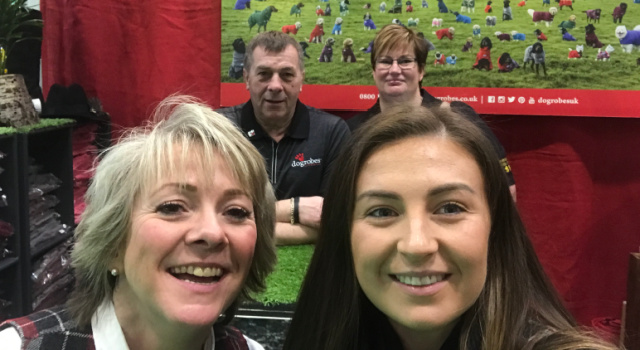 Nicola: Having my dog star in his own feature video! Proud dog-mamma moment.
Margaret: I used to think that it was winning most enterprising business Margaret Excels As Enterprising Business Woman – Dogrobes but to be honest, on a daily basis I'm proud. I read all the reviews we receive every day and when customers tell us how much they and their dogs love Dogrobes or how they've received great customer service from the team, that's what makes me really proud.
Our website developer told me that we should stop deleting poor reviews as it would make us more authentic. I told him that I'm a technophobe and wouldn't know where to start deleting reviews. He's just bought a Dogrobe for his pup and now he realises how good they are and how well Dogrobes work. Now he believes that all the five-star star reviews are genuine.
What do you like most about Dogrobes products?
Rebecca: I love how dogs truly love their Dogrobes. They're so versatile as they can be used for drying, warming and calming. Once it's on, it's a hard task trying to get it off!
Nicola: I love that I don't have to stand and dry the dog down with a towel every time he is wet, just pop it on and he's not getting my sofa all wet or my car all sand or mud.
Margaret: How long have I got? I could talk about this all day! I can't really pick one product. I love them all or we wouldn't be selling them. But I can pick out one thing that I love and that's our fabric. No one else has this fabric and it's so different to normal towelling. It's lightweight and super absorbent. That's why dogs love Dogrobes because it's so easily tolerated because of how light it is. Even dogs who normally won't wear an outdoor coat love it.
Any funny or embarrassing moments at Dogrobes to share?
Rebecca: I'm partial to a good sing song at Christmas. Everyone in the office was devastated that they couldn't hear my rendition of the 12 days of Christmas this year as we're working from home. The best way to spread Christmas cheer? My singing. Can't guarantee I'll be in tune though!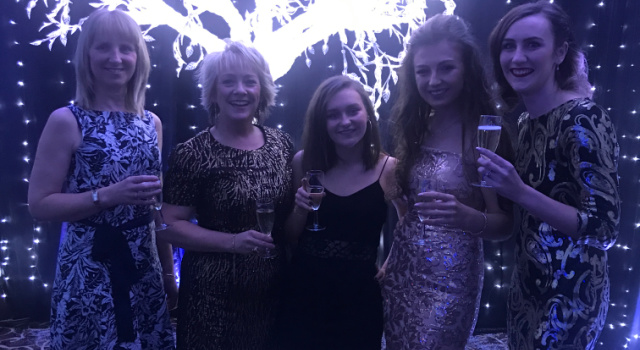 Nicola: We have a world-class performer at Dogrobes…Rebecca does an excellent rendition of 12 Days of Christmas reimagined in dog form. Highlight of Christmas at Dogrobes.
Margaret: We've had a lot of laughs at events. One of them involves my husband Martin who's from Yorkshire. We were at the SECC in Glasgow and a customer with a really strong Glaswegian accent asked him for Dogrobe to fit a Weimaraner. He thought she was saying 'White Banana'. We've never let him forget that one!
Perfect end to the working week?
Rebecca: A walk with Kaydee and a Friday night treat.
Nicola: A nice long walk with the dog, followed by a takeaway and glass of fizz.
Margaret: Wine! One of our customers was speaking to me on the phone one day and happened to mention that he ran Fat Pigeon Wine. So, I became a customer of his. It was only right to reciprocate!
Read next blog Dogrobes for Superheroes