Today is Bring Your Dog To Work Day and as a company of dog lovers here at Dogrobes, the whole team is taking part. Learn about our newest recruits Missie and Jake. Rest assured we've not let them near the manufacturing of our award-winning dog drying coats!
Man's best friend at work
All dog lovers are aware of the working relationship between humans and their dogs, but it's really only recently that this has changed, as more and more people head out to work, reluctantly leaving their beloved canines at home.
We worry about our dogs having to spend several hours at home alone and often rely on doggy drop-ins or day care to break up the day for them. But it's not only our dogs who miss us - we miss them too. Not only are we without them, but we're often in busy, stressful work environments for prolonged periods of time, which – no matter how much we love what we do – can impact our mental health.
Dogs are employed widely as comfort or therapy dogs to bring unconditional care and attention to people who have experienced negative emotional experiences such as trauma or stress. It is no surprise then, that taking your dog to work is likely to have a positive and soothing effect on you – and your colleagues too.
The stress-busting power of your pooch at work
It's estimated that 8% of employees in Britain have permission to bring their dogs to work.
A recent university study* showed that taking your best friend to work can reduce stress and increase job satisfaction for employees. The study published in the International Journal of Workplace Health Management in March 2012 revealed that taking your dog to work can reduce stress and increase job fulfilment – not just for the owner, but for anyone they meet!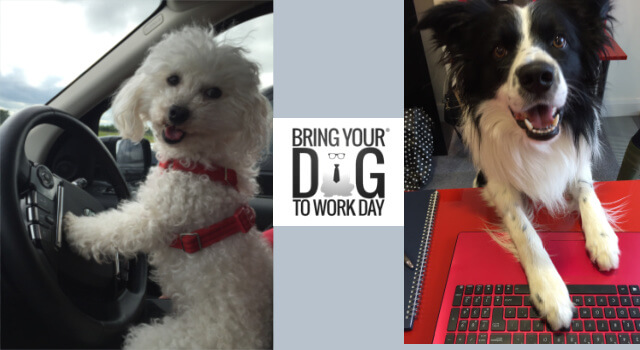 We're not surprised by these study results. Missie and Jake (pictured) have brought much fun and excitement to the office and they've clearly worked so hard at playing and cuddling that they're now enjoying a cheeky nap!
Bringing fun and comfort to a worthwhile cause
In recognition of the value it brings to have your dog at work with you, the Bring Your Dog To Work Day was started by our friends at HOWND, creators of ethical lifestyle products for dogs, including cruelty-free and vegan-certified dog food.
The annual event aims to raise money for our new official charity partners, All Dogs Matter and we've donated a voucher to the Mega Prize Competition as an official business sponsor.
But we're not the only ones taking part. Businesses from across the UK will welcome their dog-loving employees into the workplace along with their loyal (and well-behaved!) four-legged companions, all in the name of charity. Dog-loving celebrities have voiced their support too, including Ricky Gervais and Rachel Riley.
Businesses can donate online to take part and become a sponsor, while individuals can gift online or via text (minimum of £2 online, or £1 via text). You can get involved in the day too. Simply use #BringYourDogToWorkDay on social media and share your 'pooch selfies' with the rest of the UK!
For further information about Bring Your Dog To Work Day, please visit their website.
*Source: Benefits of taking your dog to work may not be far-fetched. ScienceDaily

Read next blog Dogrobes' grand opening office party