We've been celebrating! Last Friday we welcomed 20 local business leaders to mark our 12th birthday and new headquarters at Mansefield House, after what has been an excellent period of business growth.
A double celebration
"It's not every day that a business hits its 12th birthday and moves into new premises. So we wanted to mark the occasion and thank everyone who has been part of the Dogrobes' journey since 2004 for their contribution and dedication to the success of Dogrobes," explains CEO Margaret Reynolds.
Councillor for Keith and Cullen, Gary Coull, said: "I am delighted to see Dogrobes expanding and taking up a premises in Keith.
"There has been a lot of work to market Keith as a place to invest and to try and encourage new or growing businesses to have their base in Keith. Dogrobes is a great example of a wonderful product and a business model that obviously works. We are delighted that Margaret and her team have chosen Keith as their business home. Dogrobes has gone from strength to strength over the past couple of years and I wish the company all the very best in their new premises."
The dog robe driving business growth
Manufactured in Britain, Dogrobes are practical dog drying coats that are perfect to use after outdoor adventures, swimming, training, bathing and working. Even Her Majesty the Queen has Dogrobes for her Corgis!
Not only do dog robes help reduce muddy spatter on walls and floors, but they also keep your dog warm and comfortable as they wind down after his outdoor escapades. With 30% of water staying on their fur after shaking, this is important to ensure your dog's body temperature doesn't drop.
Margaret has focused on listening to pet parents' needs around drying their dogs, while also avoiding redecorating floors, walls and inside cars with mud! The entire experience must be quick, easy and effective – not just for them but for their canine family members too. These high-quality dog drying coats are designed with these considerations in mind and made from soft and durable towelling fabric for best results.
How the Dogrobe drying coat works
The loops on the inside of the towelling dog coat are longer than on the outside, which allows them to draw moisture away from your dog's skin and fur more quickly. The loops also trap warmth and body heat, which also helps to speed up the drying process.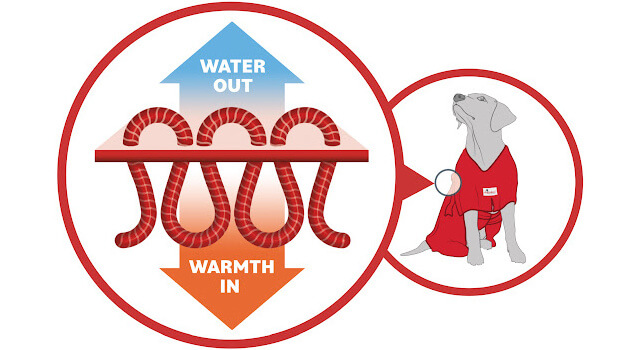 The dog drying coats don't just protect surroundings from wet and muddy shake off, they also keep a dog's muscles warm and are non-restrictive, allowing pooches to move freely while drying off. Simple to fit and more effective than a towel rub, dogs dry quicker in Dogrobes' dog drying coats, making tedious towel drying and that unpleasant wet dog smell a thing of the past.
And if speed and efficacy weren't enough, the Dogrobes' range comes in many gorgeous designs and colours to suit every design-savvy owner.
"From our Scottish base, we sell Dogrobes to people all over the UK and even overseas, and our customers say dog robes are the indispensable dog accessory." adds Margaret.

Read next blog Dogrobes' donation to All Dogs Matter