We had a fantastic time at Pup Aid – THE event to be seen at last weekend!
Pup Aid was held at Primrose Hill, London to raise funds for various dog-related charities and was well-attended, including by a host of celebrity supporters such as actor Michelle Collins, singer Sinitta and actor Peter Egan, to name a few!
Giving dogs a healthy happy life
The event was an important one for Dogrobes. Giving dogs a healthy, happy life lies at the heart of everything the company does, whether in the products we design or the organisations we support. This is why Dogrobes' CEO Margaret Reynolds chose this all-important event to present a cheque for £1,153.40 to deserving charity partner All Dogs Matter.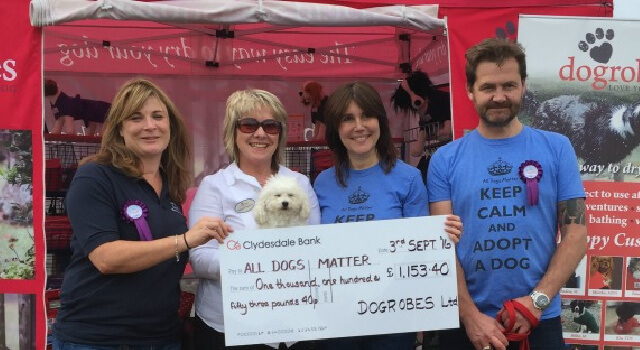 Dogrobes had been supporting Dogs Trust in 2014/15 and this year, announced a new partnership with All Dogs Matter, in support of the amazing work they do.
NB. A special thanks to Teresa Keohane at The Dogvine for the photograph.
Giving back to the community
The donation is a result of Dogrobes allocating a percentage of profit from all online and event sales of their dog drying coats to All Dogs Matter. This method of fundraising has proven to be an exceptionally effective model for raising regular funds for other charities in the past and we are delighted to continue this. It adds even more meaning and purpose to the work we do – not just keeping dogs dry, cosy and comfortable after their outdoor adventures, helping their pet parents keep their home and car space clean, but also contributing to the homing and rehoming of those vulnerable dogs who aren't as fortunate.
The funds will go towards helping the organisation continue to rescue and re-home dogs in Greater London and nationwide.
"We very much appreciate this donation from Dogrobes. Partnerships of this kind are extremely important to us and gratefully received," explains Ira Moss, general manager of All Dogs Matter. "Every year we take in hundreds of unwanted dogs from kennels, homes and death row pounds. This money will help us continue to treat, rehabilitate, feed, neuter, vaccinate and chip these dogs."
"All Dogs Matter is a fabulous charity that does amazing work for vulnerable dogs. They have wonderful support from a network of pet businesses and celebrities - so It was a pleasure to present our cheque to them at Pup Aid," explains Margaret.
Giving thanks to our customers
Not only do we acknowledge the wonderful work by All Dogs Matter when we donate cheques such as these, but we also recognise that we are only able to do so because of the sales of our dog drying coats to our customers. Without their support, we wouldn't be able to give back to the community and help less fortunate dogs live a happier life.
"I'd like to give special thanks to every Dogrobes' customer for their part in this donation. Our charitable work is an important extension of our brand values and something which is appreciated by customers from across the UK."
At a separate event Dogrobes' Missie presented another cheque for £340.60 to a grateful Cavalier from All Dogs Matter. Then another donation of £511.80 took the total donation to All Dogs Matter from Dogrobes to a whopping £2,005.80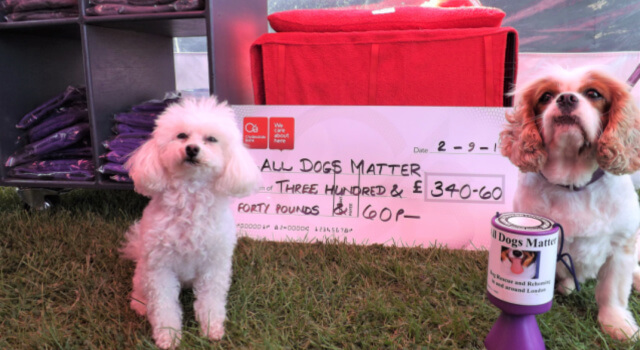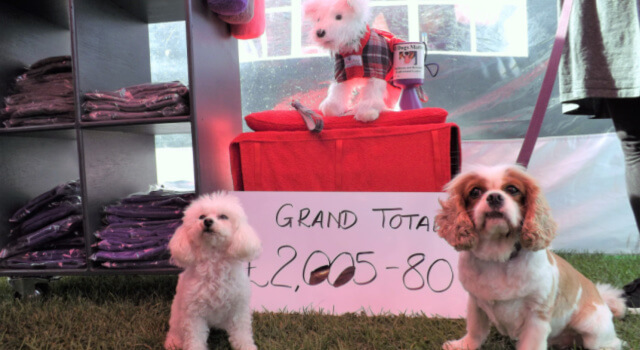 Read next blog Life Hack: Dogrobes double up as comfort blankets at Hallowe'en