The whole team at Dogrobes is incredibly excited to announce a new partnership with one of the country's most popular dog rescue charities!
Dogrobes joins forces with All Dogs Matter
After careful consideration, we've chosen All Dogs Matter as our next charity partner. This wonderful organisation helps rescue and re-home dogs in Greater London, and nationwide. All Dogs Matter partners with other organisations to provide rescue, rehabilitations and rehoming for dogs which are in need.
Having supported Dogs Trust for the past two years, we wanted to choose another deserving charity to provide support to in the amazing work they do and we're absolutely thrilled to say that the folks at All Dogs Matter are excited too, because we share the belief that all dogs really do matter.
"It's brilliant to partner with Dogrobes, a company that clearly recognises the importance of rescuing and rehoming vulnerable dogs," says Ira Moss, general manager of All Dogs Matter.
"Every year we take in hundreds of unwanted dogs from kennels, homes and death row pounds. So any funds we receive from this partnership will help us treat, rehabilitate, feed, neuter, vaccinate and chip these dogs."
Jack Russell Charlie is Dogrobes' Bark Off Winner
The announcement comes after Dogrobes' CEO, Margaret Reynolds played a key part in The Great Hampstead Bark Off on Sunday 15th May. Bark Off is an annual event, which raises money for All Dogs Matter. Margaret was the appointed judge for the 'Golden Oldies' category at the event's dog show. The senior competition was eventually won by an adorable Jack Russell called Charlie, who Margaret absolutely loved!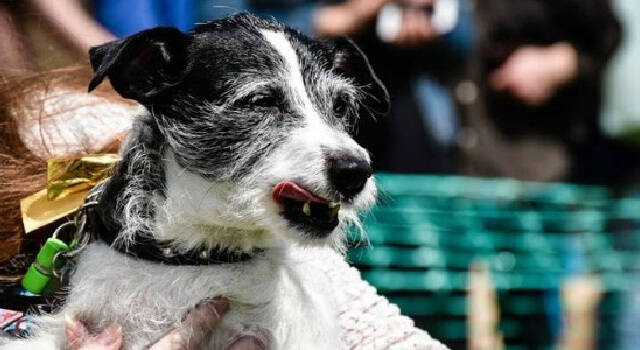 Jack Russell, Charlie, winner of All Dogs Matter's 'Bark Off'
Supporting amazing work for vulnerable dogs
"All Dogs Matter is a fabulous charity that does amazing work for vulnerable dogs. The Great Hampstead Bark Off demonstrated this wonderfully to all that attended. It's no wonder they have the support of the dog-loving general public and celebrities," says Margaret. Celebrity patrons include Ricky Gervais, famous for his love of dogs; comedian and chat show host Alan Carr; actor Peter Egan and Tracey Ullman.
"That's why we'll donate a percentage of our profit from all online and event sales of our dog drying coats to All Dogs Matter. This has proven to be an exceptionally effective model for raising regular funds for our partner charities in the past, so we're excited about its potential."
The Hampstead Bark Off is an annual event with plenty of dog-filled fun. There is a legendary dog show featuring six categories and celebrity judges such as Margaret, as well as a variety of stalls offering canine and human delights. It is an opportunity to come together and join in plenty of dog-related fun, all in aid of raising funds to continue the valuable work they do.
From transforming the lives of unwanted and abandoned dogs to finding homes for dogs overseas in need of somewhere to stay. Dogs can be adopted or fostered and given a happy and fulfilled life.
For Dogrobes, contributing to charities such as All Dogs Matter provides the opportunity to give back to the canine community and make sure that dogs stay warm, healthy and loved.
Photo credit: Thanks to the folks at The Dogvine for letting us use their wonderful image of Charlie.

Read next blog Why we're supporting Bring Your Dog To Work Day