Stunning Orange Dogrobes add extra splash of colour to Crufts
We've had a lot of bright ideas over the years but we're glowing with pride to reveal the latest colour addition to the Dogrobes Original Range.
Hot off the press, we're launching Orange Dogrobes, Snoods and Gauntlets at Crufts on Thursday, March 10.
The return of the prestigious canine event will see the eyes of the world firmly fixed on the NEC Birmingham – and we're adding our own splash of colour by introducing our orange range to brighten the outlook to visitors to our stand.
Why Orange?
We've listened to customers and responded to your requests in developing our vibrant new orange Dogrobes' products.
As we move on from the pandemic, with the rules and restrictions that have governed our lives for so long easing, we think our striking orange Dogrobes range is the perfect antidote to chase the blues away!
Dogrobes' managing director Margaret Reynolds is delighted to turn customer requests into a reality by adding to the range of Dogrobes' colour choices available to customers - and she's passionately proud of the results.
Margaret says: "We're pleased to play a part in restoring colour to the lives of our customers and their canine companions after lockdown.
"We're back at Crufts for the first time in two years and the world's greatest dog show is the perfect venue for our grand public reveal.
"We're seeing warm orange tones in interiors and fashion and we think that this vibrant new addition to our range will brighten up any dog lover's day.
"Our product testers love our new Orange Dogrobes, Snoods and Gauntlets and we're looking forward to getting feedback from customers too. I know for sure that our Dutch customers will be very happy!
"Dogrobes now has a fantastic palette of 10 solid colours, and we've reflected that in the display materials at our Crufts stand.
"If you're going to be there, be sure to call past and see us. We're looking forward to meeting friends old and new and showcasing Orange Dogrobes. We will be at our usual spot, Hall 1, Stand 172."

NEW Colour, SAME Great Features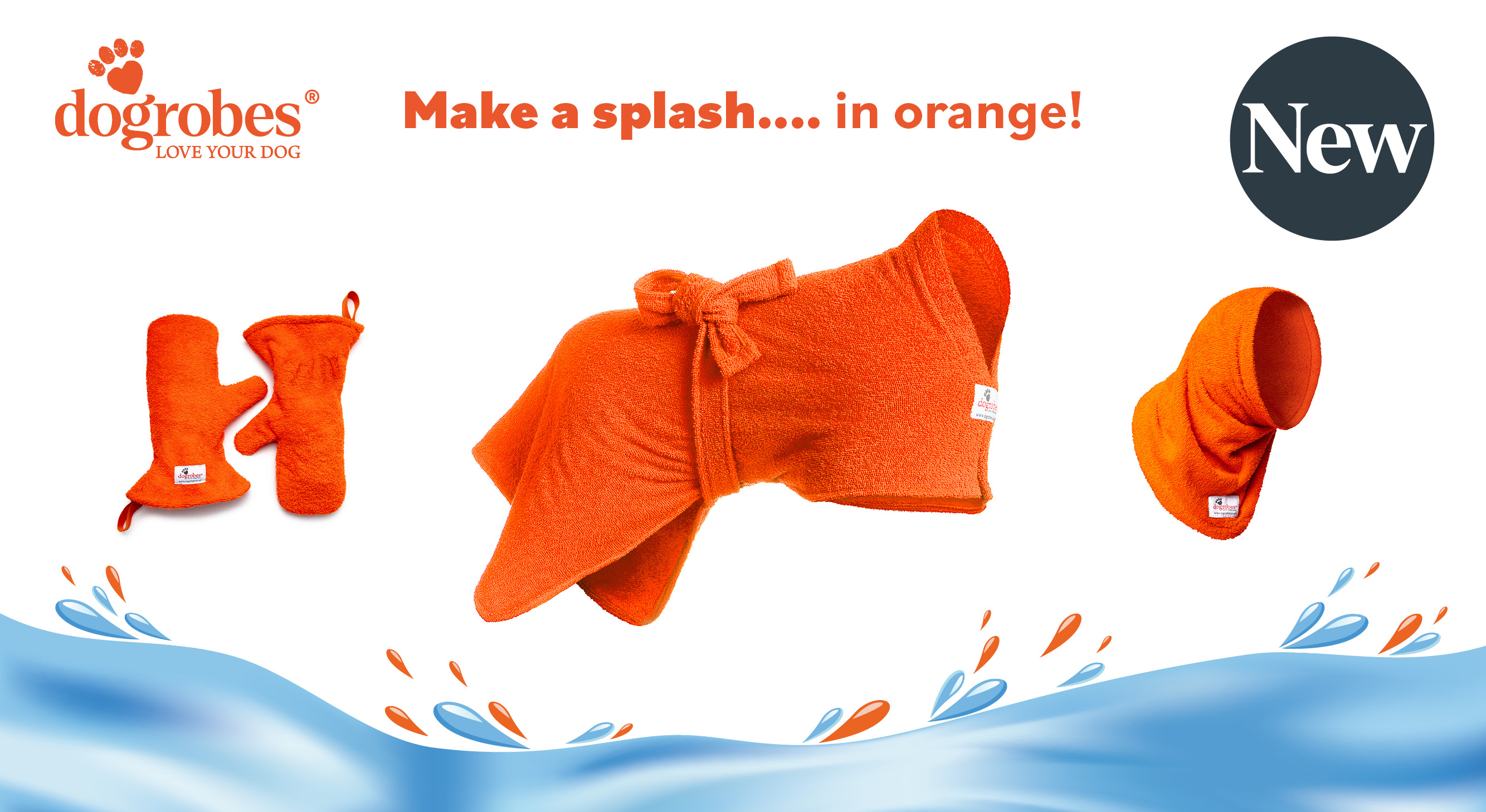 Orange Dogrobes have all the great features our customers know and love, making them the easy way to dry your dog. They are available with and without a harness access opening. The orange Dogrobe makes it easier to access the harness 'D' ring when your dog is wearing both harness and Dogrobe on the journey home.
Our super-absorbent orange dog robe protects your home and surfaces from wet or muddy shake-off. Take one with you in the car and keep your vehicle clean and dry on the journey home from wet or messy walks.
Simple to fit and more effective than a rub with a towel, dogs dry quicker in Dogrobes. They work by absorbing moisture from the dog's coat and trapping their body heat, drying the dog quickly and keeping his muscles warm, in just half an hour's wearing time.

Complete The Kit and SAVE
A matching orange Snood will suck up moisture from his head, neck and ears. Its tubular style makes it easy to fit and it contains body heat for faster drying. Being single layered means that it is lightweight and therefore more easily tolerated by dogs. It's especially useful for breeds that have long fluffy ears that take longer to dry, like Spaniels, Poodles, Cockapoos and Spaniels.
Meanwhile orange Gauntlets dog drying mitts enable you to easily dry the legs and paws of your canine companion. One recent review said Gauntlets were brilliant for everyday use in the British weather, and we couldn't agree more. Double layered Gauntlets keep hands warm and dry and they are designed with a wide opening that allows them to be worn over bulky jackets – great when you are out and about.
We're proud to say that, like the rest of our Dogrobes, Snoods and Gauntlets, our new orange range is Made In Britain…to last!
'Complete The Kit' offers are automatically applied at checkout
Mandarin, tangerine, satsuma…however you describe our new orange Dogrobes' range, we're sure you'll agree they are vibrant and bold - and will add a splash of colour your day, as well as making light work of drying your four-legged friend after bath times, park strolls or woodland walks.
Be the first to view and order a new Orange Dogrobe here.
Read next blog Dogrobes announces Pet Blood Bank UK as its Charity of the Year