UK-wide dog-saving charity to benefit from year-long support from leading drying specialist Dogrobes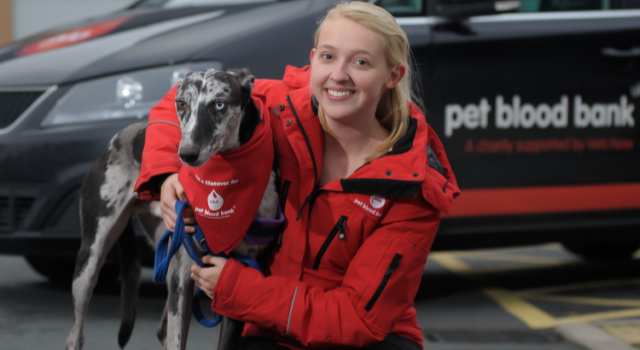 Did you know that dogs can be blood donors too?
We had no idea that this was the case, until just a few weeks ago - and we're completely blown away to learn about the incredible work carried out by Pet Blood Bank UK, Dogrobes' new charity of the year, as chosen by our customers.
This lifesaving organisation exists to help save the lives of dogs in need - and other pets too.
Set up to support vets by providing a blood service for our animals - just like the human equivalent - the charity operates donor sessions across the country and it is to these sessions that owners bring their much-loved companions to give blood.
Each unit of blood helps save up to four other lives, meaning that the charity helps save thousands of pet lives every year.
Demand for its services is growing and Pet Blood Bank's essential work can only be done with public support – and that's where Dogrobes and our wonderful customers come in.
To support the essential work of this animal charity, we will be providing a donation from every Dogrobe sold, in addition to other money-raising initiatives which we carry out throughout the year. We'll also play a part in increasing the charity's profile among our loyal Dogrobes' customer base.
Margaret Reynolds, managing director of Dogrobes UK said: "We're dedicated to dogs and are passionate about the care and welfare of our four-legged friends, so naturally we're delighted to partner with Pet Blood Bank UK.
"We feel that this lesser-known charity is very deserving of a helping hand from Dogrobes. Through our support it will help makes Pet Blood Bank UK's products as accessible as possible.
"Every time our customers purchase a Dogrobe, they will be helping this amazing charity, which exists to help save pets' lives and provides advice guides, accessible education and training for vets - measures which help to ensure the welfare of any pets who need a blood transfusion."
Nicole Osborne, marketing manager of Pet Blood Bank UK said the charity was delighted to receive the backing of Dogrobes.
"With demand for Pet Blood Bank's services increasing every year, Dogrobes' announcement has come at a vital time when we need fundraising more than ever, to help support our work. The generous support will make a big difference in helping to make our blood products as accessible as possible.
"We really are thrilled that Dogrobes has chosen Pet Blood Bank UK as its charity of the year and we look forward to building connections with this great British brand."
Dogrobes learns how Pet Blood Bank UK operates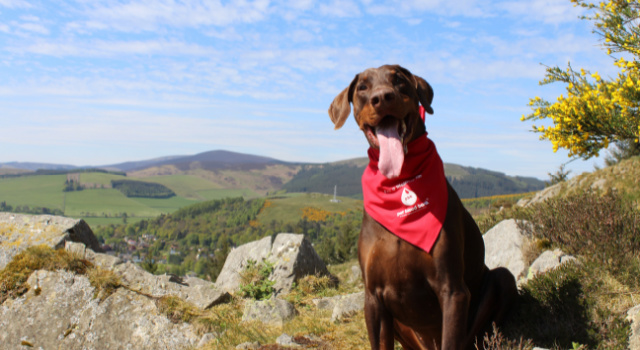 As a charity for vets, Pet Blood Bank UK seeks to advance blood banking and transfusion medicine for pets. A trusted supplier of blood, our charity of the year works with the veterinary industry to ensure the highest welfare standards for all pets, with vets saving thousands of lives every year using blood products.
The charity operates donation sessions across the country where owners bring their much-loved companions to give blood.
The blood is taken to the Pet Blood Bank's processing centre in Loughborough where it is separated into different products. It is then stored and sent out to vets when they need it.
It operates 24 hours a day, 7 days a week, to ensure blood is always available.
Alongside providing blood products, the charity is committed to sharing knowledge and offering free education to vets and vet nurses.
It's not just dogs that Pet Blood UK provides its essential services to. It supports the alpaca community by offering a collection kit and blood processing service for alpaca vets. The charity is also working towards expanding its service to include a blood bank for cats in the UK.
Other ways that Dogrobes' customers can help?
To ensure that blood is always available, you can register your dog to be a donor and join a network of likeminded individuals who care about the welfare of pets and the veterinary profession.
As demand increases, the charity needs more lifesaving dogs on its register. If your dog meets the donor criteria (below), and especially if they are likely to have negative blood type, then Pet Blood Bank would love to hear from you.
Donor criteria
For your dog to be a blood donor, they must meet certain criteria. Your dog's welfare is always the priority and so for them to become a lifesaver, they must be:
Fit and healthy

Between one and eight years old

Weigh more than 25kg

Have a good temperament

Have never travelled outside of the UK and Ireland

Vaccinated or have an annual titre test after the first-year booster

Not on any medication
What type of dog makes a good donor?
In addition to meeting the donor criteria, dogs should be confident, happy being handled, enjoy meeting new people and be comfortable going to the vets.
Your dog needs to be willing to take part in the donation process, showing this in their behaviour.
Dogs that are energetic and full of beans are very welcome. As long as they have a reasonable level of obedience and are confident, they usually go on to become great donors. Dogs like this often surprise their owners by being able to lie still for the donation.
If your dog is anxious or nervous, wary of new people, or fearful at the vets, you might like to support the charity in other ways. Dogs like this may find the donation process stressful – and the welfare of every dog always comes first.
If your dog meets the above criteria, and you'd like to get involved, the next step is to complete the registration form.
By joining the community of lifesaving donors, it ensures blood will always be available for dogs when they need it.
Do dogs have blood types?
Yes, dogs have different blood types just like humans. The two groups the charity tests for are DEA 1 positive and DEA 1 negative. It particularly needs dogs that are more likely to have negative blood type. This is because this blood type can be given to all dogs in an emergency. A full list of these breeds can be found on Pet Blood Bank's website but it includes German Shepherds, Dobermanns, Flat Coated Retrievers, Greyhounds, Lurchers and Boxers.
Dogrobes' charitable giving to date

Since 2004 Dogrobes has donated over £12,500 to causes close to the hearts of our customers, including Dogs' Trust, All Dogs Matter, Cinque Ports Rescue and Dementia Dogs.

In addition, we've gifted Dogrobes to a range of working dog groups, like the elite canines that carry out mercy missions on behalf of Search and Rescue Dog Association Scotland (SARDA).

We've also helped Newfound Friends which uses the swimming and therapeutic superpowers of the breed to improve people's lives and Medical Detection Dogs who train dogs to detect the odour of human disease to develop more efficient and less invasive diagnostics leading to better patient outcomes.

To us, it's important to give back to the charities that support canine companions, because dogs are the centre of our world, and they give us so much love, loyalty, adventures and fun.

Giving back is as much part of our company ethos as ensuring complete customer satisfaction in our Dogrobes' dog drying products that our customers adore.

In fact, we featured in Dogvine's ultimate guide to brands that give back to dogs feature that embraced businesses with the ethos of charitable giving.

Find out more about the work of Pet Blood Bank UK here.

And remember, that by purchasing an Original or Exclusive Dogrobe, you'll have the ultimate dog drying product and will be helping this charity in its important work saving the lives of dogs and pets.

Update

We are delighted that we were able to donate £788.25 to Pet Blood Bank on 1st November 2022. Our new charity for 2022/3 is Hounds for Heroes. You can read all about the great work they do here.

Read next blog The reality of having a famous dog and top tips for your dog's social media