Each year Dogrobes supports a new dog-related charity and we're delighted it's Hounds for Heroes this year. The charity provides specially trained assistance dogs to injured and disabled men and women from both the UK Armed Forces and Emergency Services.
Donations to Hounds for Heroes will be made from sales of Dogrobes online and all the events we attend throughout the year, including Crufts. In addition, we have released a new special edition dog drying coat together with Hounds for Heroes to help raise even more funds.
Why Dogrobes chose Hounds for Heroes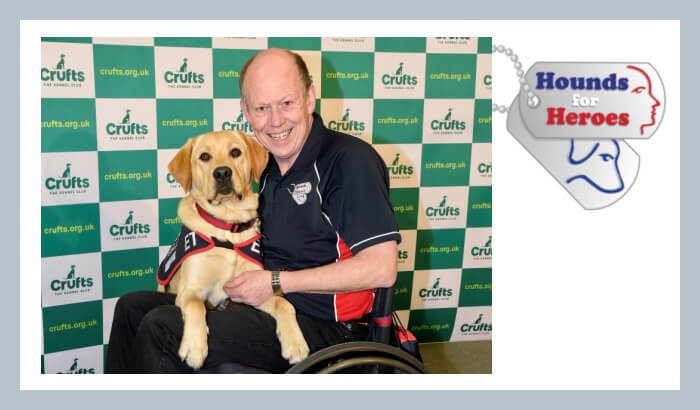 Allen Parton, founder of Hounds for Heroes with his assistance dog, ET
Our relationship with Hounds for Heroes goes way back to 2015 when we sponsored a page in their official 2015 kitchen calendar. Through the years we've helped a bit behind the scenes by donating prizes for various dog shows organised by the likes of Braintree & District Dog Training Association in 2018. All proceeds of the dog show went to the charity.
Having been narrowly pipped at the post in our customer poll to find last year's charity, it was time that Hounds for Heroes became this year's charity.
A little bit of history on our new charity
Hounds for Heroes was founded by Allen Parton. Allen was a Chief Petty Officer serving in the Gulf with the Royal Navy when a tragic, operational incident changed his life. He received a serious head injury, which wiped out his memories and left him unable to walk, write or speak. Any meaningful recovery seemed remote and Allen spent 5 years in hospital, until he met a very special dog called Endal.
Thanks to his partnership with Endal, Allen's confidence returned and he made a remarkable recovery. He regained his independence and told everyone how much Endal had transformed his life.
Endal could respond to over one hundred commands and he could even problem solve! One day Allen couldn't reach the money he had withdrawn from the cash machine. Straightaway, Endal jumped up and took the card and money in his mouth and gave it to Allen. What an intuitive pooch!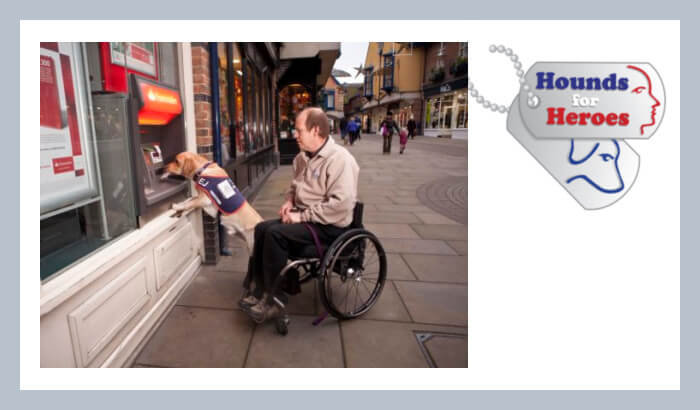 The very talented Endal Junior getting cash from the cash mine for Allen Parton, founder of Hounds for Heroes
As a result of Allen's positive, four-legged experience, Hounds for Heroes was born. Endal was awarded the PDSA Dickin Medal for bravery and was also voted 'Dog of the Millennium'. Sadly, Endal passed away in 2009 and his successor Endal Junior passed away this year at nearly fourteen years old. Allen now has the support of ET (Endal the Third) and although he has very big paws to fill, he's up for the challenge!
It was a dream of Allen's to create a charity that worked specifically for people who routinely put their lives in danger. He wanted other people, disabled through illness and injury from the military and the 'blue-light' services, to receive the same help that Endal had given him.
The Heroes
Based in Petersfield in Hampshire, the charity helps heroes across the UK. Their aim is to provide help and practical support, leading to an enhanced quality of life.
Although partnerships are based on the partner's physical mobility needs, rather than specific conditions, dogs have already been placed with partners with the following conditions:
Acquired brain injury

Amputees

Multiple sclerosis

Parkinson's disease

Spinal cord injuries
Hounds for Heroes uniquely meets the costs of the assistance dog's food, veterinary and insurance costs for the working life of its dogs. By doing this, the provision of an assistance dog does not create a financial burden on the partner at any time.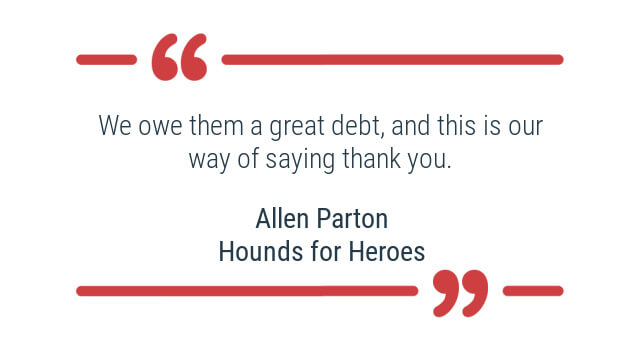 The Hounds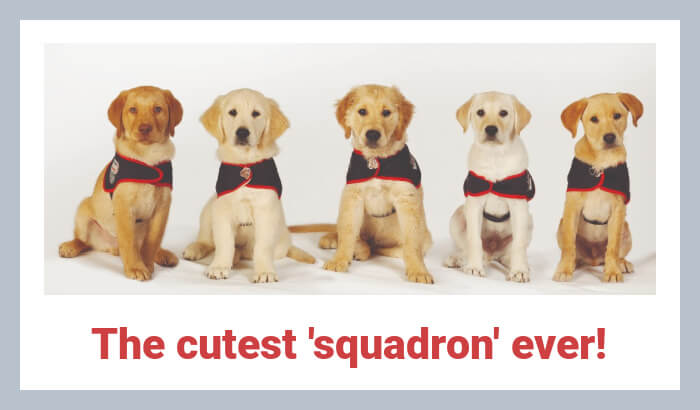 Hounds for Heroes are so grateful to the breeders who provide them with puppies to train. Each intake of puppies is called a 'squadron' and two squadrons of puppies are recruited each year. Usually, a squadron will be made up of at least four puppies of a similar age but that can increase to six puppies if need be.
Hounds for Heroes dog trainers are responsible for training young, adolescent dogs at the right pace. Typically, dogs are trained in busy environments and taught to ignore distractions. They learn how to cope with different mobility aids and learn different task work, such as retrieving, touching and tugging.
This then progresses to pushing buttons and light switches, picking up things and opening and closing drawers. The dogs can even be trained to react to a particular situation with no command at all. For example, if the partner falls the dogs can be trained to get help nearby or activate an emergency call system.
Training can take up to two years. In time, the hounds become well-behaved assistance dogs ready for their future partnership.
Trainers are also responsible for matching the pups to their future partners. It's essential to match the right dog to the right partner to ensure a happy, long-lasting partnership. When the trainer knows the partner and their needs, the dog's training can be fine-tuned to meet those bespoke needs.
It's not just the hounds who receive training, the heroes are also trained on all the elements of having an assistance dog at a residential training course.
NEW Hounds for Heroes' Dogrobe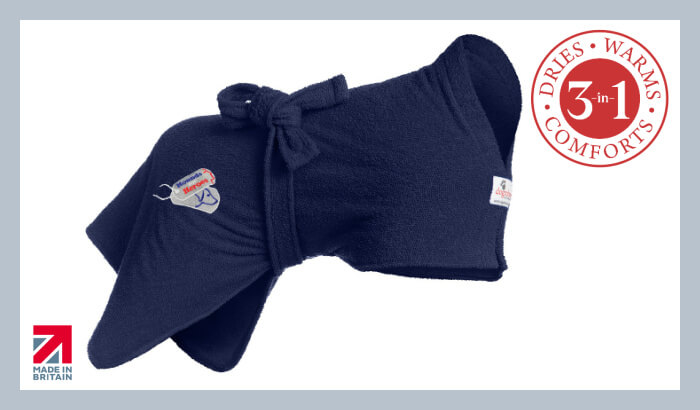 Dogrobes and Hounds for Heroes are delighted to launch a very special edition Hounds for Heroes' Dogrobe. The dog robes are available in all sizes to suit all breeds from a Chihuahua to a Newfoundland. They will be sold exclusively on the charity's website.
The navy Dogrobe features the embroidered Hounds for Heroes' dog tags' logo on both sides of the Dogrobe.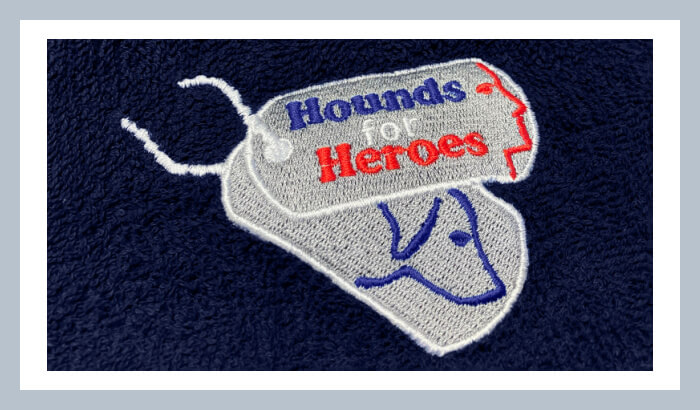 Like our other robes, these special edition 3-in-1 Dogrobes dry dogs, keep them warm and comfort them. They protect surroundings from wet, muddy shake-off and stop the wet, dog smell.
The secret is our own super-absorbent, lightweight fabric, which absorbs moisture, traps the dog's body heat and generally dries dogs in around 30 minutes.
Dogrobes are made in Britain….to last! They really are the easy way to dry your dog and we have been making tails wag since 2004.
These towelling robes for dogs are perfect to use after outdoor adventures, wet work and bath times. And the best part is that you'll be showing your support for this amazing charity.

Hounds for Heroes' Dogrobe for every hound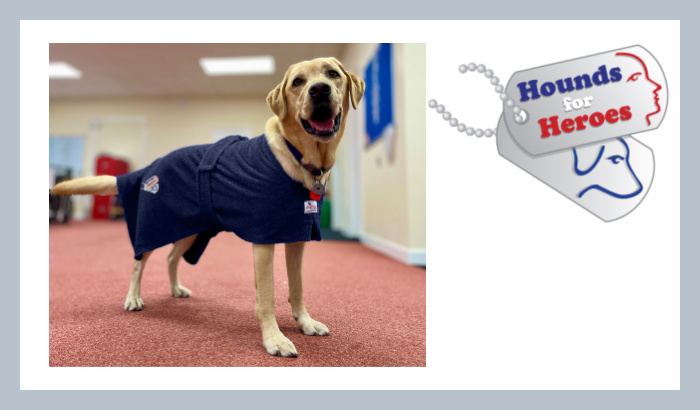 Bosun from squadron 7, who joined in in June 2018 modelling the special edition dog robe
Dogrobes are delighted to donate the new Hounds for Heroes Dogrobe to every partner's canine companion. Currently there are 28 Hounds for Heroes assistance dogs throughout the UK.
Dogrobes' Owner, Margaret Reynolds, said,
"I hope our new Hounds for Heroes Dogrobe will help to make partners' lives a little bit easier. No more wet muddy shake-off to deal with and no more wet towels! Just slip the towelling robe over the dog's head and tie. 30 minutes later, the dog is dry and the robe can come off.
We can't wait to see the dogs all warm and snug in their special edition Dogrobes. These assistance dogs do such amazing work for their partners, giving them each a Dogrobe is our small way of saying - great job, well done!"
Looks like they've already got the seal of approval from Bosun. There's no denying that waggingly happy tail!
Q & A with Hounds for Heroes
We caught up with Hounds for Heroes to ask a few questions:
We hear you've been putting Dogrobes through their paces. How did the trials go?
Very well! The towelling robe was initially tested when one of our dogs attended a hydrotherapy session. It certainly soaked up the water from the dog's coat in a short period of time.
How will the dog robes help your hounds and their heroes?
Dogrobes make it so much easier for the partners to dry their dogs, especially if they take their dogs into their workplace. No more bending over to dry the dog and no more piles of wet towels!
It should save time and additional effort too as the Dogrobes certainly soak up any water retention.
How will this new partnership help Hounds for Heroes?
It's amazing to be supported by Dogrobes and chosen as their Charity of the Year. This collaboration will help Hounds for Heroes continue in their mission, by helping to raise much needed funds during the year.
Who are our customers helping when they're buying Dogrobes?
Lots of really very special people, you can read Peter's story here.
Dogrobes' charity work
We started helping charities in 2014. Since then, we're delighted to have given over £14,500 in charitable donations. We think that's pretty good going for a small company! And it's thanks to you, our wonderful customers, that we can help all our charities.
You can read about some of our previous donations here: Pet Blood Bank, Dementia Dogs, All Dogs Matter and Dogs Trust.
Donations to our chosen charity come from sales of Dogrobes online and from every event we attend throughout the year. In addition to our chosen charity, we help numerous deserving dog charities each month with gift vouchers for tombola, raffles etc.
How you can help
We're very much looking forward to supporting Hounds for Heroes this year with your help.
You can help by buying any one of our Dogrobes online or at events.
We think you'll be spoiled for choice. There are 10 vibrant, plain colours in the Original Range and 8 unique patterns in the Exclusive Collection to choose from.
Each Dogrobe in both collections is available with a harness access opening too. So, if your dog wears a harness on the journey home, this might be the best option for you. The harness access opening makes it easier for you to locate the harness 'D' ring. It also makes it more comfortable and safer for your dog to have the seatbelt attachment fitting directly onto the harness. This is via the access opening rather than being threaded through either the neck or back of the Dogrobe.
You can buy the special Hounds for Heroes Dogrobe on the charity's website here.
Keep an eye on our social media, as we'll be sharing how you can get involved in the charity's work. Their new charity calendar and Christmas Cards have just been released. They also have a festive virtual Quiz in December. Be sure to follow Hounds for Heroes on facebook, or for further details, visit the charity's website.
The charity also needs full time puppy parents and short term foster homes for their puppies. You don't need experience but you will need to meet certain criteria and attend their induction programme. You can find out more here.