Given that it's World Social Media day we wanted to know what it's like to have a famous dog and get some top tips from an expert.
Margaret was delighted to have the opportunity to interview content creator and photographer Aurélie Four, who runs a very successful Instagram account @lecorgi (140k followers and counting) on behalf of her gorgeous Corgi, Marcel. Marcel has been a fan of Dogrobes for years and always wears his Dogrobe with style. And we are HUGE fans of Marcel! ♥️
From small beginnings...
Have you always had a dog?
"Yes, I grew up with dogs and really other than when I was a student, I have always had a dog in my life."
Why did you decide to share Marcel on social media?
"I really just wanted to share photographs of him and my joy of having Marcel but I didn't want to put them on my personal Facebook page. So, I created a separate Facebook account where I would only post about Marcel. I later created an Instagram account because Instagram was photo-orientated at the time. As a photographer, that suited me, and now I post on both platforms. His blog "for dogs and their well-behaved owners" came later."
Did his account take long to take off?
"It certainly didn't happen overnight! It took years! Thinking about the content, capturing it, editing the pictures or videos and replying to people's comments. But if followers have taken the time to comment it's only right to respond. Eventually as his account grew, I was contacted by brands and realised I could make some money from the account. Gradually it started shaping up as a side business."
What you need to know to get started with a dog account
Can anyone make their dog famous and can you make money from it?
"Yes and yes, with a lot of work, dedication and creativity. I didn't set out thinking I could make money from it, I was (and still am) just sharing what I love: Marcel and corgis, photography, travelling and going out. These things combined happens to be what works best on social media.
I have had some amazing opportunities through my work on the account, which allowed me to leave my marketing job a few years ago but it is not easy or sustainable in my opinion to live off social media. It changes constantly and work comes and goes quickly. If something happened to Marcel, then my income has gone. You need a backup and morally it feels wrong to only use your dog for your income. I actually decline more partnerships than I accept. Photography is my main job. Marcel's account is my side line."
Do you need to be a good photographer for social media?
"You do to an extent, especially if you want to work with brands, but it's not necessary and now videos count just as much, if not more than photos when it comes to the type of content favoured. The most important things are to be a good storyteller, have your own style and create content that is engaging. For example, Marcel's account is as cheeky as he is and that's authentic.
Since it's my job, photography is important to me and I don't think the account would have grown without it."
What are your top 10 tips for starting an account for your dog?
Be prepared to put huge amounts of effort into the account

Make all content interesting and engaging

Post consistently but there's no need to post every day

Social media is an ever-changing world, so keep up with the changes and be willing to adapt

Realise that becoming a popular account doesn't happen overnight

Be a good story teller

Be authentic and create your own style (don't force being something you're not)

Have fun and remember the 'social' in social media

Never forget - your worth is not linked to your likes

Always put your dog's welfare first
The reality of social media
How long do you spend on social media each day?
"Too much time!!! I try to spend less time now and focus on my own photography. I also think social media is quite addictive, so I try to spend 1 or 2 hours now, rather than the 6 I used to!!! Those couple of hours are now spent interacting with people, which is an important part of the job."
Do you plan your content?
"I have to plan paid partnerships with brands, as those involve a lot more work. You need to make sure the brand is happy with the content before posting it and set posting dates so that paid content is balanced with organic posts. The majority of my content is more organic and spontaneous - a picture or video snapped at the park and quickly edited; a visit to a dog-friendly place or our travels."
Is there a typical day?
My day centres around Marcel's day - getting up, breakfast, hydrotherapy etc. Really it is just a normal dog owner's day. He has always been my priority. If he is doing something nice, I will snap a shot and share it. It is really important to me that I let him be a dog."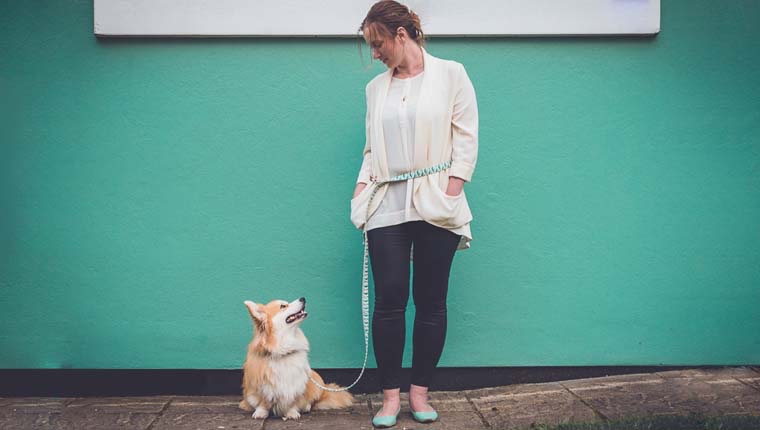 Do you ever allow reality to show more than the immaculate Instagram look?
"Actually I want to show this more. It can get quite toxic when you just show the positive and the good for myself and others. I feel like I need to show the other side more, not always the curated look. I think after the pandemic, we crave for more reality. So, I will definitely be showing a more realistic side of Marcel from now on."
What do you enjoy the most about Marcel's account?
"Taking photos, travelling and eating out with Marcel. I enjoy sharing him, but really it is about being able to spend as much time as possible with him. Social media acts as my journal, so I can look back on the fun we've had.
The community side of it is also a real support, especially when people left very helpful messages and advice when Marcel was unwell recently. It's lovely when followers tell us that we inspired or helped them to travel or find a place to visit, stay or eat, or decide on whether they are ready to get a dog or corgi. Sometimes our posts help followers through a rough time or just make their day and that means the world to me. We've connected with heaps of lovely, caring, like-minded people (including Margaret) around the world thanks to @lecorgi.
I also love the ability to use the platform as a voice to educate people on corgis; raise awareness for causes that are important to me and give back. Marcel has been a therapy visiting dog for 5 years now visiting the elderly locally in an NHS hospital. I love to focus on: the "social" in "social media" and I feel that is often forgotten about."
The least enjoyable part?
"People who promote dangerous or careless behaviour worry me.
Also users of social media who think that because they are hidden behind a screen they can take their anger and frustration on a creator because they are "easy to access". There is a human behind every account and I wouldn't hesitate to hit the block button!
Being mocked for standing up for what is right can be disheartening too but part of having a big account is growing a thick skin and not letting negativity affect your mental health. Remember your worth isn't linked to your likes!"
Showbiz talk!
Who is the most famous celebrity you have met through Marcel?
"My most favourite person is Dame Judi Dench who we met at the RHS Chelsea Flower Show. Marcel is the only dog who has been invited to the show and Dame Judi is a big dog lover. She spotted him and came over and made such a fuss of him. It was so lovely.
The other person is Rich McCor, @paperboyo, who is a very talented and influential paper creative and an inspiration to me. I am privileged to have worked with Rich recently on a campaign for the Platinum Jubilee".
Does Marcel act the diva?
"Yes!!! His nickname is "His Royal Lowness", a nod to the royal link but I like to say that he is the "most down to earth" member of the Royal Family (literally haha). He is mellow for a Pembroke Welsh Corgi, but he definitely has some of the traits of the breed. As working dogs they are super intelligent; have a bit of a mind of their own and are quite stubborn. So he has his moments and can be a bit of a drama king! If he doesn't want to do something, he just doesn't do it. If he isn't happy, he'll act up, scratch the ground and bark, so we know to stop!"
Thanks to Aurélie for talking to me and if this blog has given you inspiration to take the plunge with your own dog into the world of social media, let us know on Dogrobes' Facebook or Instagram. And follow Marcel to see the sort of content Aurélie shares.
One of Aurélie's main points is ensuring the welfare of your dog at all times. We couldn't agree more, and would definitely urge anyone who is thinking about setting up an account for their dog to make their dog's welfare their top priority at all times. We all love our dogs and whether you opt to try and make them famous or not, they will always be number one in our lives!
Read next blog 12 Top tips for keeping your dog calm this fireworks' season