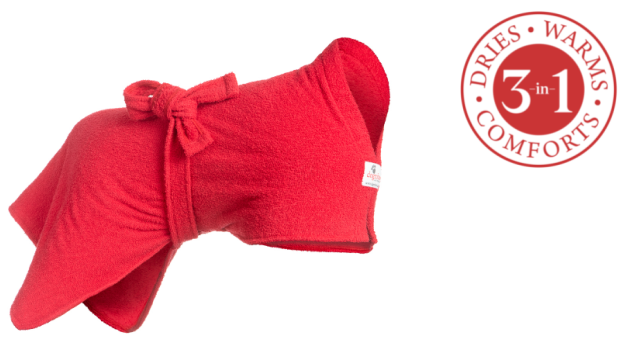 A Great British brand since 2004 – Dogrobes are proud to provide award-winning three-in-one dog drying towels that are adored by dogs and their owners.
Trusted for years by vets, hydrotherapists, dog walkers, and groomers, our original dog towel coat earns hundreds of five-star reviews from satisfied customers.
Our products have been despatched to pet owners in every postcode district in the UK, and our busy online shop is complemented by a network of over 100 stockists in the UK. We ship internationally too and have a growing overseas fan base.
The reason behind the popularity of our dog drying towels is simple – they really are the easy way to dry your dog after outdoor adventures, swimming, grooming, training, working, and bath times.
Dogrobes As The Go-To Premium Dog Towel Coat
One of the best things about Dogrobes is the multitude of uses that they have. As a 3-in-1 product, they dry warm and comfort your dog.
Simple to fit and more effective than a rub with a towel, dogs dry quicker in Dogrobes. They work by absorbing moisture from the dog's coat and trapping their body heat, drying the dog quickly and keeping their muscles warm, in just half an hour's wearing time.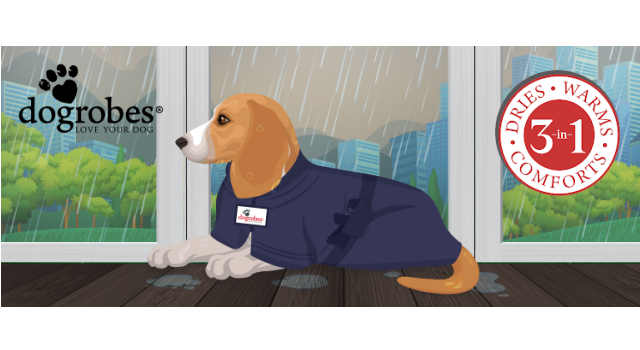 As they get older or if they're ill, some dogs need help to keep warm. Smaller breeds such as Cocker Spaniels, Schnauzers and Toy Poodles tremble when they get wet. Because dogs wear the robe for around 30 minutes, as opposed to a quick rubdown for 2 minutes, the robe traps their body heat and helps to keep them warm.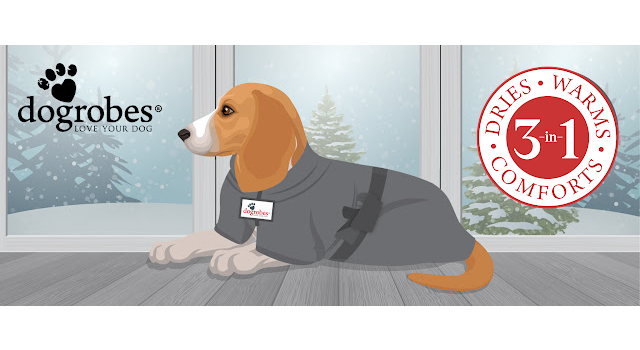 Using our dog towel coat can provide reassurance to an anxious, fearful or over-excited dog. Many customers have shared experiences of using a Dogrobe as a comforting coat to help calm their nervous pet, useful for car journeys or during fireworks season.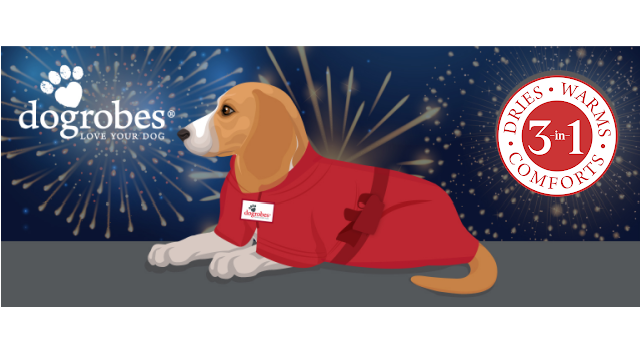 Our super-absorbent doggy robe protects your home and surfaces from wet or muddy shake-off. Take one with you in the car and keep your vehicle clean and dry on the journey home from wet or messy walks. Slip on and tie the Dogrobe before your dog jumps into the car or runs into the house and save yourself time and effort cleaning up

Using a Dogrobe is perfect for dogs who don't like hairdryers and it can help reduce dog coat matting caused by vigorous towel drying

Pets can lounge around in their dog robe without the risk of an unpleasant wet dog smell to contend with - and say goodbye to soggy dog towels lying around

Dogrobes can also act as an odour absorber. When your dog has rolled in something they shouldn't have, use their dog drying towel to shield surroundings from muck and to mask smells

A Dogrobe can be worn after ointment applications to protect upholstery and furniture from messy stains

Customers also tell us they've used our dog robes with great success to keep wounds clean and protected after surgery

Dogrobes are ideal to use after grooming, particularly if your dog needs time to adjust to the lighter look and feel of their clip

Wearing a Dogrobe helps keep a show dog's coat flat or maintains curls when preparing for and travelling to shows

As a versatile year-round product Dogrobes can be used to melt 'snowballs' gathered on dogs' underbellies during snowy winter walks
Who would believe that one dog accessory could have so many uses and benefits?
Producing the simplest, easiest and best doggy robe that provides maximum coverage quickly has taken years of experience. Let's share Dogrobes' special qualities that ensure we lead the field as the ultimate drying garment for dogs.
What Makes Our Dog Drying Towel So Special?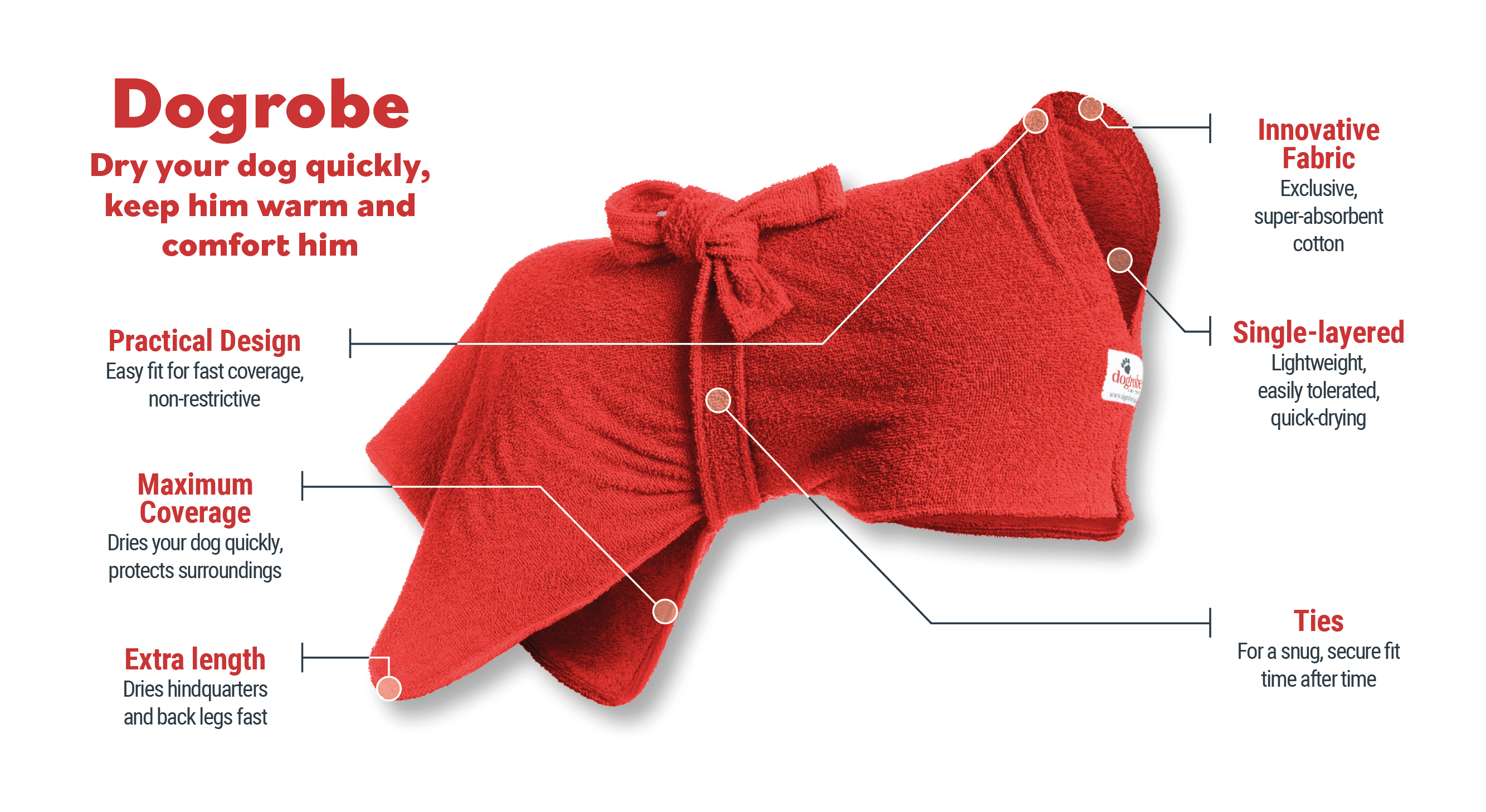 We'll start with our fabric. Only genuine Dogrobes' products are made from our super-absorbent towelling fabric that has been independently safety-tested. It has longer loops on the inside that quickly draw moisture away from your dog's coat. These special fibres aid absorption, so there's no need to rub your dog down. The single layer of fabric means it dries super quickly for re-use.
Made from 80% cotton and 20% polyester, this lightweight fabric is even tolerated by dogs who don't like wearing coats.
A Dogrobe not only dries your dog, it cares for them too, thanks to the fabric trapping air and body heat to maintain their body temperature, speeding up drying time and keeping their muscles warm after exercise.
Practicality is the name of the game and our products are quick to slip on and tie for a simple, secure fit - time after time - thanks to our unique, copyrighted design. The ties are offset and cross over the underbelly to ensure superb coverage and a snug fit, where your dog needs it most.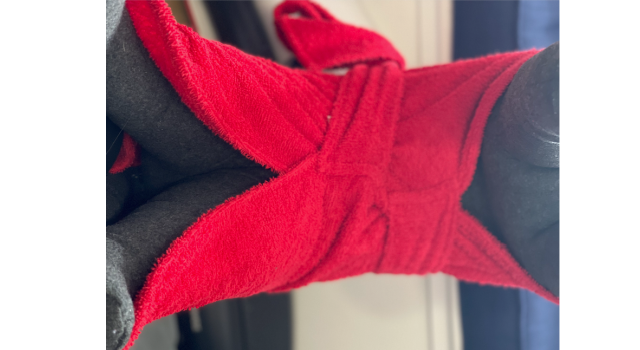 There are no awkward leg straps or leg holes. Our towelling drying coats drape right down over the hindquarters to dry the back legs quickly, thanks to their extra length.
As well as being easy to put on and take off, our dog drying jackets are non-restrictive so your dog can move around freely as they dry.
We've never used Velcro and we never will. We know that many dogs dislike the noise made by Velcro, and it can catch on fur or ears and snag during laundering.
Our dog towel coats are hard-wearing and stand the test of time. Strengthened in key stress areas at the neck and at the ties means that they are a match for the most vigorous dogs. When it comes to laundering, they are machine washable at 40ºC and can be tumble dried on a low heat.
Our robes are designed and made in the UK because it's important to us to support British manufacturing and keep quality control and the supply chain close to home. As a family-owned business, our quality products and excellent customer service are at the heart of all we do.
It has taken years of research, planning and product development – supported by demanding dog trials – to make our products the best choice. We back that up with a no quibble guarantee, so if you're not entirely satisfied with your purchase, let us know and we'll fix it.
Can I Personalise My Dogrobe?
We've come up with a great range of options for you to make your dog's Dogrobe uniquely special for him.
To start, there are two ranges to choose from: the Original range and the Exclusive Collection.
Original Dogrobes – our self-coloured range - are our bestsellers. They've been around since 2004 and we're bound to have your favourite colour. If not, let us know!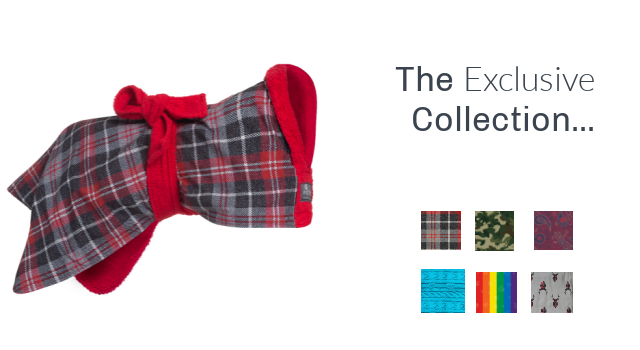 Our Exclusive Collection offers something a bit special. Each pattern has been specially created by our designers with a unique canine twist. So, if you want to carry a spare in the car or have another for when your Original Dogrobe is in the wash, you might want to turn on the style with a camouflage, rainbow, paisley, tartan, stag or teal knit pattern. These Exclusive patterned robes are every bit as durable and long-lasting as our Original designs. They're particularly popular at Christmas, as a special, yet practical gift for your four-legged best friend.
For that personal touch, your dog's name can be embroidered on both sides of their Dogrobe. Names up to a 15-letter character count can be sewn in white thread on Original designs and silver grey thread on Exclusive designs.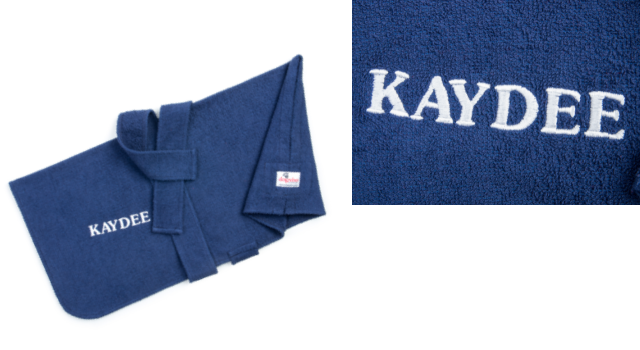 If your dog wears a harness, we also offer a harness access opening option to keep your pet safe on car journeys. Our resident vet spoke to top motoring and pet insurance organisations to research the ins and outs of transporting dogs safely and concluded that dogs should be safely restrained while travelling. A handy slit sewn into the top of the Dogrobe means you can access the harness 'D' ring to secure your dog in the car. So they can dry off safely on the journey home.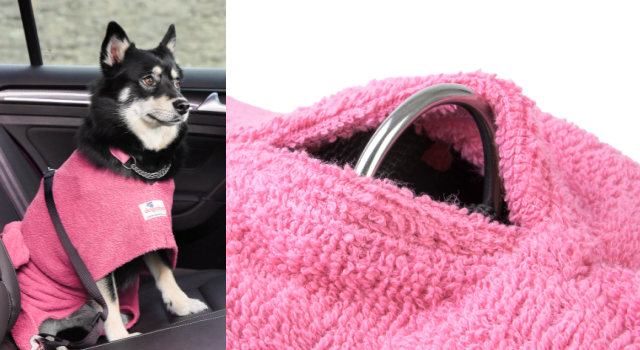 In Summary
Our robes come in a variety of sizes and we've got a handy size guide to help you find the best fit for your dog. Whatever size or breed of dog you have, we'll have a Dogrobe to suit, and we even provide a made-to-measure service.
So, let your dog do what they do best: let them find the muddiest bog to paddle in or the smelliest fox poo to roll in. Let them enjoy their outdoor adventures and trust Dogrobes to make your dog cosy, warm and dry afterward and keep your house and car clean and dry.
We're all about making life with your dog easy and enjoyable, and our range of accessories, like Dogrobes' Snoods and Gauntlets, offer the complete solution to drying wet dogs and eradicating damp dog smells.
Find out what makes Dogrobes so tail-waggingly good by viewing our full range here.
Look forward to saving time and effort cleaning up after wet dogs - and making tedious towel-drying a thing of the past!
Read next blog NEW! Cute and stylish Dogrobes with Christmas snowflakes!