Introducing red and grey snowflakes Dogrobes for Winter 2021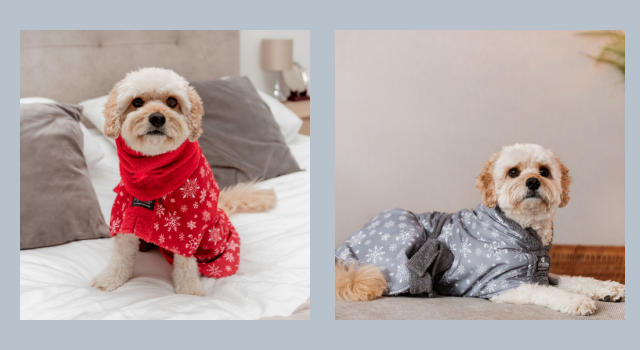 THESE PRODUCTS ARE NOW DISCONTINUED. SORRY!
Bring on the snow! Trust Dogrobes to help you prepare for winter, with the launch of a brand-new version of our award-winning dog drying jackets.
Our seasonally stunning Snowflakes pattern drying robes are the latest look to join the Dogrobes' product range.
With Christmas and the cold, wet and snowy days ahead we've timed our launch to give pets and their owners something special to enjoy.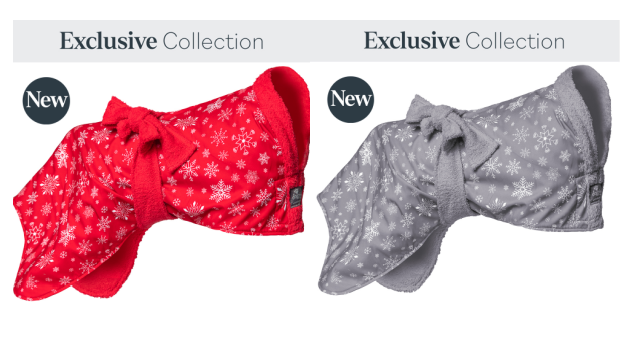 Seasonally-styled Dogrobes
After the challenges of the pandemic, we wanted to launch a fresh look to add to our Exclusive Collection and so we created our seasonally styled Snowflakes drying coat.
Managing director Margaret Reynolds says: "Our pets have meant so much to us during the pandemic, they have really helped us through difficult days, so we wanted to offer something that would deliver some fun and festive cheer.
"Our Snowflakes design looks incredible, and we're delighted with the results. We know that our customers won't want to wait for the snow to fall before they get their hands on our new design.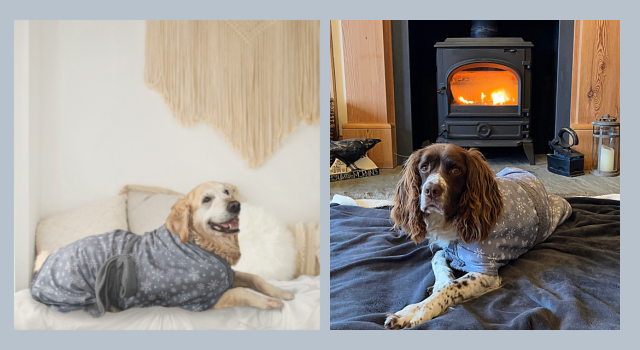 "As well as looking stylish, they're so practical and are perfect for drying dogs. Come rain or snow, Snowflakes Dogrobes will take care of wet or messy pets throughout the winter months. Dogs and their owners will be able to breeze through the freeze with the help of our Snowflake drying coats."
Exclusively for dogs with style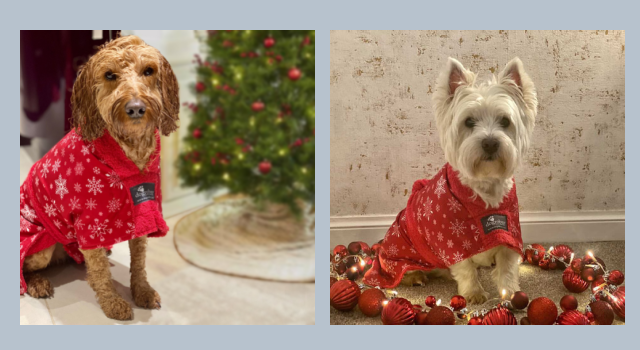 Thanks to @honeybellevalentine & @theweewhitedug for their photos
The Snowflakes design is part of our Exclusive Collection, alongside our other unique pattern Dogrobes which are Tartan, Stag, Rainbow, Camouflage, Knit and Paisley. These bespoke designs complement our Original Range of nine self-coloured drying jackets.
Our contemporary design was devised using all the pet care and product development expertise we've acquired since Dogrobes was set up back in 2004.
Available in red or grey, each colour features printed snowflakes with our trademark paw prints hidden within them for a subtle canine twist.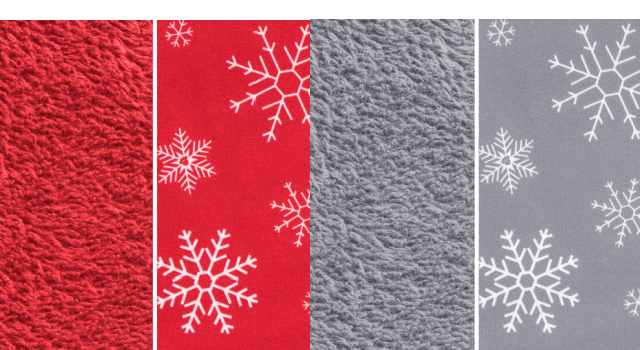 The Snowflakes are printed on a peached polyester overlay. The matching self-coloured inner layer is made from super-absorbent fabric that has longer loops on the inside to absorb moisture and trap a dog's body heat.
Snowflakes Dogrobes for a snug, secure fit
These Exclusive Dogrobes will dry, warm and comfort your dog after bathing, hydrotherapy and outdoor adventures. They also protects surrounds from wet, muddy shake off and stop the wet dog smell.
Dogrobes are a huge hit with our customers who love the stylish yet simple practicality of our ultimate dog drying coats, something which consistently earns us five-star reviews.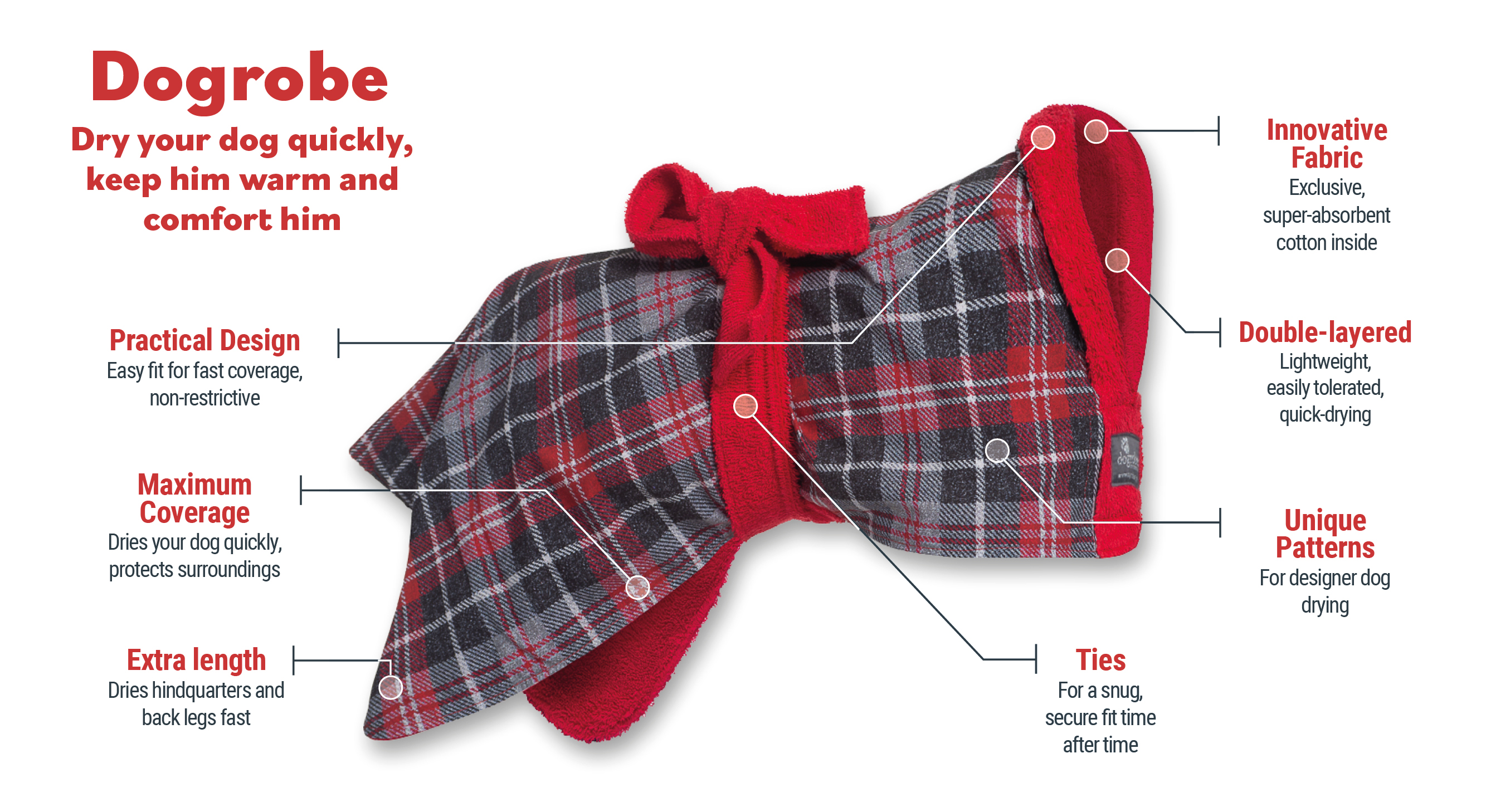 Image for illustration purposes only. The design will match your chosen pattern.
Like all our Dogrobes, the Snowflakes version is designed and manufactured in the UK. It's easy to put on and take off and is non-restrictive allowing dogs to move around freely while wearing it.
It is strengthened in key stress areas at the neck and at the ties making it a match for the most vigorous dogs.
A Snowflakes Dogrobe will provide a snug, secure fit time after time and the ties are offset and cross over the underbelly to ensure superb coverage.
With prices starting at £31.95, Red and Grey Snowflakes Dogrobes come in sizes to fit all breeds.
Safety first for dogs who wear harnesses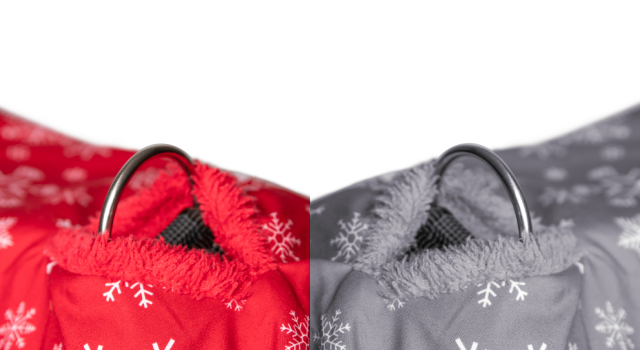 Choose your Snowflakes Dogrobe with a Harness Access Opening, to make it easy for your pet to wear their Dogrobe on car journeys home from wet or messy walks. Prices start at £36.95.
And Snowflakes Dogrobes can be customised to include an embroidered name.
Complete the kit with matching snoods and gauntlets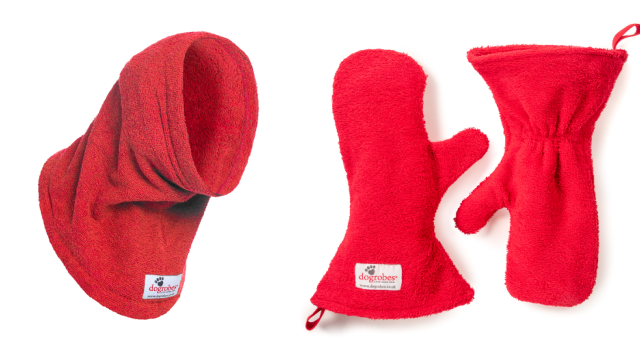 With the festive season looming large, if you want to accessorise, let us help you.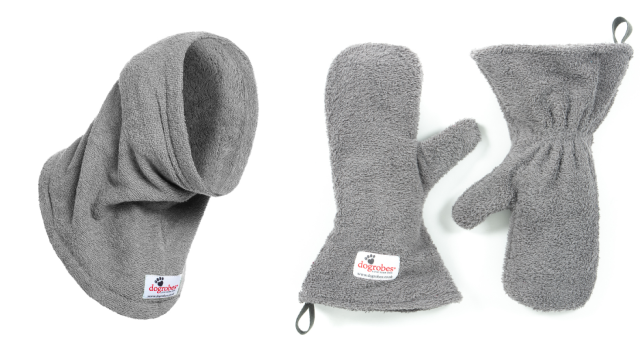 We recommend our Snoods for drying your dog's head, neck and ears and Gauntlets which are ideal for wiping down wet and muddy legs and paws. These are available in red or grey towelling and complement the two new Snowflake Dogrobe designs in red and grey.
Read next blog Christmas shopping: the Dogrobes way