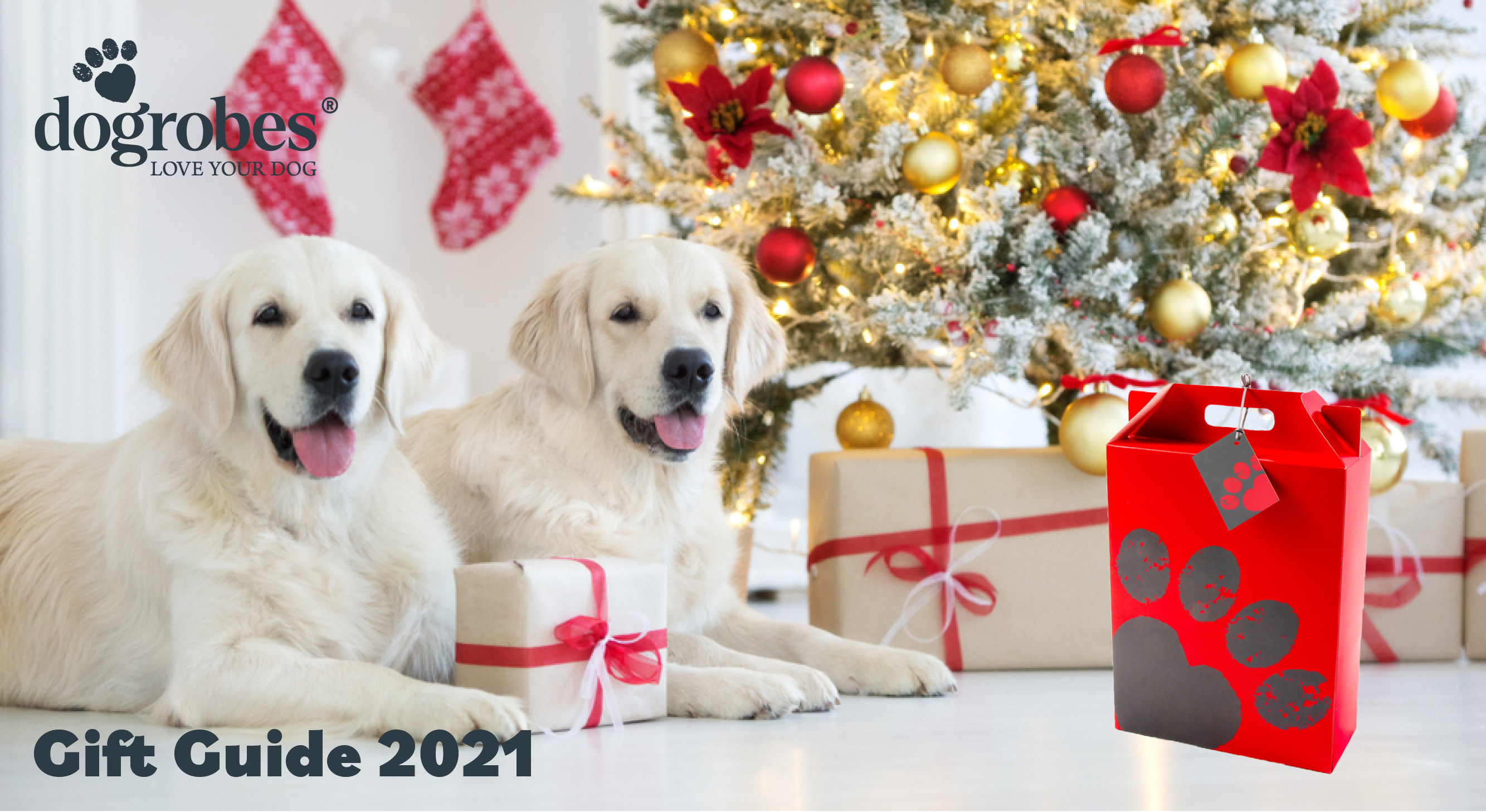 Dogrobes has sleigh loads of clever dog gifts for Christmas to consider for you, your dog or your dog-loving friends. We're a one-stop shop for perfect pup gifts that will delight long beyond the yuletide celebrations.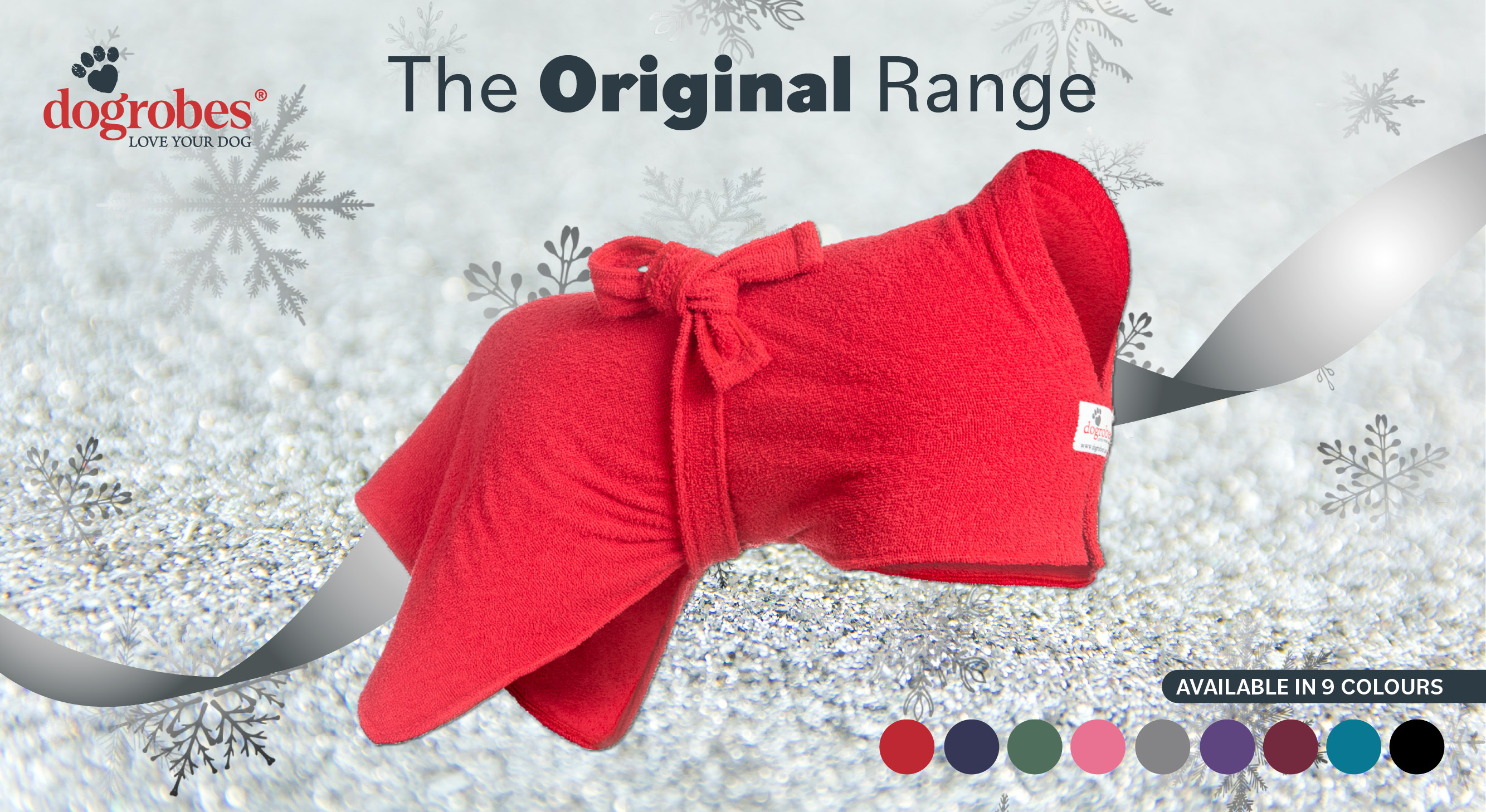 Let's start with our bestsellers, Original Dogrobes, which come in nine colours. We've been making Dogrobes since 2004, subtly improving them along the way and that's why they are highly-rated as the ultimate dog drying coat.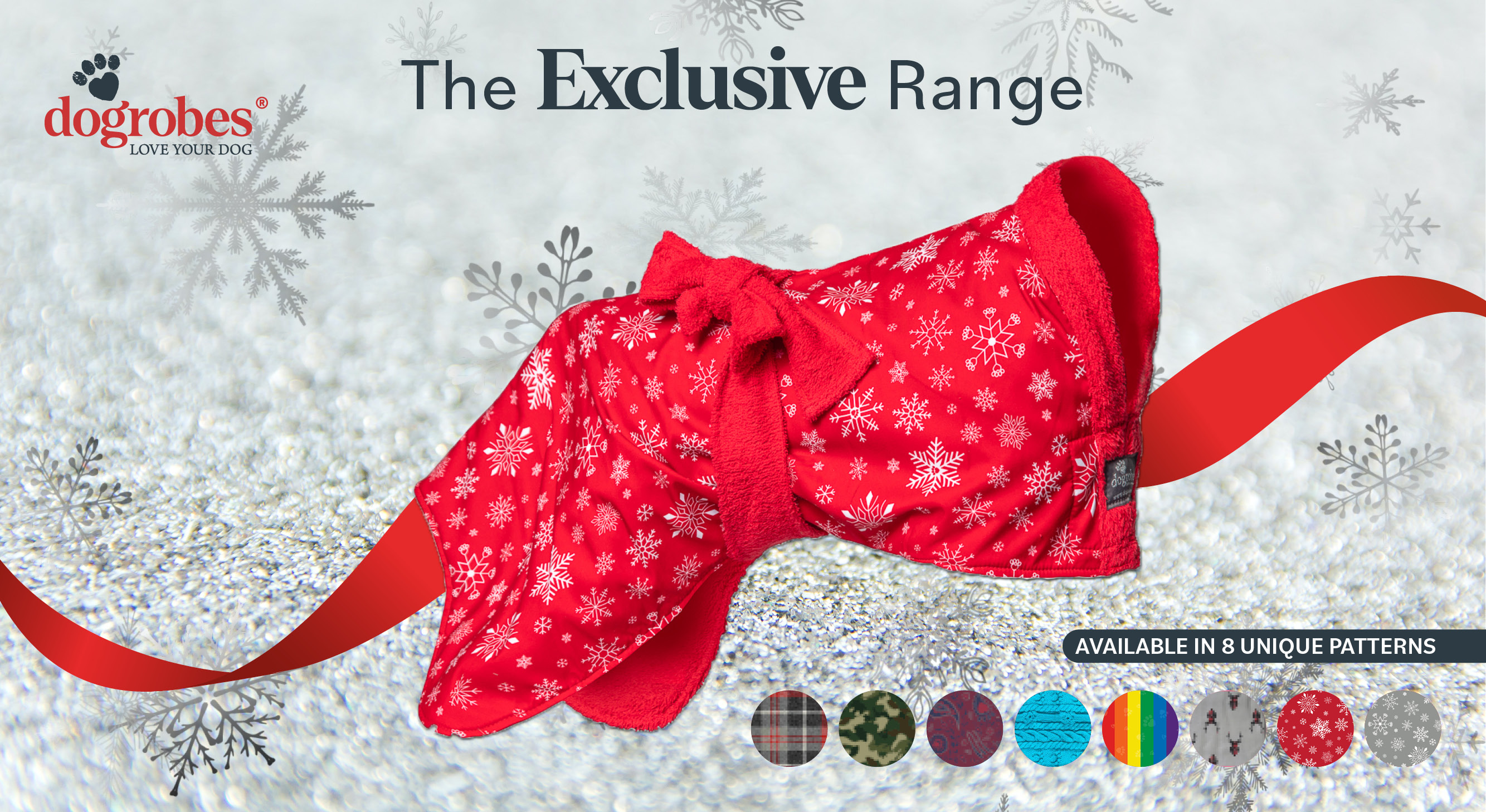 Many customers push the boat out when looking for dog gifts for Christmas and choose an Exclusive Dogrobe, our unique patterned dog drying robe that you won't find anywhere else. An Exclusive Dogrobe has all the great drying properties our customers know and love. It's ideal to keep in the car or to have on hand when your other Dogrobe is in the wash.
If you have a Dogrobe, we think you'll love our Dogrobes Snoods. They are great for breeds that have a lot of fur around the head, neck and ears. Many customers tell us they pop a Snood on their pet when fireworks are being let off, as it helps calm and comfort them.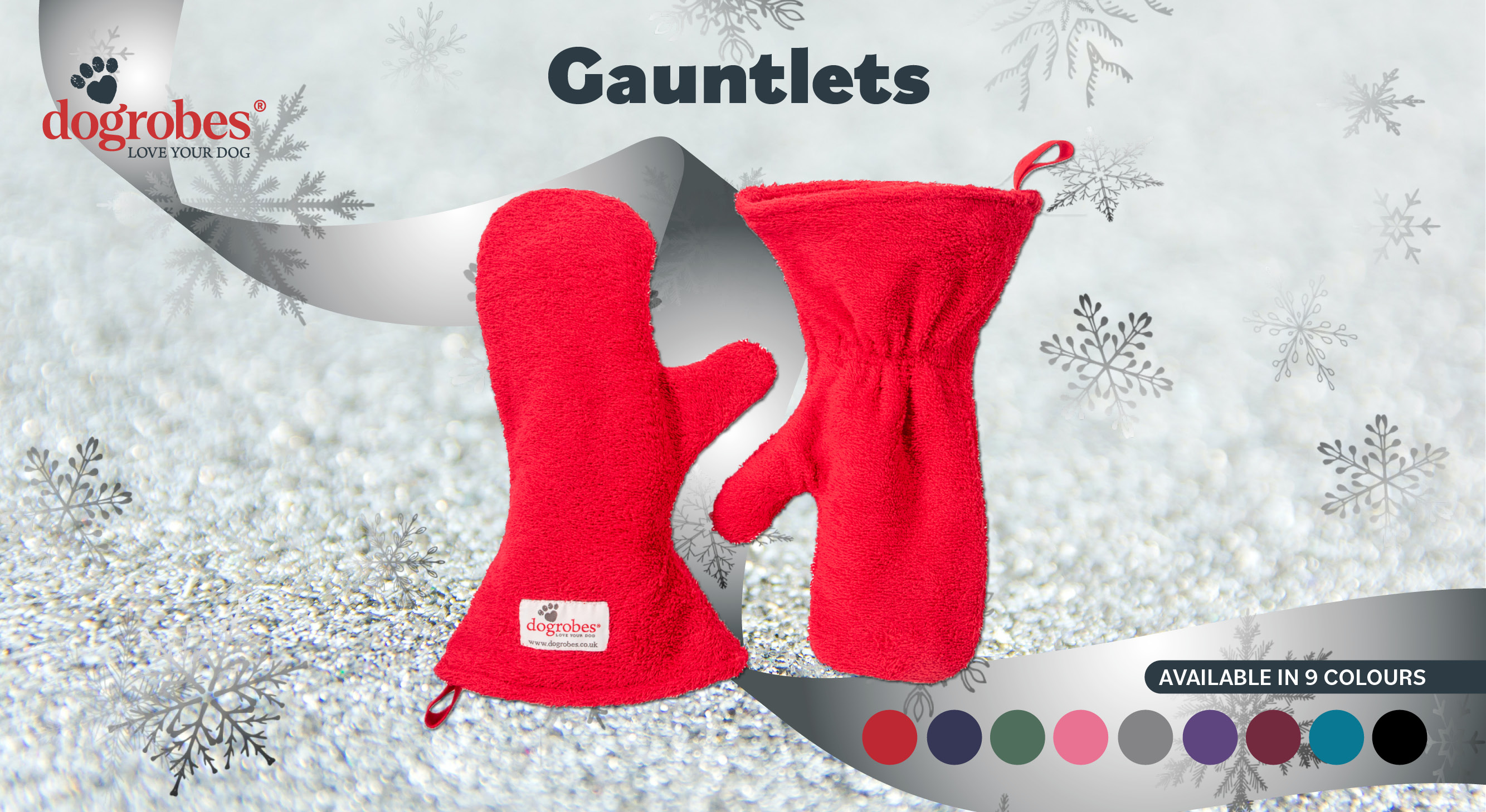 A pair of Dogrobes Gauntlets are just the thing for drying legs and paws quickly and because one size fits all there's no need to worry about getting the wrong fit. Very handy indeed, especially in wet, cold and snowy winter weather!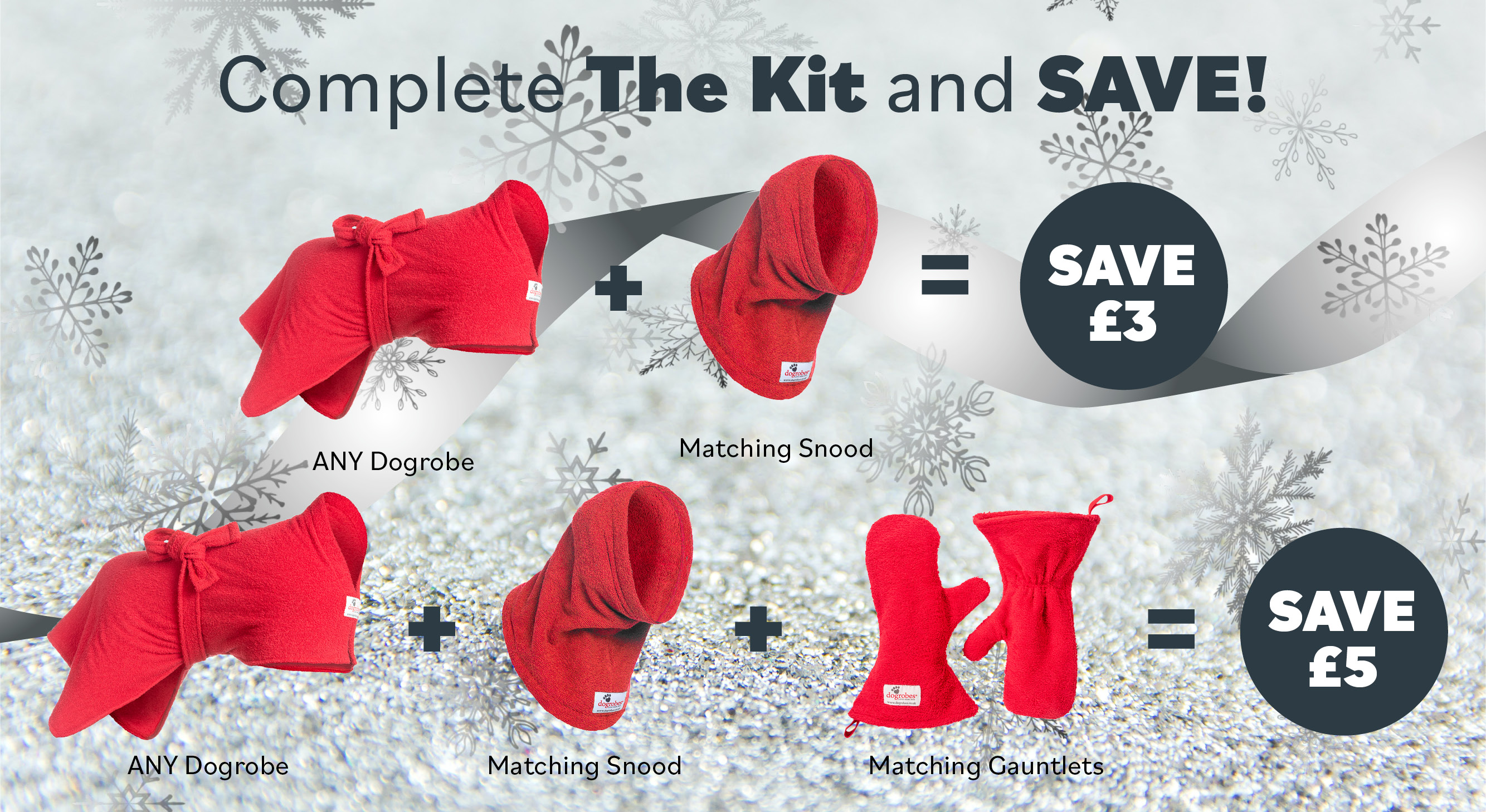 Why not choose the complete dog drying kit? You'll save money when you buy a Dogrobe, Dogrobes Snood and Dogrobes Gauntlets together in a bundle. Save £3 when you buy a Dogrobe + Snood and £5 when you buy any Dogrobe + Snood + Gauntlets.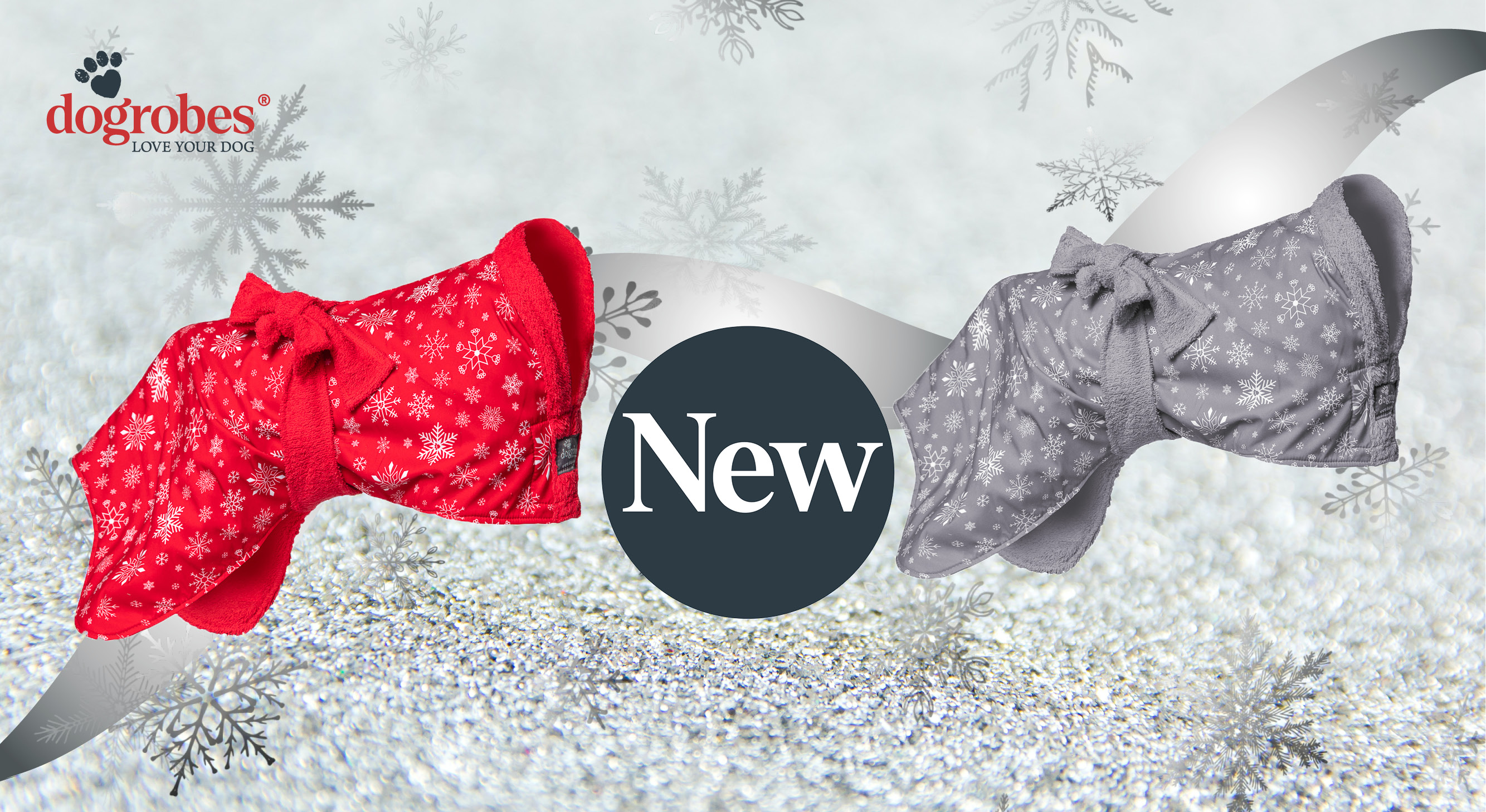 New for winter 2021 are our Snowflakes Dogrobes. We've really turned on the seasonal style to come up with this cheery pattern which comes in red or grey. They're proving a very popular choice, so we'd advise being quick off the mark if you'd like one for your dog or would like to gift one to a dog-loving friend.

Great Dog Gifts For Christmas Under £10
We've some cracking stocking filler ideas, with a great selection of gifts priced £10 and under.
Beautiful Joe's are ethical dog treats that come in a bag but there's a handy tin for storage too. Good for dogs and good for the conscience. With every packet of treats sold, Beautiful Joe's give the same amount to a dog rescue home. Save £1 on the tin when you buy Beautiful Joe's treats.
Be kinder to the environment by choosing Adios Zero Plastic Dog Poo Bags. These home-compostable dog poo bags are made from non-genetically modified cornstarch. Save £1 when you buy any pair of Gauntlets. THESE PRODUCTS ARE NOW DISCONTINUED. SORRY!
Snooboos Hand Cleanser will clean, protect and moisturise hands when you're out and about and is convenient to use after handling dog treats or dog poo bags. THIS PRODUCT IS NOW DISCONTINUED. SORRY!
Is your dog a roly poly muck magnet? Banish nasty niffs with Hownd Yup You Stink! Conditioning Shampoo. Made with eucalyptus and cedarwood essential oils, aloe vera and gentle odour neutralisers, this great shampoo has antibacterial properties to deep clean and condition your dog's coat. Save £2 on Hownd Shampoos with any Dogrobe.
Hownd Yup You Stink! Emergency Dog Wipes are just the trick to have to hand when your dog has rolled in something smelly. This handy travel size pack contains five jumbo antibac dog wipes. THIS PRODUCT IS NOW DISCONTINUED. SORRY!
A Dogrobes Collar Bandana is an oh-so-cute accessory to give your canine companions a dash of sartorial style for the festivities, or how about a Dogrobes' Bow Tie for a distinctive doggie touch? Both come in a choice of smart patterns. THESE PRODUCTS ARE NOW DISCONTINUED. SORRY!
Hownd's White and Bright Colour Enhancing Conditioning Shampoo is specially formulated for all coat colours of all breeds. It's kind on dog coats yet effectively neutralises discolourations and removes staining. This comes highly recommended by our very own Missie for gently keeping those tear stains at bay. Save £2 on Hownd Shampoos with any Dogrobe.
Got An Itch? Conditioning Shampoo, also from Hownd, is specially formulated to help relieve your dog's dry flaky skin and reduce scratching. It's great for nourishing, conditioning and softening your dog's coat for easier grooming and it smells amazing! Save £2 on Hownd Shampoos with any Dogrobe.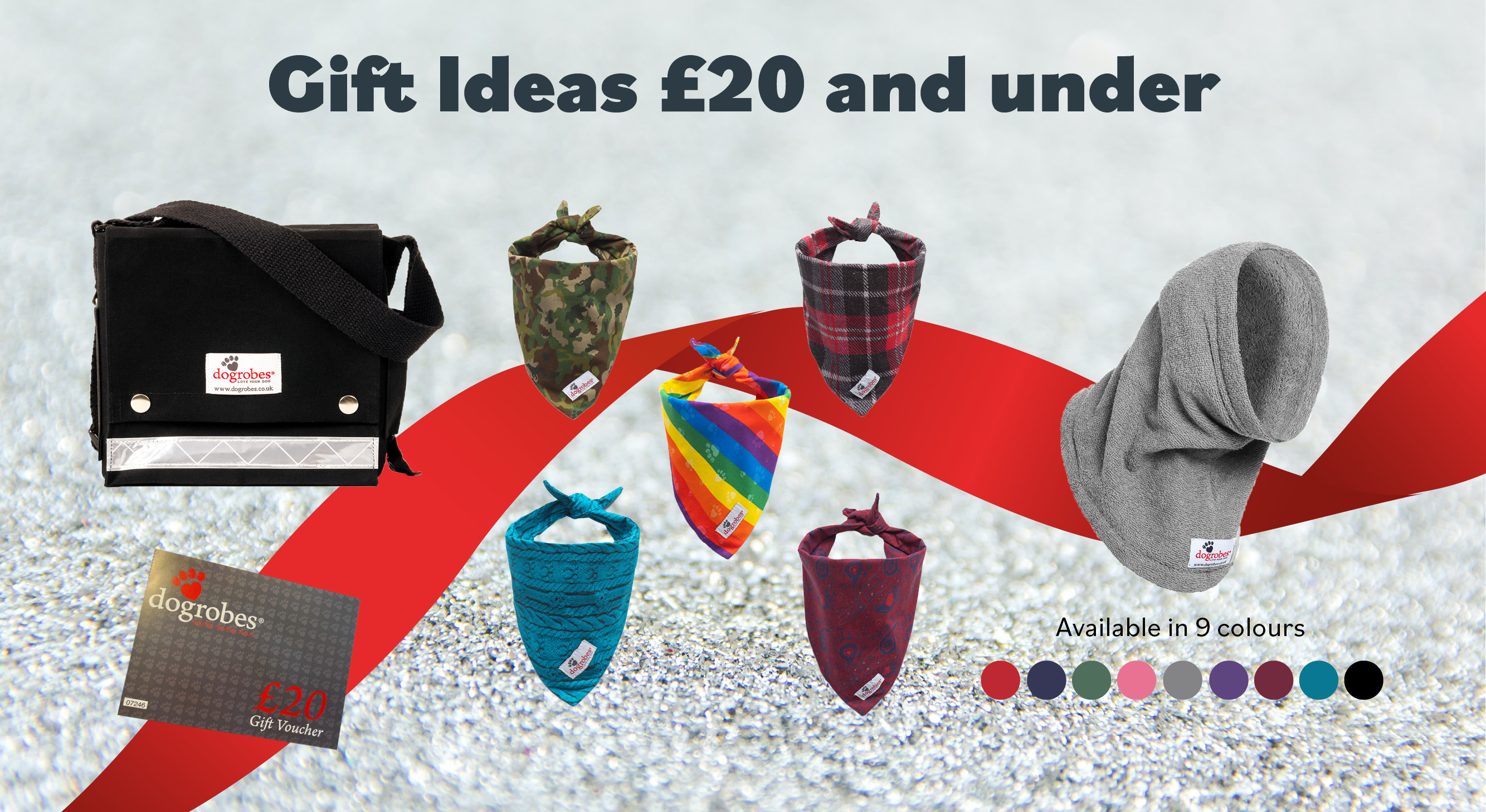 Great dog gifts for Christmas under £20
Dapper dogs who wear harnesses will be dressed for success in a Tie On Bandana which comes in a range of Dogrobes' Exclusive patterns. These designs are bespoke to Dogrobes, so you won't find them anywhere else.
We love accessorising and Dogrobes Snoods are perfect for drying your dog's head, neck and ears quickly. It's the ideal companion to a Dogrobe and comes in nine great colours.
A functional choice is our Dog Walking Crossbody Bag. It's a perfect piece of kit for carrying all your dog walking essentials. You'll wonder how you ever managed outdoor adventures without it!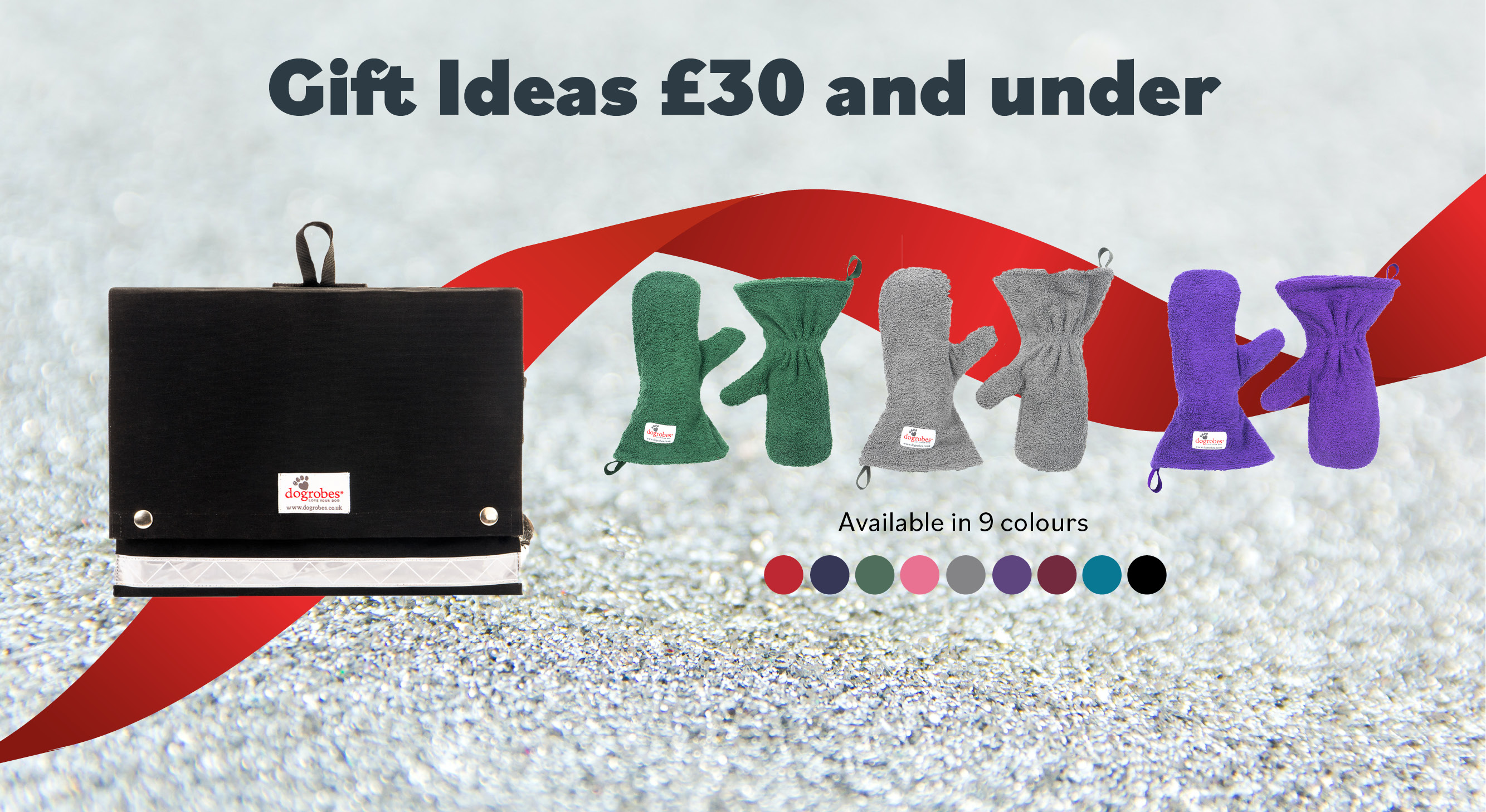 Great dog gifts for Christmas under £30
Winter is mitt season and you'll be equipped for the wet or snowy weather with Dogrobes Gauntlets. They make light work of wiping down wet or messy legs or paws.
How about a striking black Dogrobes Backpack to keep all your pet accessories in one place? When you're planning walking in a winter wonderland, simply grab it and go!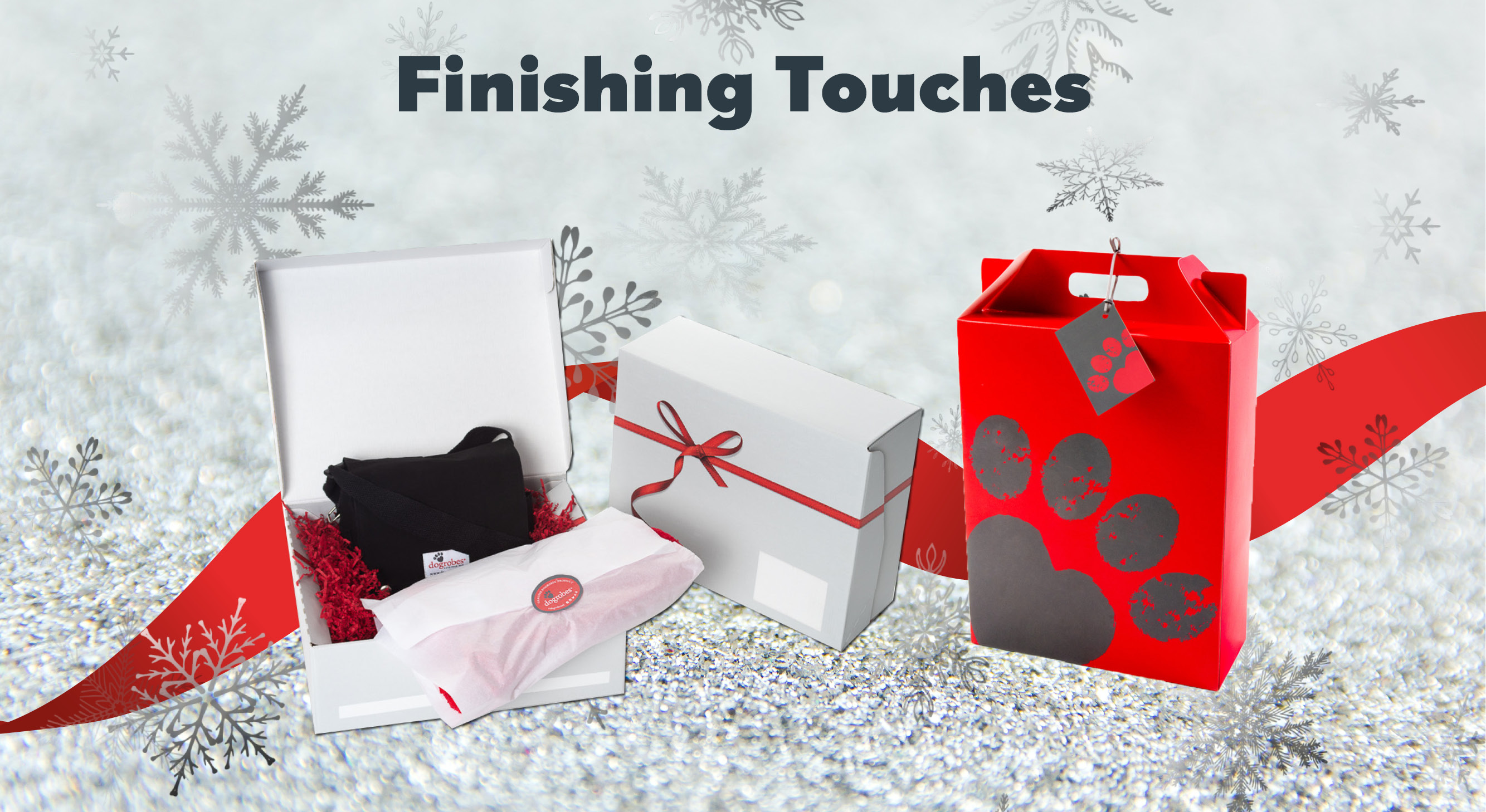 Presentation is everything, so let us take care of the finishing touches
Add a handy Dogrobes gift box to your online basket or choose it as a Gift Wrapping Option at checkout and you can place all your great gifts inside - simple. It comes flat packed for easy assembly, with a handy carry handle, gift tag and ribbon, and will look great under the Christmas tree.
If you'd like us to send your choice of gift direct to the recipient, we'll do it with style. We provide a luxury hand packaging service that will see your parcel delivered direct to the door.
Your gift will be carefully wrapped in Dogrobes deluxe tissue paper, set on a bed of red shredded packing, and despatched to your chosen address, complete with your personal message. Just choose Gift Wrapping at checkout.
Still unsure what to go for or worried about sizing when you're buying for someone else? Always a safe choice is a gift voucher. Dogrobes gift vouchers start from £5 and are redeemable against any item on our website. Printed on a stylish presentation card, we don't charge for postage and packing – making your Christmas cash go that little bit further!
Royal Mail's last recommended posting dates for Christmas
UK (all times GMT)
Embroidered items – place orders by midnight on Sunday, 19th December
2 nd Class – place orders by midnight on Monday 20th December
1 st Class – place orders by midnight on Tuesday, 21st December
Australia, New Zealand and Portugal
Place orders by midnight on 6th December
USA, Canada and the rest of the world
Place orders by midnight on 10 th December
Europe
Place orders by midnight on 15 th December
*** Please remember that this is the busiest time of the year for Royal Mail. ***
Made-to-measure Dogrobes
It takes a few weeks to manufacture our bespoke Dogrobes, so the last order date for Made To Measure is Tuesday 30 November. We will still take orders after this date and will do our best to manufacture as quickly as we can, however, we cannot guarantee that UK delivery will be made before Christmas.
Christmas returns
During the Christmas period, our usual 30 day returns policy is extended. That means that items ordered from November 1st to December 24th can be returned at any time before midnight on January 31st.
Read next blog Need to know | Dogrobes Gauntlets (dog drying mitts)