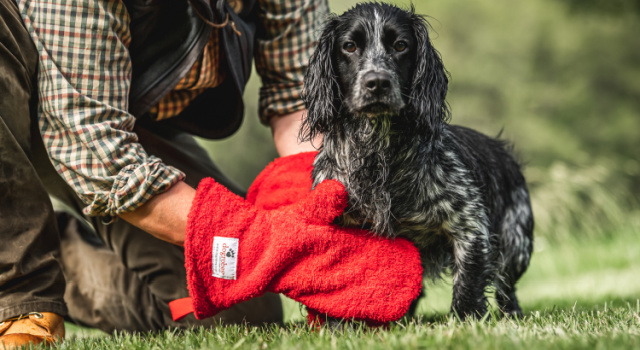 Save time and effort cleaning up after wet dogs by adding Gauntlets to your essential dog drying kit.
Dogrobes' range of products offer the easy way to dry your dog and our great Gauntlets make for happy dogs – and happy owners.
Gauntlets are essential for tackling those muddy legs and paws, protecting your home and car from having dirty prints everywhere.
Sometimes all that your dog needs is a quick rub down after getting a bit wet or messy from paddling in water or getting caught in a light shower. These amazing mitts helps you to dry your dog's damp coat quickly and effectively, preventing him from getting cold.
Why Dogrobes Gauntlets get the job done
The unique features of our Gauntlets make them invaluable for wiping up muck and moisture quickly and easily.
Worn as a pair of gloves, the double layered design means your hands stay warm and dry while you get on with the job in hand.
When the weather is wet and cold and a jacket is a must, you need drying gloves which are big enough to fit comfortably over your jacket sleeves. The wide opening of our Gauntlets means they fit easily over bulky jackets so are practical to use when you're out and about with your four-legged friend.
Being neatly tailored and elasticated at the wrist, Dogrobes' drying gloves stay in place, even when dealing with wriggly dogs!
Just like our Dogrobes dog drying coat and Snood for drying a dog's head, neck and ears, our Gauntlets are made from an exclusive super-absorbent cotton that soaks up moisture on contact.
They're easy to launder too. Simply pop them in the washing machine on a 40ºC programme for the best results. Use very little or no fabric conditioner to maintain the absorbency or our drying gloves.
Dogrobes Gauntlets contain no Velcro which can get clogged with dog hair or get caught when laundering.
We've even included a handy loop so you can hang them up right where you need them.
Gauntlets are sold in pairs and one size fits all. They come in a range of colours to match our Dogrobes' dog drying towels and Snoods.
Suitable for all sizes of dogs and all dog coats.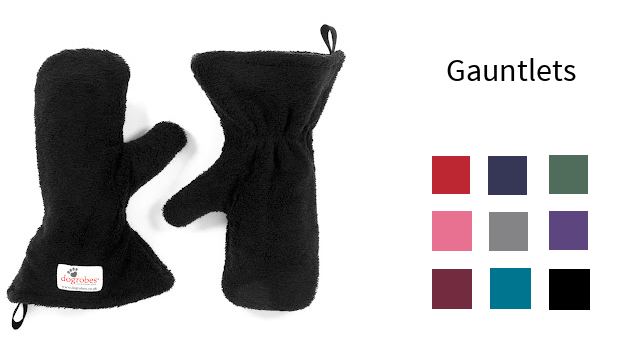 When to use Dogrobes Dog Drying Mitts
Wet muddy paw prints may be part and parcel of life with dogs, so trust Dogrobes to make things easier for you. Use Dogrobes Gauntlets before your dog goes into your home or car.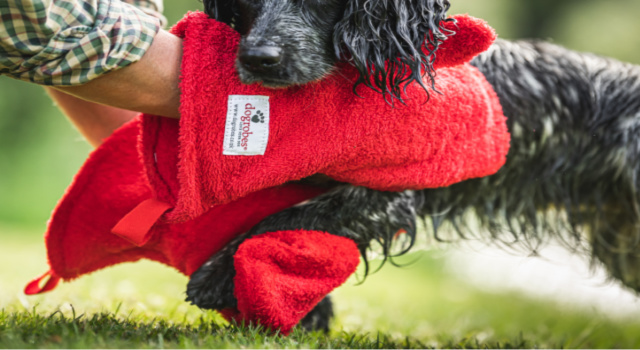 When your dog is mainly dry but he has been ploughing through puddles or bounding through the mud and his legs and paws are wet and muddy, Gauntlets provide an easy way to target those areas. These drying mitts will dry his legs and paws quickly and effectively.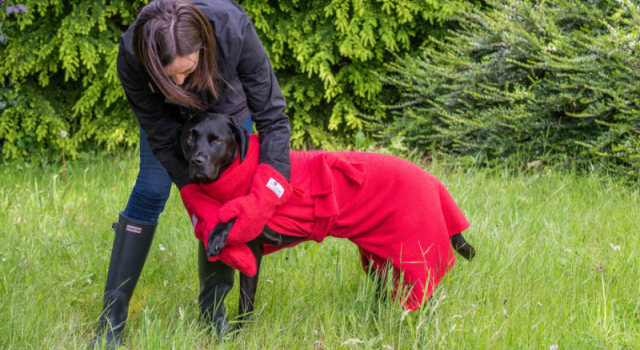 On the days when your dog is completely soaked from head to paw, the main thing to tackle to mitigate the most mess is his body. So, slip on and tie on his Dogrobe first.
If you're using a Snood to dry his head neck and ears, that's the next priority to stop those ears shaking wet spray everywhere.
Finally slip the Gauntlets onto your hands and dry your dog's muddy legs and paws.
Our drying gloves have been designed so they are wide enough to fit over the sleeve of a jacket, so are perfect for use out of doors as they will keep your hands dry and warm.
The great thing about Gauntlets is you can grab them as you head out of the door and have them on hand when your dog needs a quick rub down but doesn't need to wear his Dogrobe and Snood. Or keep a pair in your car for convenience.
For anxious dogs, drying gloves are less intimidating than approaching them with a big towel. As a pair of mitts, they look like a piece of your clothing so have the benefit of reducing anxiety amongst nervous dogs when drying them.
How to use Dogrobes Dog Drying Mitts
Start with the front legs and paws before moving to the back legs and paws.
If your dog's legs and paws are really wet, swap the Gauntlets onto your opposite hands and use the other side of each Gauntlet to achieve maximum drying ability. By using both sides, this will suck up maximum moisture and wipe away mud.
Once your dog's legs and paws are dry, finish cleaning up by wiping any paw prints off the muddy floor or car boot.
Team your Gauntlets with our Dogrobes dog drying towel and Snood and you'll have the complete dog drying kit.
Check out our video to see just how easy Gauntlets are to use:

Other uses for Dogrobes Gauntlets
Chilly weather combined with gritted roads and salted pavements may mean that your dog's paws become irritated, sensitive or cracked. We recommend washing paws first then drying with our Gauntlets to remove excess water.
They are so good at cleaning that some owners use them to wipe furniture or surfaces of their vehicle.
Gauntlets aren't only loved by dog owners – customers use them on horses, ponies and other pets.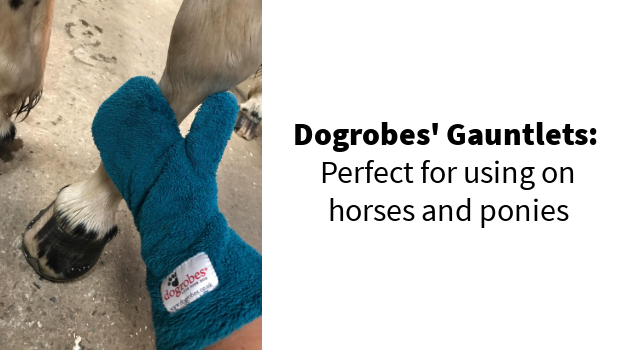 Proof indeed that they are perfect drying solution for pets with wet and muddy legs!
What do customers say about Dogrobes Gauntlets?
Our customers love Dogrobes Gauntlets! Here's a few of our recent five-star reviews given to our dog drying mitts, and you can view many more on our website.
Carolyn G: "I was recommended these by a friend. My poodle hates the hairdryer and my collie not keen either. Chuffed to bits, made grooming less stressful for both dogs. Makes showering so much easier as I don't have to use hairdryer at all."
Karen N: "Perfect for drying face, belly, legs and tail after swimming. He loved a rub down with the Gauntlets before getting wrapped up in his Dogrobe. So glad I bought them."
Fionnuala E: "Absorbent and get the mud off. Soft enough for the face too."
Dorothy D: "Easy to use and very efficient. Highly recommend."
Why should I buy from Dogrobes?
All of Dogrobes' products are made in Britain. They are covered by our full no quibble guarantee, allowing you to buy with confidence. If you're not entirely satisfied with your purchase, let us know and we'll fix it.
Only genuine Dogrobes products are made from our super-absorbent, lightweight cotton towelling fabric that is independently safety-tested. This hard-wearing fabric will give you many years of use. Dogrobes have been trusted for years by vets, hydrotherapists, dog walkers and groomers and our five-star reviews show that Dogrobes' customers love them too.
We have a devoted fan base in the UK, and we ship overseas too. So wherever you live, with worldwide delivery, we can dispatch to your address.
Thanks to our customers buying our products, we have been able to support a range of dog charities. Since 2013 we have given over £13,000 to a whole host of great causes including The Dogs' Trust, All Dogs Matter, Cinque Ports Rescue and Dementia Dogs.
We offer the complete solution to drying dogs. Check out our matching Dogrobes' dog towel coat and Snood for drying head, neck and ears.
Caring for your Gauntlets
Caring for your Gauntlets
Our easy-care Gauntlets can be machine washed at 40ºC
Use little or no fabric conditioner.
Line dry or tumble dry on a low heat.
Hang them up and they will be ready for your next doggy adventure!
Got a question? Want to know more? Reach out to us - we are happy to help!