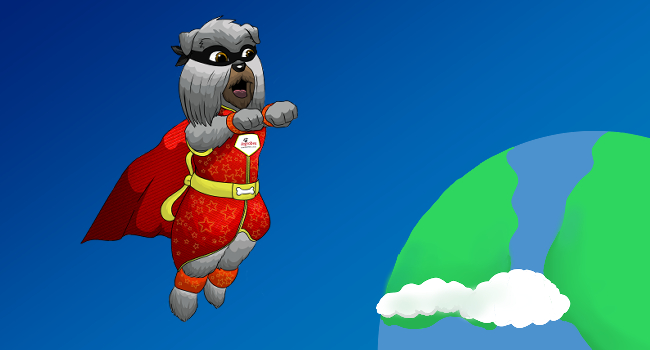 Dogrobes Salutes the Superhero Dogs who Save the Day...Plus *NEW ARRIVALS* Dogrobes Superhero Costumes
Did we catch you out?
For April Fool's Day we've had a bit of fun coming up with a nonsense tale that Dogrobes is moving into the dog costume market, with the launch of a superhero-style Dogrobe.
Not sure how many of our customers we have duped – a whimsical dog outfit does seem like a million miles away from our practical dog drying coats!
But when you think about it, all of our dogs are heroes. We've valued our canine friends more than ever during lockdown, for the part they've played in keeping us sane by adding routine and structure to our day and getting us outdoors, even when the weather hasn't always been kind.
For some people, like those with long term health conditions, their dogs are life savers, having undergone specialist training to keep them safe, protected and secure.
Four friends of Dogrobes share incredible stories of how their companions provide them with life-changing assistance.
In sharing our wonder-dog stories, we salute these genuine canine superheroes.
Carri Walker and Guide Dog Lorna
"Lorna has saved my life and I think she's pretty spectacular"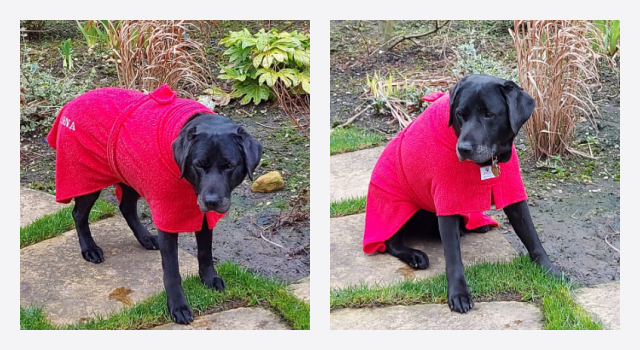 I've been a dog lover all my life, but I've never loved any quite as much as my two guide dogs.
In 2010 I lost quite a bit of my eyesight and having stopped driving decided to apply for a guide dog.
I was approved very quickly by Guide Dogs and I was on training with my first guide dog, a black lab called Lorna by November of that year. It was a whirlwind experience.
Lorna is a true superhero. I would not be alive now without her. She has saved me from being run over twice. She has also been an incredible emotional support to me as I journeyed through my sight loss.
When she retired in 2018 I got my second guide dog Ruri – but I could not bear to be parted from Lorna, so she lives at home and is a brilliant teacher for Ruri.
Lorna was puppy-walked by the late Mary Slater, who we call Mummy Mary. Lorna was then trained at the Forfar Guide Dogs centre by Ken Mayes and we qualified during the horrible snowstorms in November and December of 2010. Guide dogs continue training while working, they're always learning so really it never stops, until they retire.
Even now she wants to act as guide and she wags her tail when the harness comes out, bless her.
She understands loads of words, such as walkies, chicken, bone and snack. A typical lab she is governed by her tummy!
Her greatest strength is her empathy, she knows when her mummy needs a special cuddle. She's also a super 'big sister' to Ruri and has helped him settle.
Not all heroes wear capes, but Lorna has used Dogrobes dog drying robes for years. They are still in good condition and now Ruri shares them.
Lorna has saved my life, and I think she's pretty spectacular.
Frank Benham and Dementia Dogs Pioneer Oscar
"He brought sunshine into our lives and he is my rock, a superhero in every respect"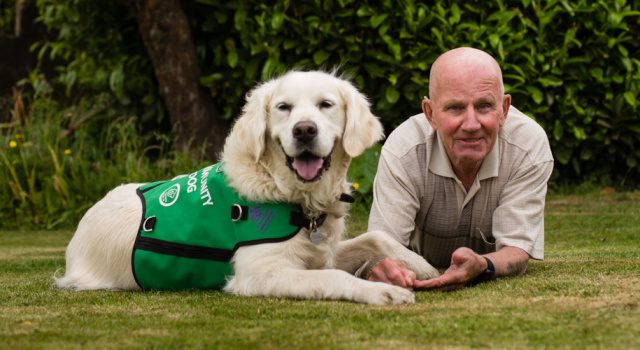 I was part of the pioneer project training assistance dogs to help people with dementia through Oscar, a Golden Retriever now aged 10.
Oscar was trained to help my late wife Maureen. His skills included responding to alarms and he would run through to the bedroom, shake the bed and Maureen would get up. When the tablet buzzer went, Oscar would pick up a medicine pouch and place it in Maureen's lap reminding me to assist with her medication.
Out and about, I could sit Maureen at the seats at a supermarket and Oscar would stay by her side as I got the shopping done. Knowing that Maureen had a reliable companion with her was great peace of mind.
Oscar was trained at Forfar Guide Dog centre by guide dog trainer Shirley Stewart, as part of the wider Dementia Dog collaborations between the charities Dogs For Good and Alzheimer Scotland.
When Oscar came into our lives in 2012 it was a life changing experience. He helped lift a huge weight off my shoulders. Without him, life would have been very hard, but he brought sunshine into Maureen's eyes.
Before lockdown, Oscar would visit local care homes and everybody looked forward to his visits. He's such a friendly dog, he brings joy to so many people's lives. Without him, life would have been difficult. He is my rock, a superhero in every respect.
In his downtime, Oscar relaxes in his Dogrobe sitting by the radiator – this was given to him by Dogrobes owner, Margaret Reynolds and is in my favourite colour green.
Claire Pesterfield with Magic
"Magic literally has my life in his paws"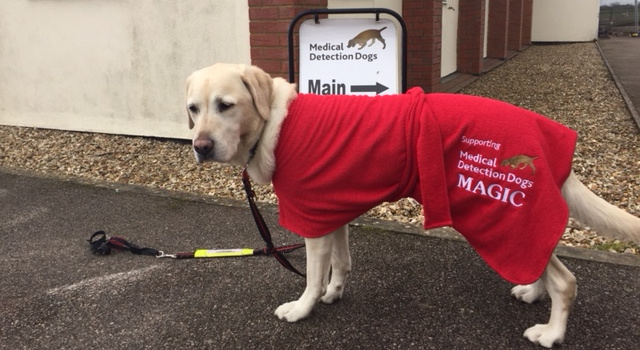 I'm a forty-something nurse who has had type 1 diabetes since childhood and my dog Magic, a nine-year old Labrador Retriever cross allows me to live my life.
I'm reliant on a combination of multiple injections, blood tests and measuring my food to try and keep my blood glucose levels in a steady state.
All was fine for many years, until I started to realise that when my blood glucose levels were low (called a 'hypo') I wasn't noticing the warning symptoms, often collapsing, extremely confused or unconscious - resulting in 999 calls or nursing colleagues to treat me.
It got so bad I became afraid to go to sleep in case a low blood glucose level happened. I'd test my blood glucose level every hour - day and night - leading to exhaustion, making full-time work in a demanding job increasingly difficult.
Magic can detect changes in my breath and alert me to oncoming hypos, so I can either prevent them or reduce their severity.
That has allowed me to carry on working as a nurse, now at Medical Detection Dogs, the charity who trained Magic and many other life-saving medical alert assistance dogs. Since Covid, I've been working with the ambulance service too, assessing patients over the phone and training frontline staff in emergency care.
Magic has changed my life completely – bringing confidence, reassurance and safety. Without him I wouldn't be writing this as I don't think I'd be here now. He has alerted me to a life-threatening episode thousands of times since we have been together. Magic doesn't just save my life - he allows me to live it.
Magic went through many months of training, learning to behave in public and after demonstrating his obedience and ability not to be distracted by other people, noises or other occurrences, he had to learn about the odour of a hypo and when it's dangerous and tell me what is happening.
24 hours a day, 7 days a week and even when I'm in a different room, he can sniff that odour change and alert me to what's going on. No matter where we are, Magic will let me know. Magic literally has my life in his paws.
We've been together since September 2013 and Magic loves wearing his Dogrobe after he's been swimming in the river near our house. He thinks it makes him look like a lord and very distinguished!
Teresa Cort and Sam the Schnauzer
"He's a true life changer!"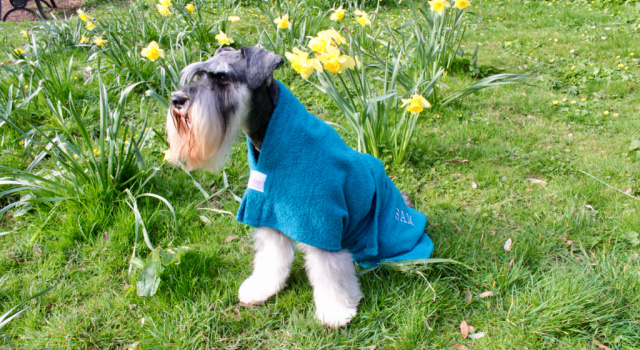 I retired due to multiple long-term health conditions in 2014 and when I visited a dog charity stand at a disability exhibition I was politely and insightfully asked if I might want to apply for an assistance dog.
I had a young dog at the time and through the Assistance Dogs UK coalition of dog charities, I realised that it may be possible to have help to train him myself.
Sam, now aged seven, is a taller miniature schnauzer which is a non-shedding, lower/hypo-allergenic breed.
Dog AID (Assistance In Disability) provides specialised training for adults with physical disabilities and their own dog. Owners train their own dog to become an accredited assistance dog. Training is designed to give a measure of independence and provide owners with the knowledge to train them in other tasks. This allows them to adapt training to meet their own needs, with an instructor who gives advice as necessary.
We were linked with a local professional dog trainer and behaviourist who volunteered their time and expertise.
There were regular sessions to attend and different levels of assessments to pass which were carried out by an independent examiner. We also had the opportunity to go to Stoke Mandeville to meet other clients and trainers several times a year.
We qualified on Remembrance Saturday in 2018, but have kept up training throughout adding new tasks as needed and being regularly reassessed. Sam is never off duty and he's a true life changer!
Sam helps with so many day-to-day tasks such as picking up dropped items like keys, bank card, coins, phone, or lead and finding the misplaced TV remote control.
He assists with loading the washing machine, helps me take off socks and fetches the post. He senses flare-ups of my chronic sinusitis infection, often meaning I can receive earlier treatment before it develops into a chest infection.
Through tough times with health changes and family losses, Sam has always been by my side. He has travelled to London for appointments and isn't fazed taking any mode of transport, be it buses, trains, underground, ferries or planes.
He loves helping and has an innate sense of when people need a bit of attention, sometimes gently offering a nose nudge.
We've been Dogrobes customers for some years after meeting the team at Crufts. Sam has a red Dogrobe with a harness access slot for wearing in the car over the top of his harness, after beach walks or training sessions.
As a thank you for sharing their stories with us, each of our featured superheroes has been presented with a new personalised Dogrobes dog drying robe.
Follow us on our Instagram this week to see more photos of these real-life superheroes.
Plus feel free to play along and share this story on your own social media with the share buttons below! If you have any questions or comments at all, don't hesitate to contact us.
Read next blog Why Dogrobes are the ultimate 3-in-1 dog drying towel