We're super-proud of this year's signature colour cobalt Dogrobe, which we launch at Crufts on Thursday 9th March 2023 together with the matching Snood and Gauntlets.
The greatest dog event in the world will take place again at the NEC Birmingham – and we're contributing to the excitement with our rich, bold cobalt range, that's sure to turn heads at our stand.
Why Cobalt?
We love this strong, powerful blue shade, not just because it evokes thoughts of past precious blue scenes on porcelain and canvas, but because cobalt is a colour that stands for cool, calm confidence and a touch of courage too.
Many people will have spent the pandemic learning about introducing a new puppy into the family. Others will have been grateful that they already had the company of their four-legged friends. While the priority is to train our pups to behave themselves appropriately, what we really want is for them is to grow up feeling calm, safe, confident and with a little healthy courage too.
The Dogrobes team worked tirelessly to find a colour which best represented these qualities and once they came to cobalt, the choice was easy.
Calm, canine confidence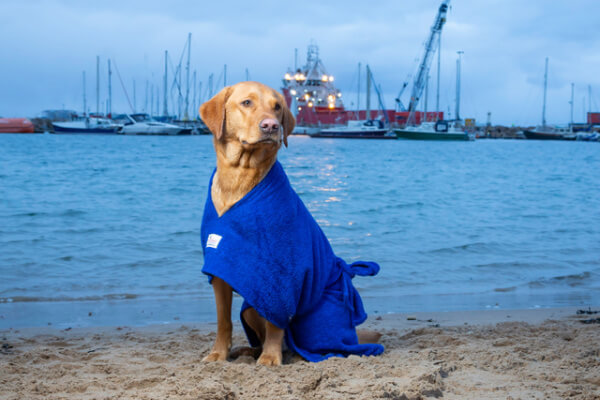 Dogrobes' managing director Margaret Reynolds is delighted to introduce bold cobalt to the range of Dogrobes' colour choices, particularly as it represents the positive emotional wellbeing of happy and well-trained dogs.
Margaret says: "I"m delighted to launch our new Cobalt Blue kit at Crufts 2023. This crisp, brilliant blue was the star of so many runways at London Fashion Week. We're proud to bring such a bang on trend colour to the market for 2023.
"We're confident that the response to the cobalt Dogrobes, Snoods and Gauntlets will be positive because our testers have given us very positive feedback.
"Dogrobes now has a fantastic palette of 11 solid colours and we've reflected that in the display materials at our Crufts stand.
"If you're visiting this exciting event this year, please come and say hello! We're looking forward to seeing old friends, meeting new ones and to showcasing our bold new cobalt dog drying robes and accessories at Dogrobes. We will be in our usual place at Hall 1 stand 164."
ALL the features, NEW cool, confident colour
Cobalt Dogrobes are available in two designs - without and with a harness access opening . With the opening, you can easily clip the lead to the harness through the opening, so no need to remove the harness for the journey home.
Both designs have all the usual Dogrobes features which our customers buy them for. The incredibly absorbent soft towelling absorbs moisture from your dog's coat and traps their body heat under the fabric, so your dog will dry quickly while keeping the muscles warm. In just half an hour, your soggy pup will already start to be dry and ready for a snooze or their post-walk mealtime.
As soon as your walk is over, you can fit this sumptuous cobalt-blue towelling drying coat easily and quickly over your dog, tie the two long ties under the stomach and secure it with a bow on their back. If your dog shakes off the water or mud from their coat, instead of spattering the insides of your car or the walls and doors in your home, the drying coat will catch all the drips, leaving surfaces clean and dry.
This is why we always recommend keeping a robe in your car or near the entrance door so you're always prepared. Dogrobes drying coats are so much more effective than rubbing your soggy best friend with a towel!
Beautiful blue additions
Firstly, we strongly recommend the addition of a cobalt Snood for your dog to wear with the Dogrobes drying coat. The neck of the robe is kept intentionally simple to ensure it is easily pulled over your dog's head and neck and super-easy to take off too. A Snood adds an extra layer of drying, absorbing moisture from their head, neck and ears. Its clever tapered tubular design keeps it easy to fit and thanks to the same soft, long-looped towelling inside, it keeps body heat trapped inside for faster drying. And if that's not smart enough, its single layer means it is lightweight and therefore well-tolerated by dogs. It's especially useful for long, fluffy-eared breeds such as Spaniels, Poodles and Cockapoos, as their ears take longer to dry.
Secondly, our cobalt Gauntlets dog drying mitts present an easy way to dry your dog's legs and paws. Have you ever noticed how your dog's feet can be a bit ticklish and they can twitch their legs away when you're trying to dry them? This can be difficult to manage when you're trying to dry with a towel – invariably your cheeky pup is standing on the towel and trying to avoid the inevitable drying! These gorgeous Gauntlets take all the stress away, giving you two towelling hands with which to 'get the job done' in no time at all. They're fully washable too! We continue to feel pride that our cobalt Dogrobes set is also Made in Britain as is the rest of the towelling dog drying and care range.
Complete the Kit and SAVE £5
Who doesn't love a matching set AND an offer!
When you choose the cobalt Dogrobe with or without a harness access opening together with a cobalt Snood, you can save £3.
Add to this the matching pair of cobalt Gauntlets for legs and paws and you can save a further £2. With the complete set you can save £5 and be fully prepared for the next muddy, wet walk.
The 'Complete The Kit' offers are automatically applied at checkout.
We wanted a colour that is rich, eye-catching and confident, yet calm, reassuring and focused too. Just how we want our four-legged Dogrobes wearers to feel: 'cobalt-cool, calm and confident'!
To top it all it's a unisex blue, so all the good boys and girls can wear their cobalt Dogrobes set with pride.
Be the first to view and order a new Cobalt Dogrobe here and join the thousands of positive reviewers who have shared their feedback with us!