We've got lots of clever ideas to make getting through your list easier. Trust Dogrobes to help. When it comes to gifts for your dogs, your dog-loving relatives and friends, or your dog walker, we've got you covered. Dogrobes' products are made in Britain to last and will delight way beyond the Christmas festivities. There are still some bargains to be had and a special offer just for you.
Dogrobes' dog towelling robes make the perfect lasting Christmas gift for dogs
At Dogrobes, we're well-known for designing the dog drying coat which stays the distance. The robe that lasts and looks like new after years and years of constant use and washing. Ties ensure a secure fit every time and there's no Velcro to get clogged up with dog hair and debris. So, you can be sure that gifting a Dogrobe this Christmas will be the present that will be used and loved by your dog-owning friends and their dogs for many, many years to come.
There are 2 options when it comes to the dog robe: the original self-coloured robe shown above and the robes in the Exclusive Collection, which features unique patterns specially designed for us. Both the Original Range and Exclusive Collection are available with a harness access opening if your dog wears a harness.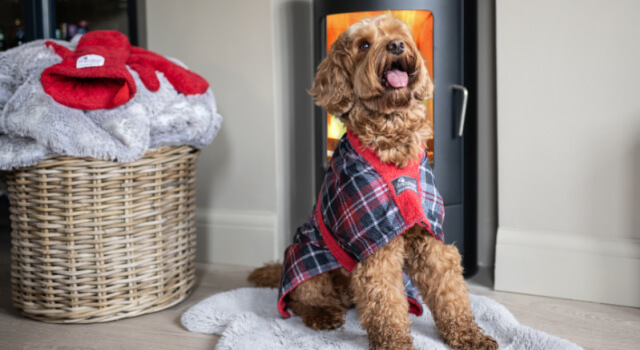 Our towelling dog robes come in a size to suit every breed from Chihuahua (MINI) to a Newfoundland (XXXL). Dogrobes were originally designed in 2004 and are highly rated in reviews by delighted customers as the ultimate dog drying coat.
Don't forget that all our Dogrobes can be embroidered with a name on both sides for £10.95. Our personalised dog coats have that truly personal touch!
Dog Snoods for drying the dog's head, neck and ears.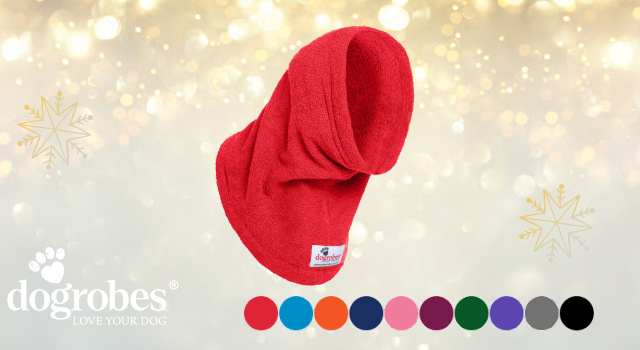 Our Snoods make great stocking fillers for your own dog or for friends' dogs. They are the perfect companion to the dog robe for breeds with lots of fur around the neck and head or with ears, which take forever to dry!
Prices start at just £10.95 for a Mini up to £18.95 for the XXXL Newfoundland size and they're all available in every colour to match all our dog robes.
Snoods are great for muffling the noise of fireworks and firecrackers when celebrations start. We recommend dropping down a size if you will use the Snood as a hood for this purpose. If you plan on using the Snood as a buff around your dog's neck, then stick with the same size of Dogrobe the dog wears. Want to find out more about Snoods, start here.
Gauntlets dog drying mitts – the perfect gift for dog owners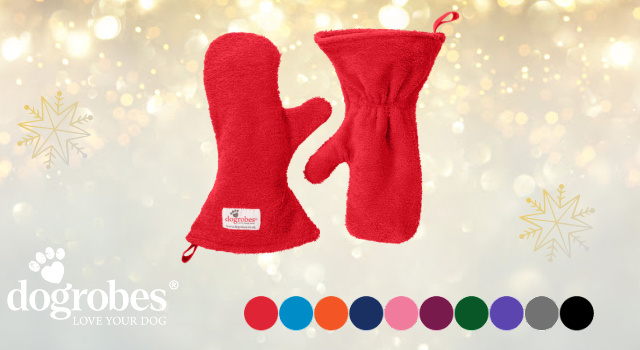 One size fits all for our drying mitts, so there's no worry about getting the wrong size! These Gauntlets are great for drying the dog's legs and paws or for a quick rub down. Customers tell us that they're great for keeping in the car. No more messy paw prints all over the car or the clean kitchen floor.
Gauntlets come in every colour to match the Dogrobe and Snood and priced at just £20.95, they'd make a lovely, practical Christmas present for the dog owners in your life. Everything you need to know about our dog drying mitts can be found here.
Sale of dog Bandanas, Bow Ties and Snowflakes' Dogrobes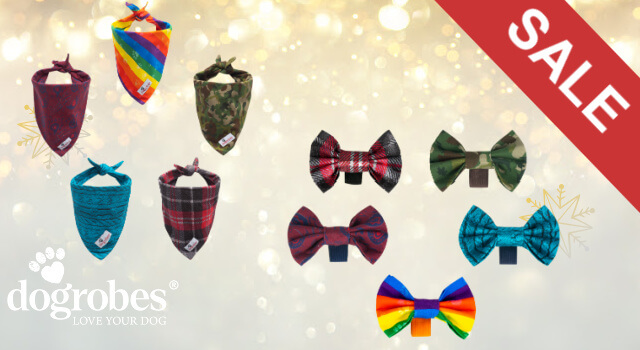 If you are looking for a genuine bargain, then we do still have some Snowflakes' Dogrobes in red and grey as well as Bandanas and Bow Ties in our Sale.
We are discontinuing these products, so if you've had an eye on them for some time, now is your last chance to buy as they are greatly reduced to clear the stock to make way for some new items. THESE ITEMS ARE NOW DISCONTINUED - SORRY!
Special Offer
Hownd Conditioning Shampoos: Yup You Stink! White and Bright Colour Enhancing and Got An Itch? All are on a special offer.
At this time of year, it's an ongoing battle to keep our dogs clean. We are big fans of the gorgeous-smelling, ethical Hownd Shampoos and have 3 options available:

Buy any Dogrobe, add one of the shampoos to your basket and use the code SHAMPOO to get your chosen shampoo for half price (£4.50 or £5.00).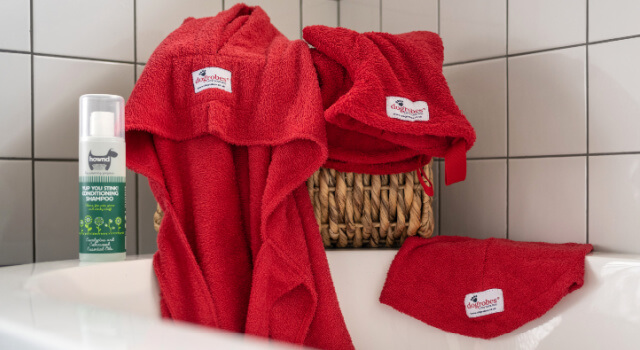 Can't decide? Gift Vouchers are the answer!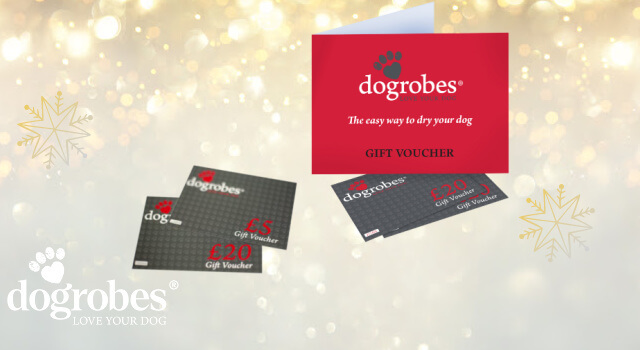 Gift vouchers are the safe choice if you're buying for a new pup or you're just unsure of the perfect colour or size. Dogrobes' gift vouchers are available in 2 denominations, £5 and £20 and are redeemable against any item on our website.
There's no charge for posting and packing and the vouchers are stylishly presented in a lovely presentation folder.
Gift vouchers are simple, easy and they're they perfect gift - every time!
Perfect packaging adds the finishing touch
We have a couple of NEW options for packaging your presents to perfection. One box per order is usually more than enough.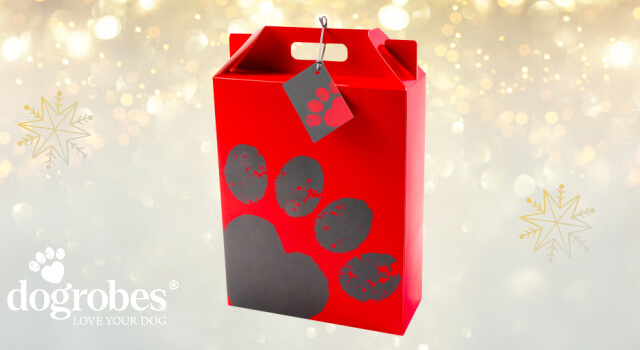 When you're choosing your gift, you can add a gift box to your order and this will be sent directly to you to gift your perfect doggie gift in person.
The gift box and tag arrive flat-packed with your order and you simply pop it open to make it up. At 15in/38cm tall and 10in/25cm wide and 4in/10cm deep, this box is big enough for lots of Christmas goodies and costs just £3.50.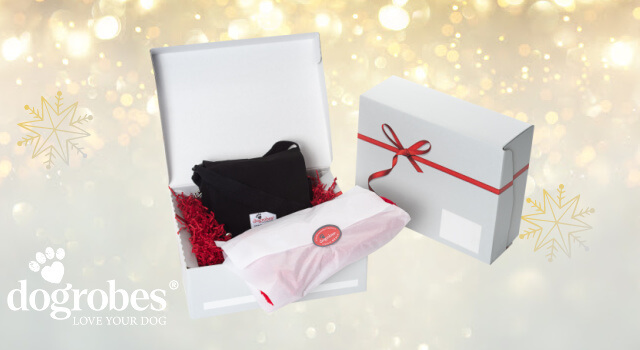 The second option on gift wrapping is sending the parcel directly to the lucky recipient. The order arrives in a lovely grey box with a printed red bow. Your gift lies on a bed of festive red sizzle pack and is enclosed in branded Dogrobes' tissue paper with a genuine Dogrobes' product sticker to close it. You can choose a gift message up to 150 characters and we will print that on a card and enclose with your parcel.
This is a great option when time is short or the recipient either lives further away or overseas. With the ongoing situation at Royal Mail, this could be a great solution at just £4.95, excluding your chosen postage option.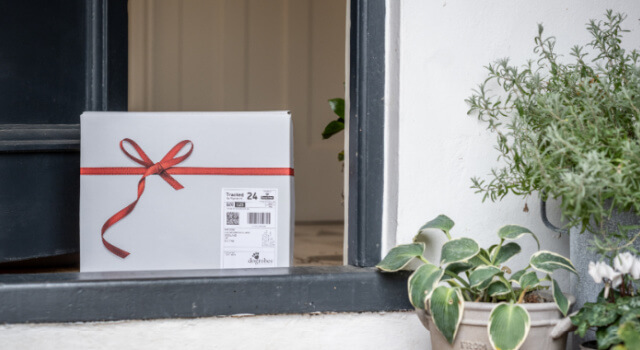 Last order dates
As you can appreciate, the situation at Royal Mail is a changing one. Royal Mail have recently updated their recommended last posting dates. Please check our Delivery page for the latest information.
You can rest assured that we will be doing our utmost to get your orders processed and ready for collection by Royal Mail. Once they leave our warehouse, we are reliant on our posties to get your order to you within the time frames they give us.
Our recommendation would be to get your order in as quickly as you can.
Returns and exchanges
Our returns and exchanges page is here. During the Christmas period, we extend our usual 30 day returns period to 60 days. Anything you buy form 1st November to 24th December can be returned at any time before midnight on 31st January.
If you think you might need to return or exchange an item if you're unsure of the size, the quickest and easiest way to do this is if you set up an account at the time of ordering. That way you just log into your account and request a return or an exchange, if you do find that the item is too big or too small.
At Dogrobes, we have a no quibble guarantee. We want you to be delighted with your purchase and if there's a problem with your order, we want to know about it, so we can fix it. You can get in touch with us in lots of ways. Check out our Contact Us page.
Merry Christmas from Dogrobes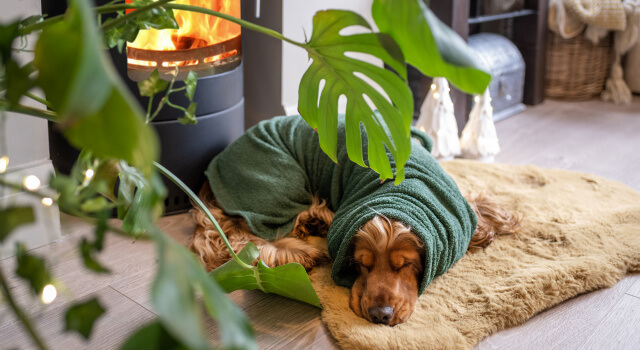 On behalf of all of us here at Dogrobes, let me wish you a lovely Christmas and a very happy New Year.
I do hope that you have some down-time, like Garra here, and take time to recharge the batteries ready for lots of outdoor adventures with your dog in 2023!