You already own a Dogrobe, so why should you invest in a dog Snood? Find out all you need to know.
A Snood will provide essential drying for your dog's head, neck, and ears, while your dog robe targets their body and hind legs.
Fit after swimming, bathing, hydrotherapy or wet work and you'll discover that a Snood complements your Dogrobe in protecting your home and car from wet muddy shake off and dampness.
Using a Snood alongside a Dogrobe provides maximum coverage and effective drying. The result? No more soggy ears or necks and no wet dog smell.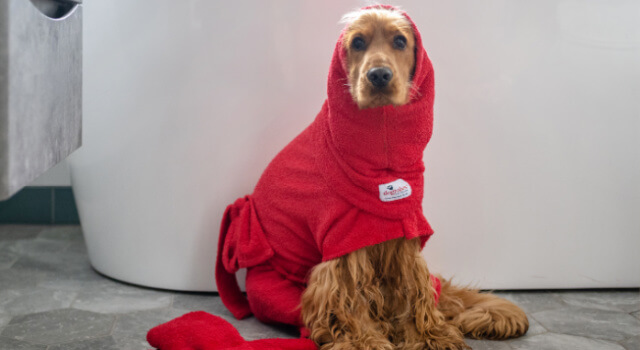 Dries + Warms + Comforts
Dogs will shake off 70% of water after their wet outdoor adventures and bath times. It's the remaining 30% which means wet fur and soggy ears and necks, which take forever to dry. Our unique fabric with long loops on the inside will dry, warm and comfort your dog.
Dries: The secret to its super-absorbing power is in the longer loops on the inside of the fabric, which absorb moisture as soon as they come into contact with your dog's wet fur.
Warms: The long loops of the fabric and the fully enclosed design trap your dog's body heat and use it to dry him quickly.
Comforts: The Snood, worn as a close-fitting head covering limits external noises, helping to relieve anxiety.
Minimise the impact of fireworks on dogs
Because our Snood is worn as a head covering, pet owners tell us that its neat fit limits external noises and helps relieve anxiety in nervous pets.
Many dogs dislike loud bangs – particularly fireworks. Fireworks season can be a challenge for dogs that are distressed by the whizz and bang of pyrotechnics. Customers tell us time and time again that popping on a Snood has helped calm their dog.
Other benefits of Snoods
As well as supreme dog drying properties and ability to comfort nervous dogs who dislike loud bangs and fireworks, Dogrobes' Snoods have other great uses:
to keep a show dog's ears out of his food

when your dog is older or ill, to help keep them warm

if your dog has an injury around the ears or neck area to prevent scratching
Loved by the owners of all breeds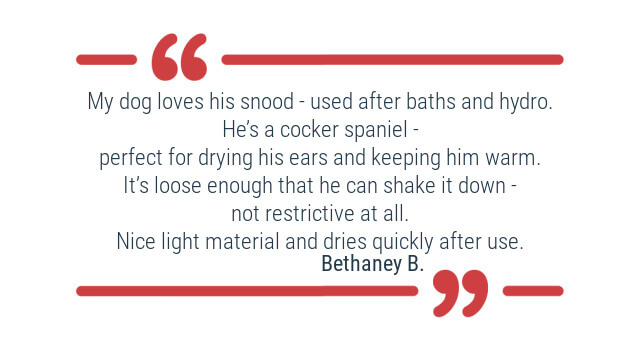 Dogrobes' Snoods were originally designed for thick, wet Spaniel ears, at the request of gamekeepers with working dogs, but as soon as we launched them to the public, they become a widespread hit with owners of many other breeds.
The Snood's practicality is a godsend for dogs that have long fluffy ears that take longer to dry, like Spaniels, Poodles, Bichons, Cockapoos and Afghan Hounds.
Our Snood is also favoured by owners of Collies, Newfoundlands, German Shepherds and Retrievers that have a lot of fur around the neck and head. This fur takes forever to dry but the Snood makes light work of it.
Dog Snood design features are a winner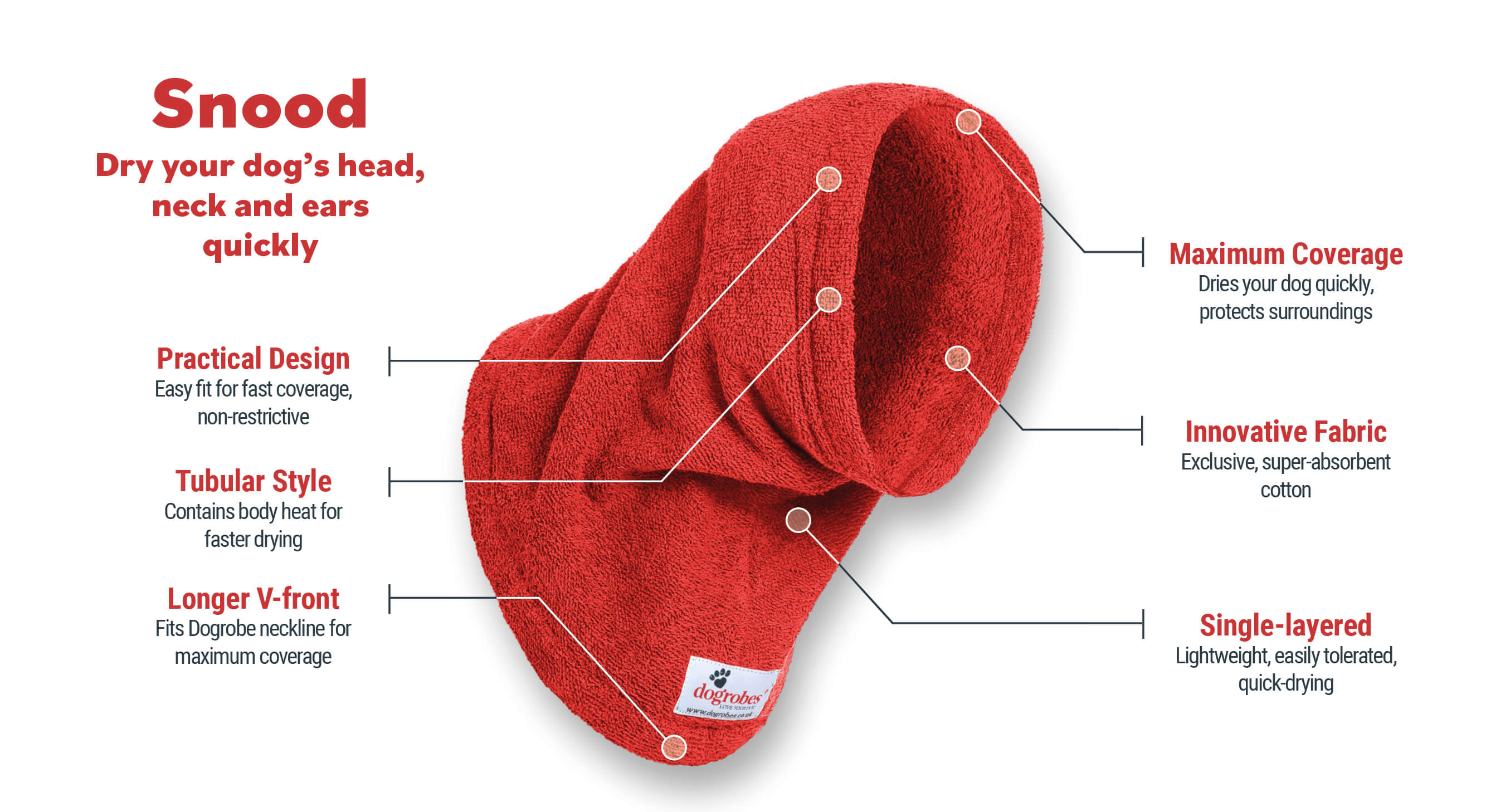 Plus there's no Velcro on a Snood. Many dogs don't like the noise of Velcro and it can catch on a pet's fur, particularly their ears. That's why we've never used it on any Dogrobes' products – and never will.
Dogrobes' towelling - a superior, lightweight choice
The secret to its super-absorbing power is Dogrobes' unique fabric with long loops on the inside to dry, warm and comfort your dog.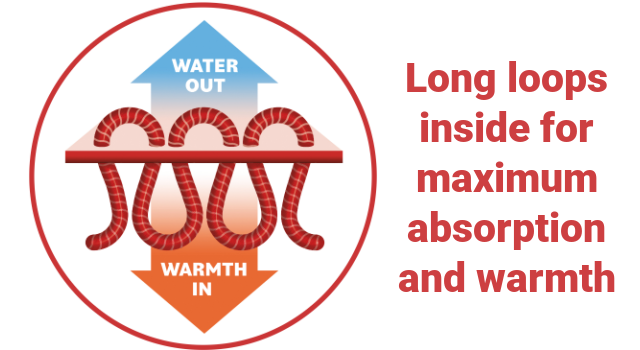 Don't be fooled, this isn't like normal towelling - it's much lighter in weight!
Human towels and our fabric have a completely different construction.
On human towels, the loops are normally the same length on each side, because humans use both sides of the towel. But Dogrobes' fabric has longer loops on the inside of the fabric, which creates a greater area for moisture absorption directly against the dog's coat. The loops are 100% cotton which is the best natural material for absorption.
Our fabric is lightweight and single layered, so it's easily tolerated by dogs - even those who normally don't like wearing coverings. There's no need for our fabric to be thick and heavy like human towels. We've chosen the optimum weight of fabric to absorb the most moisture without weighing the dog down when damp. That's why coat-shy dogs love it!
A Snood won't lose its looks. This product has gone through vigorous product development to ensure it keeps its shape and colour, even after repeated laundering and use. It's fully machine washable at 40ºC and can be popped into the tumble dryer on a low heat too. We recommend washing it before its first use.
How to get the correct size of dog Snood
Snoods come in a full range of sizes and colours to match our best-selling Original Range of dog robes. They start at a MINI for a Chihuahua, right up to XXXL for Newfoundlands. Usually our customers match the Snood to the Dogrobe colour but a contrasting colour looks great too!
Since their launch in 2017, our customers have come to use the Snood in two ways: either as a close-fitting hood or like a buff around the neck of the dog.
1. Dog Snood as a Hood
If you'd like the Snood to be a snug fit on your dog's head and to sit up on their head, our customers opt for the size down from their dog towelling robe. This works well for most sizes, but we'd recommend not dropping down a size, if your dog is in a Toy or a Mini dog robe.
2. Dog Snood as a Buff
If you'd like to use the Snood like a buff, to sit around the dog's neck, then stick with the same size as your Dogrobes' drying coat.
Remember that our sizes do run large. For example Cockers are normally in an XS and Springers in a Small. Check the dog Snood size guide below for more info.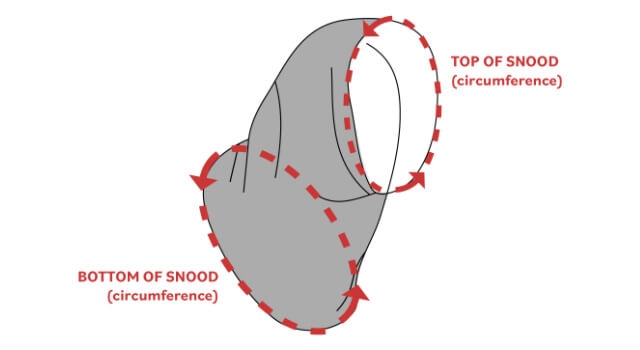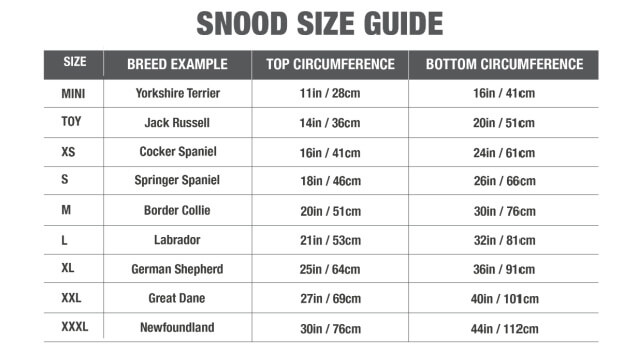 Either select the right breed example for your dog or better still choose the same size as your dog's Dogrobe. Remember to go down a size if you want a close-fitting hood, unless your dog is wearing a Mini or a Toy.
Then pick your choice of colour from one of our vibrant shades; there's one to suit every dog's 'furplexion' or colouring!
How to get the perfect fit of dog Snood
We recommend that you fit the Dogrobe first.
Pop the Snood over your dog's head with the branded label at the front.
The wide base of the Snood will fit right over the dog's robe.
Different dogs will have different drying times, but generally, leave the Snood on for around 30 minutes, then take it off. If you're using the Snood as a comfort for your dog, just leave it on as long as necessary.
Beware! Some dogs like to chew, so we don't recommend leaving your dog along while wearing their Snood.
Perfect pet present
A Snood makes a perfect present for any dog owner who already has Dogrobe, and did you know that we have matching Gauntlets drying mitts?
We're all for making life simple here at Dogrobes, and that's why our customers love and trust our products and come back time and time again.
Dogrobes products have been trusted by experts since 2004 and we receive glowing five-star reviews from customers.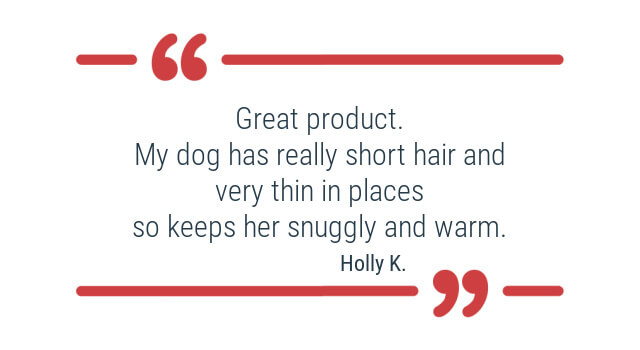 Our products are designed and manufactured in the UK because it's important to us to support British manufacturing and keep quality control and our supply chain close to home.
As a family-owned business, our quality products and excellent customer service are at the heart of all we do.
We're proud that from our British base, we have developed a global customer base, and we offer worldwide shipping.
Our dog Snood is backed by our no quibble money back guarantee. just like all of our Dogrobes' products. So, if you're not fully satisfied with your purchase, get in touch and we'll fix it.
So, treat your canine companion to a Dogrobes' Snood, safe in the knowledge that it has been lovingly created with your four-legged friend's comfort and cleanliness in mind. Then look forward to saving time and effort cleaning up after wet dogs and making tedious towel-drying a thing of the past.