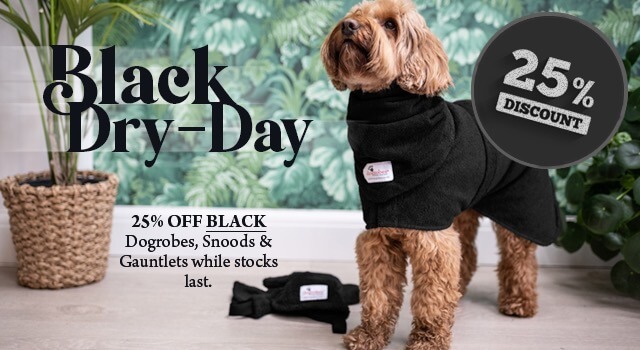 25% off BLACK Dogrobes, Snoods and Gauntlets while stocks last. Please use code DRYDAY to save.
At Dogrobes, we love to think of ways to give back, whether through the dog charities we support or through promotions for our customers, to show our appreciation for your loyalty.
This year, we've decided to take part in the Black Dry-Day 'zoomies', where we've gone crazy discounting our stylish black dog towelling robe, dog Snood and Gauntlets, drying mitts with 25% off for one day only.
Black Dry-day offer explained
For one day only - Friday 25th November 2022 until midnight GMT.
All black Dogrobes, Snoods and Gauntlets are in the Black Dry-day offer with 25% discount
You'll have to hurry, as there are limited stocks available and when they're gone, they're gone.
Please use the coupon code at the checkout. Sorry, only one coupon code can be used at a time.
USE COUPON CODE: DRYDAY
Our 'Complete the Kit' offer is still active too and comes off automatically at the checkout:
Buy a Dogrobe + Snood and save £3 as well as getting 25% off.
Buy a Snood + Gauntlets and save £2 as well as getting 25% off.
Buy a Dogrobe + Snood + Gauntlets and save £5 as well as getting 25% off.
Black Dogrobes' dog drying coats with 25% off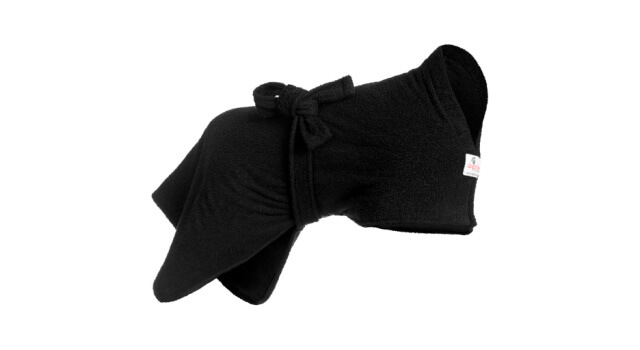 We like to call it our very own LBD (Little Black Dress???). No, we haven't added a fashion item to our range – LBD is our very own 'Little Black Dogrobe'!
Both our black Dogrobes are in the offer: the Black Dogrobe, and the Black Dogrobe with a Harness Access Opening.
Check out these gorgeous, lightweight yet fast-acting dog drying coats while stocks last. Both are available in 9 sizes. We cater for every breed from a MINI (Chihuahua) to a XXXL (Newfoundland) and everything else in between. Our sizes do run large though, so it's best to measure your dog rather then opting for your dog's usual 'coat' size. For example, Cocker Spaniels are in an XS (24 in/61cm girth and length). Check out our size guide on each product page for more information.
Safety comes first at Dogrobes. Here's our safety advice for travelling with your dog. So if your dog wears a harness, put the dog drying robe over the harness before they hop in the car. The harness access option Dogrobe has a small slit sewn into the top of the Dogrobe to make it easier to locate the 'D' ring of your dog's harness. No more threading the seatbelt clip under the dog robe and feeling around for the 'D' ring! The harness option makes it so much easier to secure your dog while you drive.
If you'd like to read more about Dogrobes and why they're the ultimate dog drying coat. This is the blog you need.
Black dog drying mitts and Snoods with 25% off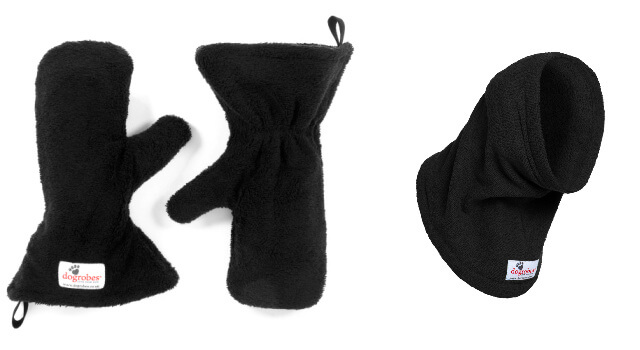 Our dog drying mitts and dog Snood are a great way to complete your dog drying kit. With the kit complete, you're covering all your bases! Gauntlets drying mitts take care of your dog's legs and paws, while the Snood dries your dog's head, neck and ears in super-quick time.
The Snood is available in 9 sizes to match the Dogrobe sizes. If you'd prefer your dog to wear the Snood like a hood to dry thick ears then opt for the size down, unless your dog wears a MINI or TOY. In that case stick with those sizes. If you'd prefer the Snood to be a looser fit and worn like a buff around the neck, opt for the same Snood as your dog's robe or choose the suggested breed size if you don't already have a Dogrobe.
You can learn everything you'd ever want to know about these products in our dog Snood blog or dog drying mitts blog.
5 Top reasons to choose black for your park-loving pooch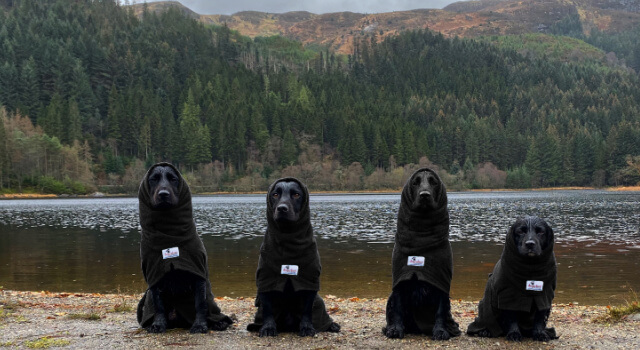 With thanks to @cockersquad for this amazing photo
Black is super stylish - all the cool pups are rocking black coats and accessories
Black perfectly masks the mud, grass stains and other signs that your best friend has had a fantastic 'walkies'outside in the autumn weather
Make a statement! The Dogrobes Gauntlets and Snood look very cool in matching black
Our black Dogrobes don't fade as the colour is resistant to optical brighteners found in washing powders and liquids, so they will stay looking cool no matter how often they're washed
Dogrobes' dog robes are not just clever, they're very smart. When wrapped firmly around your dog, not only do they feel warm and comfortable, but cocooned, which helps relieve fear and stress from fireworks, Christmas crackers (unless you've found dog-friendly quiet ones) and thunderstorms.
Personalise for your pup and SAVE 25%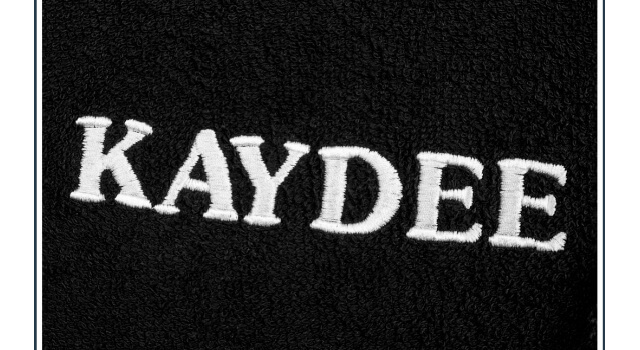 To top off the jet-black statement colour, you can personalise your dog's black towelling robe with their name.
When you've chosen their size, choose YES to 'Add embroidered name' and type it in the box.
The maximum number of characters is 15 and your dog's name will be embroidered in white thread and in CAPITALS.
Please note personalising your dog's drying coat does takes a little longer but it's worth the wait!
The best part is that when you use the DRYDAY coupon code you'll also get 25% off personalisation on the black Dogrobes.
For more information and to watch a video on how our Dogrobes are personalised, check out our FAQs page.
Very Important Pups keep in touch
Sign up here at the very bottom of our home page, for early bird access to news and exclusive updates. By sharing your name and email address, we can email you updates on special offers before these go live to the general public.
We're very proud that all our Dogrobes, Snoods and Gauntlets are not just designed but MADE in Britain and we're part of the Made in Britain Organisation.