We're excited to share that Dogrobes has celebrated its 10th birthday! The Dogrobes' team came together to mark this important date and naturally the VIP dogs were the centre of attention, all dressed in their smart and colourful dog drying coats. A party wouldn't be a party without their happy faces and wagging tails!
The invention of the dog drying robe
Dogrobes' dog drying coats first went on the market in 2004. They were the brainchild of Drummuir working dog trainer and expert Ann Playle. Ann was looking for a solution to the mud-spattered walls and floors, which followed every walk with her eight wet and muddy hard-working labs. You can imagine the mess after this many muddy shake-offs! In addition, it was important for Ann's dogs to stay warm and dry quickly, to ensure their comfort.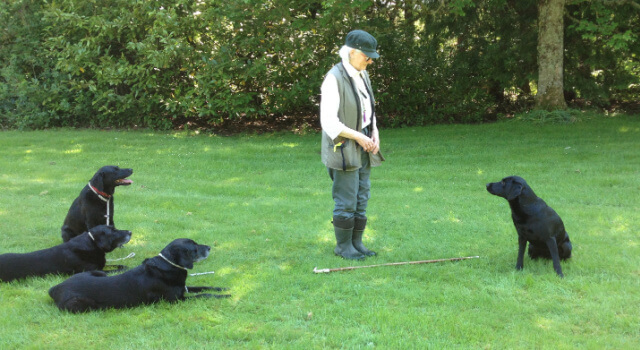 Ann Playle, inventor of the original dog drying coat by Dogrobes with four of her beloved Labradors
Despite looking for a suitable drying towel or robe, nothing did the job well enough. And using old towels to dry the dogs just wasn't efficient with so many dogs to dry! So, Ann decided to design a product that would solve the problem and Dogrobes' towelling robe for dogs was born.
How the Dogrobes' drying coat works
Not only does the dog robe help reduce muddy spatter on walls and floors, but it also keeps dogs warm and comfortable as they wind down after work or outdoor adventures. With 30% of water staying on your dog's fur after shaking, this is important to ensure their body temperature doesn't drop. So how does it work?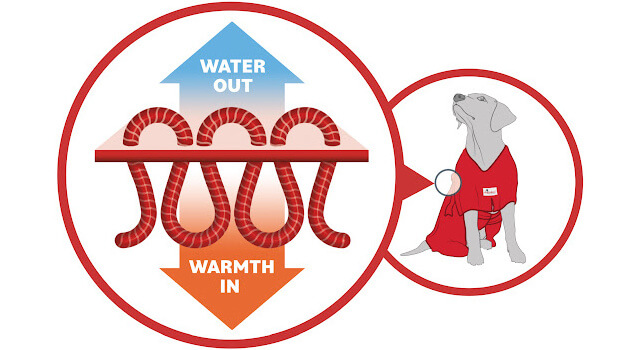 The loops on the inside of the towelling dog coat are longer than on the outside, which allows them to draw moisture away from your dog's skin and fur more quickly. The loops also trap warmth and body heat, which also helps to speed up the drying process. You can read more about how they work here.
For Ann it was important that the process of putting the robes on and taking them off was quick and stress-free, especially with eight Labs. This is why the dog robe has been designed to be easy to put on and take off, thanks to its simple pull-over design and practical tie belt. And no Velcro that could startle the dog! When Ann retired in 2013, Margaret took over the business and today Dogrobes' has become one of the most trusted British brands in the dog care market, shipping dog drying robes, Gauntlets, Snoods and other accessories to pet lovers across the UK and abroad.
Celebrating 10 years of Dogrobes
The 10th party brought together the team behind Dogrobes and their four-legged friends for drinks and nibbles, souvenir photographs, camaraderie and fun. No birthday celebration would be complete without a birthday cake and as a novel touch there were even doggy bags for the dogs!
Golden Doodle Flash with his doggy bag from the party
There was much to celebrate. Dogrobes has gone on to become an indispensable accessory for in-the-know dog owners all over the country – and even overseas – because they are easy to use, highly effective at drying, lovely quality and comfortable for your dog too.
Ann Playle, inventor of the towelling robe for dogs with Margaret Reynolds
Margaret said, "We're so proud to reach this milestone and I wanted to say a big thank you to the team behind Dogrobes for all the hard work and dedication they've given."
The future is bright, colourful and cosy
It was also a chance to look ahead and toast the future of the business, which continues to look bright. These are exciting times for Dogrobes, with the launch of a new website, introduction of a new and improved fabric and the use of social media too.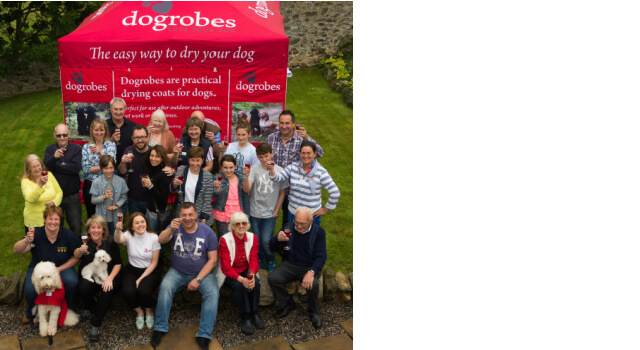 "Here's to the next 10 years of Dogrobes!"

Read next blog Moray Business Women awards Dogrobes' CEO Margaret