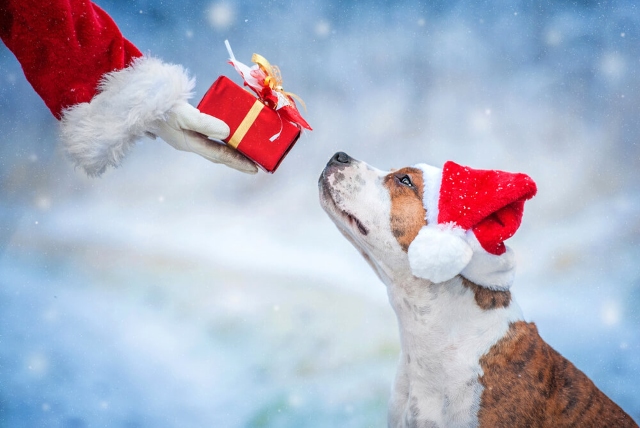 Are you an early bird or a last-minute shopper when buying Christmas presents? If you want to avoid the Christmas Eve panic and get ahead with your Christmas shopping, Dogrobes are here to help give you some inspiration when buying for the dogs and dog lovers in your life.
Dogrobes is the gift that keeps on giving because our innovative dog drying coats, Snoods and dog drying mitts can be used all year round, and their quality and durability ensures they last year after year. So you won't be needing to buy a replacement next Christmas, although we can't promise you won't be tempted to get your dog a second Dogrobe in another colour!
Whoever you are buying for, here are some ideas to inspire you this Christmas.
Gifts for your dog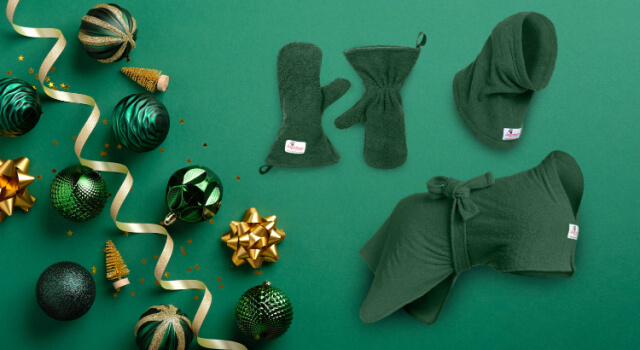 If you love spoiling your own dog as much as we do, then you'll love this Complete The Kit offer. Wrap them up in a matching Dogrobe and Snood, perfect for after cold winter walks as well as rainy day walks and bath times all year round, and you'll save £3 when you buy them together. Top it off with a matching pair of Gauntlets to dry their legs and paws after a wet walk, and you'll save a total of £5.
Already have a great Dogrobe and just want to complete the kit with a matching Snood and Gauntlets, then you'll still save £2 when you buy these two together. The whole kit is designed with our exclusive, super-absorbent fabric, which features longer loops where it comes into contact with the dog to quickly draw moisture from their fur.
Buy them all together and save with Dogrobes!
Gifts for the dog lover in your life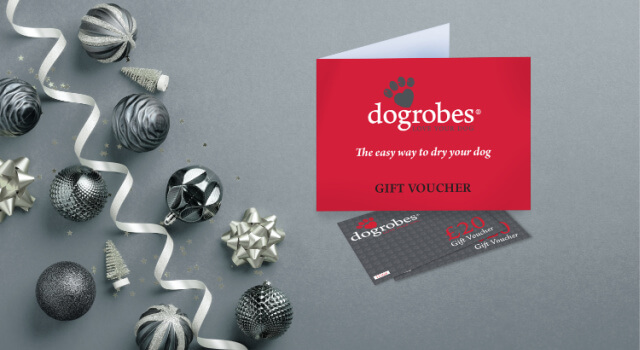 Want to surprise a friend, parent, sibling, partner or anyone else with a Dogrobes gift for their dog? You might not know what size to get for their dog or what colour they would like, and asking them would give away the surprise.
If you're in this situation, we recommend Dogrobes Gift Vouchers, available in denominations of £5 and £20, so you can treat them to however much you'd like. It's the perfect gift for dog lovers because they get to spoil their dog themselves, even more than they already might do!
Through your gift vouchers, your friend or family member can enjoy the gift of Dogrobes, meaning no more tedious towel-drying and no more wet, muddy shake-off.
Gifts for puppies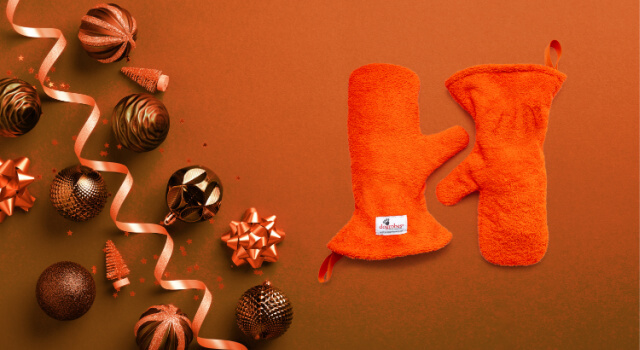 We know your new puppy or a friend's puppy would look absolutely adorable wearing a little Dogrobe, but we don't actually recommend buying Dogrobes or Snoods for puppies because they'll grow out of them so quickly, and we want your Dogrobe to last you for years to come.
So, what to buy for a puppy for Christmas instead? Go for a pair of Gauntlets! Since you wear these dog drying mitts like gloves rather than the dog wearing them, the size doesn't matter. They are one size fits all, so you can use them on any dog from a Chihuahua to a Newfoundland, making them suitable for puppies, too.
With a pair of Gauntlets, you can rub your dog's paws and legs dry, and they can also be used to dry the rest of their body while your puppy is still too small for a Dogrobe. It's better than towel-drying thanks to Dogrobes' exclusive, super-absorbent fabric, and your puppy is less likely to be nervous around them compared to a big towel.
No matter how big your dog grows, you'll still be able to use your Gauntlets to dry them quickly and easily. And when they're bigger with more fur to dry, the good thing about Gauntlets is that you can use both sides, front and back, to dry them. Just swap the drying mitts from one hand to the other and continue drying – they fit comfortably both ways.
Personalised gifts for dogs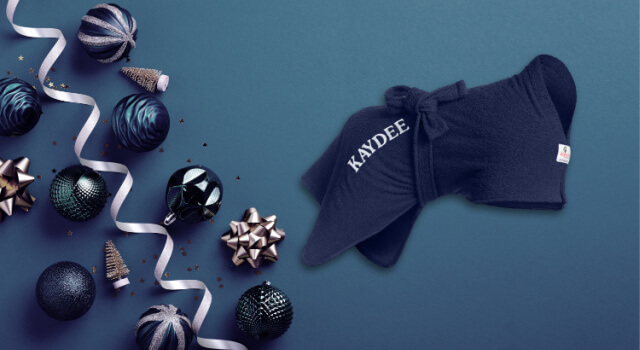 Do you have multiple dogs who each need their own Dogrobe? Then personalised dog drying coats are the perfect choice for you. You can have your dogs' names embroidered on their Dogrobes so you always know whose is whose, and it adds that extra bit of personalised flair to their dog robes.
Even if you only have one dog, you might want to treat them to an embroidered Dogrobe for a personal touch, whether it's their actual name or one of the many cute nicknames you've given them.
Personalisation is available on our Dogrobe Original, Dogrobe MAX and Exclusive Collection Dogrobes. The name you provide us with will be embroidered on both sides of the robe around the hip area, up to 15 characters max.
Make sure you order your personalised Dogrobe in plenty of time before Christmas because that extra detail takes a little more time (allow two additional days for embroidery).
Stocking fillers for dogs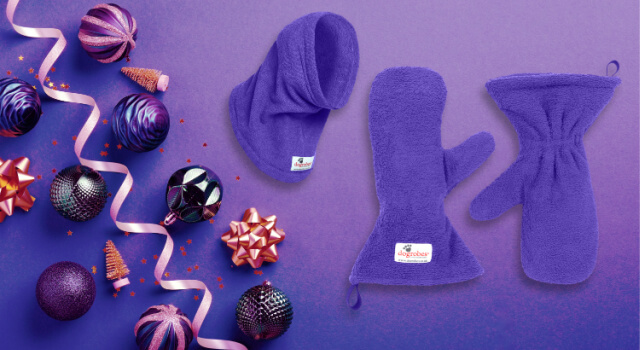 Does your dog get a stocking on Christmas morning stuffed with treats, toys and more? We think a Snood or a pair of Gauntlets would be the perfect addition, or even both! These can fold or roll up nice and small to fit in the stocking, and if you buy a matching Snood and Gauntlets together you'll save £2 with our Complete The Kit offer.
With our Snood and Gauntlets, you've got the kit required for drying your dog's legs and paws, as well as a cosy dog snood for their head, neck and ears.
Dogrobes' new arrivals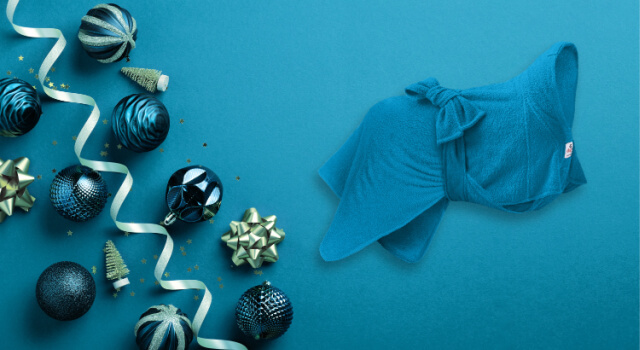 Want to treat your dog to the latest Dogrobes has to offer? 2023 has been an exciting year for us because it saw the launch of our most advanced Dogrobe yet, the Dogrobe MAX. Still using the same innovative fabric that our customers trust so much when drying their dogs, it added some extra features designed for maximum coverage + maximum comfort.
Chest plate – For maximum coverage of the chest and underbelly

Higher collar – To cover more of the neck, perfect for particularly thick-haired, fluffy dogs

Shoulder inserts – Provide better mobility for maximum comfort when stretching out

Handy loop – Hang your dog robe up for convenient drying and storage
If you didn't think the Dogrobe could get any better, add the Dogrobe MAX to your Christmas gift list and see for yourself. We're sure your dog will love it!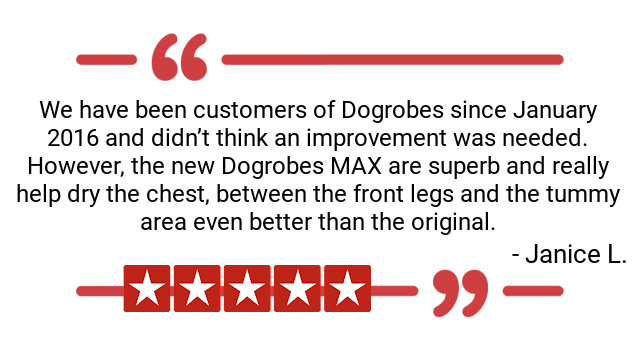 Dogrobes' best sellers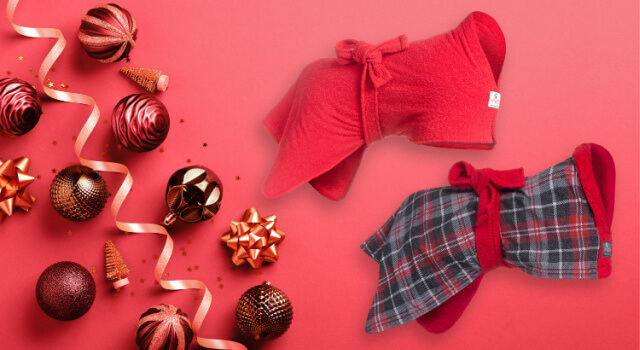 You can't go wrong with the tried and tested favourites. If you want to give our original dressing gown for dogs as a gift on Christmas Day, then the Red Dogrobe Original is one of our best-selling items.
Or if you want something with even more style for your fashionable pup, why not explore our Exclusive Collection? As a Scottish business, a dog robe with a tartan pattern was a must have, and lots of our customers agree! The Tartan Dogrobe from the Exclusive Collection, featuring an officially registered Dogrobes tartan pattern, is another best seller for you to check out.
Stay warm, cosy and dry this Christmas with Dogrobes
We hope we've helped you complete your canine Christmas list and that you can get some Christmas shopping done early with Dogrobes. Whatever you choose, add the finishing touch to your present with a lovely Dogrobes Gift Box.
And if you don't see what you want in this Christmas Gift Guide, you can explore the rest of the Dogrobes, Snoods, Gauntlets and other products available on our website.
Happy shopping!