Exciting news! After 18-months of development, we have launched our new Exclusive Collection starting off with the new, official Dogrobes' Tartan.
Dogrobes' Tartan is here by 'pup-ular' demand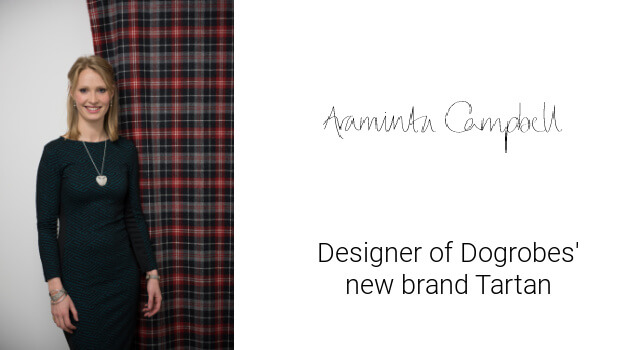 Inspired by repeated requests from customers, we commissioned Araminta Campbell - a renowned Scottish textiles expert – to design a bespoke Tartan for the Dogrobes' brand. The result is a striking red, charcoal grey and white check. We hope you love it as much as we do!
Dogrobes' director, Margaret Reynolds said:
"Unveiling our new brand Tartan is a moment that the whole Dogrobes team has been looking forward to. We've spent the past 18-months refining and testing our design processes to ensure our new products meet the expectations of our customers."
"I'm thrilled with the end result, so I'd like to thank Araminta for her imagination and everyone involved during the development process. The tartan design and the resulting products reflect the brand's Scottish roots and have been a real labour of love."
A coat for all seasons
For dogs sporting harnesses, we've a way to keep them safe and smart too. The new tartan dog drying coat comes with Harness Access - an opening between your dog's shoulders, through which the harness D-ring fits easily.
Beautiful and clever too
During the development of the tartan Dogrobe, we had to ensure that the new fabric not only looked stunning, but that it performed the practical functions, customers have come to expect of Dogrobes drying coats. An overlay of printed peached polyester is stitched onto our unique terry towelling fabric. So the new tartan Dogrobe is as durable, hardwearing and easily cared for as the original Dogrobe customers know and love. This involved many months of testing by our willing testers Riley, Paris, Mica, Robbie, Ben, Islay, Poppy & Brooke and the final product has been given the thumbs up by the dogs and owners alike!
We love a matching set here at Dogrobes, so we highly recommend the red towelling Gauntlets and Snood to create the perfect dog drying kit to keep your dog dry, warm and cosy.
The final word goes to the designer
This Tartan dog drying jacket is a nod to Dogrobes' Scottish roots and like all our products it's designed and made in Britain. Araminta Campbell, the designer behind our brand Tartan, revealed:
"It was an absolute pleasure to work with Margaret to create something so integral to the Dogrobes brand. What we've managed to achieve with this design is something that represents Scotland's outstanding natural beauty, and how it binds us and our dogs together. I'm looking forward to seeing this tartan fabric being worn by customers in the future."

Read next blog 10 Dog-friendly tips during firework season